If you're looking for a summer getaway that's a little more exciting than lounging by the pool, consider beach camping. It can be a great way to enjoy everything the beach offers while getting quality time in nature. But before you head to the coast, there are a few things you need to know about camping on the sandy beach.
This blog post will explain everything you need to know about beach camping, from finding a spot to setting up camp and enjoying the beach's sights and sounds. So read on for all the information you need to have an amazing beach camping trip!
Beach Camping Tips
Here are a few tips to help you plan and execute the perfect beach camping trip:
1. Plan On The Weather
The first thing to think about when beach camping is the weather. You'll want to check the forecast in advance and plan accordingly. If it's going to be hot, ensure you have plenty of water and sunscreen. If it's going to be cold, pack some extra blankets and clothes. And if there's a chance of rain, be sure to bring a tarp or some other form of shelter.
2. Get Familiar With The Rules (Can You Even Camp There?)
Beach camping can be a great experience, but you need to make sure that it is legal to camp on the beach that you have chosen. Depending on where you live, this may not be an issue. For example, in Florida, very few beaches do not allow camping.
However, this may not be the case in other parts of the country. For example, in California, it is only legal to camp on certain beaches–and you need to have a permit. The same goes for Oregon. So, before you pack up the car and head to the beach, make sure to do your research on the local rules and regulations.
3. Know The Tides And Tide Lines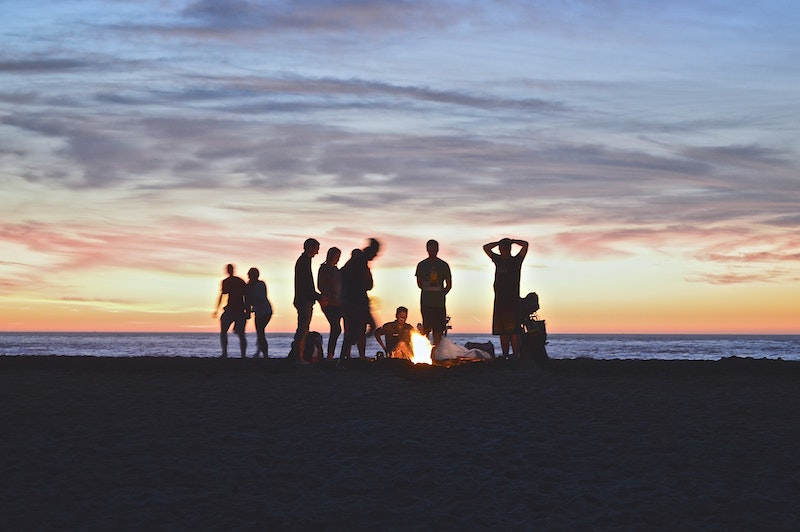 This is a critical piece of information when camping on the beach. If you are not familiar with the tides, they are the rise and fall of the ocean water level due to the moon's gravitational pull.
The tide line is where the water meets the land. The tide line can differ depending on the time of day and the tide. For example, during a high tide, the tide line will be higher up on the beach than it would be during a low tide.
Why does this matter? Because you need to make sure that you camp above the tide line. If you don't, you may be awoken by the sound of waves crashing against your tent in the middle of the night!
To find the tide line, simply walk down to the water's edge and look for where the waves are crashing. The tide line will be somewhere between where the waves are crashing and where the sand is dry.
4. Don't Sweat The Tent
If you are new to camping, you may think that you need an expensive, top-of-the-line tent to have a good experience. This is simply not the case. Regarding beach camping, a cheap tent will do just fine. We would recommend getting a cheap tent because chances are good that it will get sand in it and you don't want to ruin an expensive tent.
That being said, there are a few things that you should look for when purchasing a tent for beach camping. First, make sure that the tent is waterproof. You will be camping near water, so chances are good that it will rain at some point.
Second, ensure that the tent is big enough to fit you and your gear comfortably. We recommend getting a tent at least 8 feet by 10 feet. Third, make sure that the tent has mesh panels. These will allow for airflow and will keep the bugs out.
Fourth, ensure that the tent has a rainfly. A rainfly is a piece of fabric that goes over the top of the tent and prevents rain from getting in. Finally, make sure that the tent has stakes and guy lines. Stakes are used to secure the tent to the ground, and guy lines are used to keep the tent from blowing away in the wind.
5. Know Where Not To Pitch Your Tent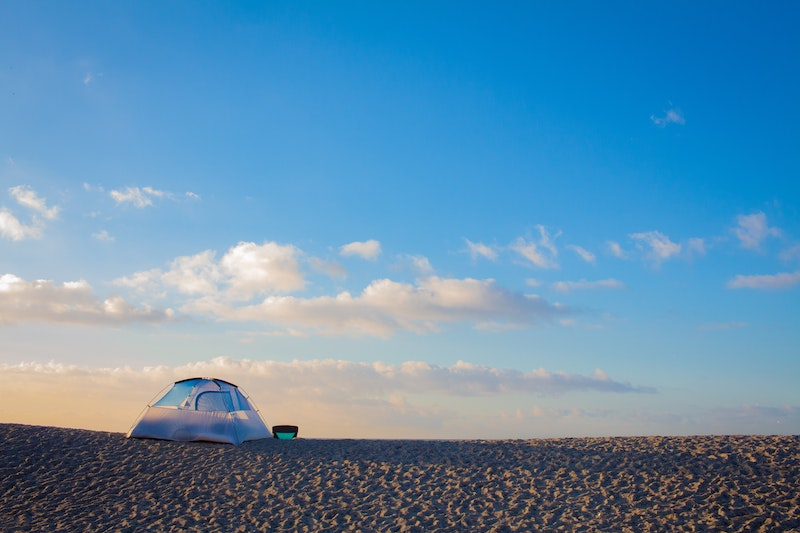 When camping on the beach, there are a few places that you should avoid pitching your tent.
For example, near trash bins! Not only do they stink, but trash bins also attract all sorts of bugs and critters. For example, raccoons often live by the beach and can get aggressive if confronted. They're also known to make noise in the middle of the night as they rummage through garbage cans.
Remember, no matter how tempting it may be, you should never set up camp on the dunes! This is because most of them are protected wildlife sanctuaries, and disturbing the natural order can lead to fines.
Steer clear of setting up your tent on any burrows–you might end up right on a crab's home. Not only is this inconsiderate, but it can also be dangerous if the crab decides to pinch you! Finally, avoid camping too close to the water. Not only will this increase your chances of getting wet, but it will also put you at risk of being swept away by a rogue wave.
6. Protect Yourself From Pesky Bugs
No one likes dealing with bugs, but unfortunately, they are a part of nature. The good news is that there are a few things that you can do to protect yourself from them.
First, make sure to bring bug spray! We recommend bringing both a strong repellent for use during the day and a more natural repellent for use at night. Second, consider packing a mosquito net. This will allow you to sleep without being bothered by bugs. Third, make sure to keep food stored in airtight containers. Bugs are to food, so keeping them sealed up will help to keep them away.
7. Always Think Waterproof When Beach Camping
When beach camping, it is essential always to think waterproof. This means packing items in waterproof bags and containers, as well as bringing a tarp to use as a groundsheet.
A groundsheet will protect your tent from getting wet if the ground is damp. A tarp can also be used to create a makeshift shelter in case of bad weather. Make sure to pack all of your electronics in waterproof bags. This includes items such as your phone, camera, and laptop.
Finally, always pack a change of clothes in a waterproof bag. This way, if you get wet, you will have something to change into.
8. Know Your Bathroom Options (Or Make Your Own Toilet)
When beach camping, it is important to know your bathroom options in advance. This is because there may not always be a toilet nearby.
If no public restrooms are available, you can always make your own toilet. To do this, simply dig a hole in the sand and line it with a garbage bag. Then, do your business and cover the hole back up. Make sure to pack out all of your trash, including the garbage bag.
Another option is to use a portable toilet. These can be rented from most camping stores.
9. Bring Extra Water And Be Prepared to Treat It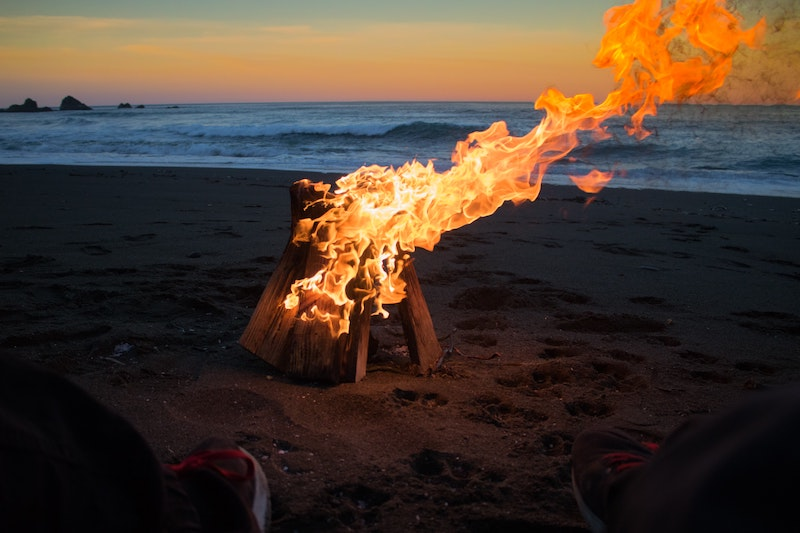 When beach camping, it is essential to bring extra water. This is because salt water is not safe to drink.
We recommend bringing at least one gallon of water per person per day. If possible, try to find a freshwater source nearby and treat the water before drinking it.
There are a few different ways to treat water. Boiling it for at least one minute is the most effective way to kill all bacteria.
You can also use water purification tablets or a water filter. These methods are less effective than boiling, but they will still make drinking water safe.
10. Don't Forget The Sunscreen!
When beach camping, it is essential to protect yourself from the sun. This means packing sunscreen and wearing it every day, even if it's cloudy. We recommend using sunscreen with an SPF of at least 30. Apply it liberally to all exposed skin, and make sure to reapply it every two hours.
You should also pack a hat and sunglasses to protect your face from the sun. Long-sleeved shirts and pants will also help to keep your skin safe. Finally, make sure to stay hydrated by drinking plenty of water. Dehydration can occur quickly in the hot sun, so it is important to drink even if you're not thirsty.
We hope you found these tips helpful! Beach camping can be a great way to relax and enjoy the outdoors. Just make sure to follow these tips to stay safe and have a fun time.
Best Camping Spots In The United States
Here are a few of our favorite beach camping spots in the United States. These spots are known to have tons of palm trees, hiking trails, activities, and other fun things to do.
Most of these beaches also feature spectacular views of the Atlantic Ocean and the Pacific Ocean. So gear up for the best beach camping experience you'll ever have.
1. Sonoma coast state park
2. Padre island national seashore
3. Gulf islands national seashore
4. Hunting island state park
5. Cape lookout national seashore
6. Assateague island national seashore
7. Grand Isle state park
9. Apostle islands national lakeshore
10. Huntington Beach State Park Campground
11. Pacific Coast Highway
12. Tillicum beach campground
14. Olympic national park
Need An RV?
If tent camping isn't your thing, then you can always rent an RV. This way, you'll have all the comforts of home while still being able to enjoy the great outdoors. If you're planning to camp in an RV, let us help you out! Cozy Turtle RV Rentals offers a wide variety of motorhomes, travel trailers, and fifth wheels for rent. We also provide delivery and setup services to make your vacation hassle-free. Check out our RV rental options or contact us today to learn more about our services.