Apache Family Campground & Pier is known as one of the best campgrounds in South Carolina. It is fast becoming a popular destination for campers all over the country because of the excellent camping experience it offers.
The Oceanfront Apache Family Campground and Pier has all the amenities you would want in a campground, including modern restrooms, showers, laundry facilities, and RV campsites, to mention a few. Apache also offers a pier that extends out into the ocean. However, getting a campsite at Apache can be very competitive because it is often booked out.
In this article, we will discuss Apache Family Campground and Pier in more detail, including its amenities, activities to do within and outside the Apache environment, and what other campers think about the Apache Family Campground. Finally, we will show you how to book reservations at Apache Family Campground so that you can enjoy an excellent camping experience of your own.
General Information About Apache Family Campground & Pier
Before we dive into the features Apache Family Campground offers and fun activities to do, let's first take a look at some vital information about the campground.
Located In The Heart Of Myrtle Beach
Apache Family Campground and Pier is located in Myrtle Beach, South Carolina. Apache campground's official address is 9700 Kings Road, Myrtle Beach, SC 29572, and its great location is one of the reasons it has become such a popular place to spend a vacation. Myrtle Beach is a top vacation destination for people all over the country, and it offers plenty of fun activities for Apache campers to enjoy.
Established Over 30 Years Ago
Apache Family Campground has hosted campers on the Grand Strand for over 30 years! The Apache campground was established in the 1970s and has been a popular destination for Myrtle Beach vacationers ever since. Apache Campground and Pier is open all year round, so campers can enjoy the beautiful Myrtle Beach weather no matter what time of year it is.
The Longest Wooden Fishing Pier On The East Coast
Apache Family Campground and Pier feature the longest fishing pier on the East Coast! The Apache Pier is over 1206 feet long and offers stunning views of the Atlantic Ocean. The pier also has a bait and tackle shop, so campers can purchase everything they need for a day of fishing.
Pet-Friendly Campground
Apache Family Campground is a pet-friendly campground and welcomes all four-legged friends. In fact, up to two pets of any size are allowed at Apache Family Campground for no additional fee at the campsites, but campers must leash them whenever they are outside the vehicle. Also, Apache Campground has set aside a special fenced-in dog run so that your furry friend can play safely while you're enjoying the Apache campground.
Ocean View
Apache Family Campground also offers an excellent ocean view. Apache is one of the few campgrounds in Myrtle Beach that offers an unobstructed view of the Atlantic Ocean and easy beach access.
Amenities At Apache Family Campground And Pier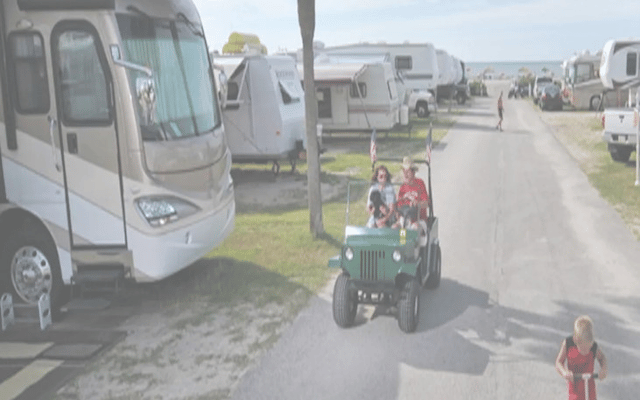 Now that we have discussed some general information about Apache Family Campground and Pier, let's look at the amenities Apache offers its campers. Apache has everything you need for a comfortable and enjoyable camping experience.
RV Campsites With Full Hookups
Apache Family Campground has over 2000 RV campsites, and all RV sites offer full hookups. The sites also come with water, sewer, and electricity so campers can enjoy all the comforts of home while camping. Apache also provides different types of RV sites to accommodate any size RV. However, campers should be aware of the rental policies Apache has in place for RV sites.
A Restaurant
For breakfast, lunch, or dinner, visit Croakers at the Pier. Fresh local shrimp, sandwiches, salads, burgers, and more are available as well as a full bar. Indoor or al fresco dining on the roof with views of the Atlantic is possible. This nice restaurant is open on a seasonal basis so ensure to check the Apache website for specific dates and hours of operation.
Tent Campsites And Cabins
Apache Family Campground also offers tent campsites for those who prefer to camp in tents. Apache has dozens of tent campsites, and each site offers water and electricity. Apache also has a limited number of cabins for rent. The Apache cabins are fully furnished and offer all the comforts of home.
Beach Access
Apache Family Campground offers easy beach access so that campers can enjoy the Myrtle Beach sun and sand. Apache also has various beach equipment for campers to comfortably stay at the beach.
Swimming Pool And Bath Houses
The campground also has a swimming pool and bathhouse where campers can cool off on a hot day. The swimming is open from Memorial Day to Labor Day.
Picnic Tables and Grills
Each campsite at Apache Family Campground also has a picnic table and grill. The grills are charcoal grills, and campers can purchase charcoal at the Apache camp store.
Camp Store
The Apache camp store is located in the main office and offers various items for sale. The camp store sells food, drinks, and camping supplies. Apache also has a gift shop where campers can purchase souvenirs.
Recreation Halls
The Apache Family Campground also has two recreation halls. The recreation halls are air-conditioned and have a variety of activities for campers to enjoy. The recreation halls feature a game room, a TV room, and a small library.
Golf Carts
Apache Family Campground offers golf carts for rent so that campers can quickly get around the campground. The golf carts seat up to four people and are available on a first-come, first-served basis.
Laundry Facilities
The Apache Family Campground also offers laundry facilities for its campers. Laundry facilities are located near the main office and are open all day.
Looking for other destinations to camp this summer? Check out Hideaway RV Resort!
Pier Apache Family Campground Activities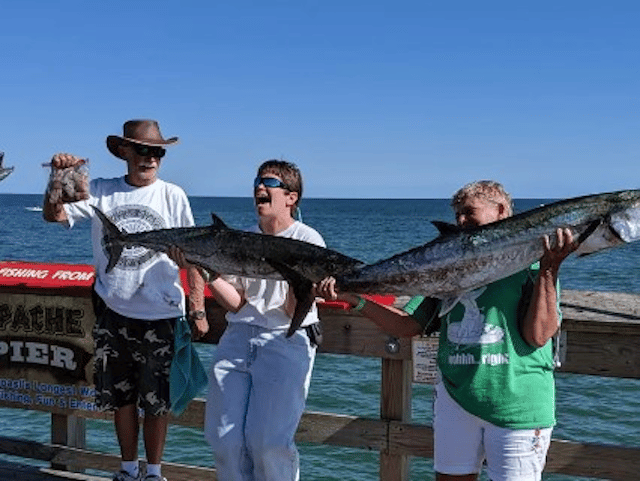 In addition to camping, Apache Family Campground and Pier offer various activities for campers to enjoy. Apache has various activities for all ages, and there is something for everyone at Apache.
Arts And Crafts
The Apache arts and crafts room is located in the main office and is open from Memorial Day to Labor Day. This site offers various art supplies for campers.
Golfing
What's better than golfing in the morning and fishing in the afternoon? Myrtle Beach is home to some of the best golf courses in America, so take advantage of our location and hit a few balls before reeling in dinner. Apache Pier is just minutes away from some of the most popular courses on the Grand Strand.
Biking
There are various bike trails located near the campground. This is a great way to see the Myrtle Beach area and get some exercise.
Hiking
The Apache hiking trails are located near the campground and offer a great way to see the Myrtle Beach area. The Apache hiking trails are well-marked, and they offer a variety of difficulty levels.
Pier Fishing
As mentioned earlier, the fishing pier located at Apache Family Campground is the longest on the East Coast. The Apache fishing pier can be accessed all day and offers a great way to catch some fish.
Restaurants
Asides from Croakers, there are many restaurants located near Apache Family Campground. The Apache restaurants offer various cuisines and are sure to please everyone in your group.
Explore Other Attractions
In addition to Apache Family Campground, there are many other attractions located near Myrtle Beach. For instance, Barefoot Landing is a great place to shop, dine, and see live entertainment. Broadway at the Beach is another great place to explore, and it offers a variety of shops, restaurants, and attractions.
Also, Carolina Opry, Tanger Outlet Mall, Alabama Theatre, mini-golf, water parks and Ripley's Aquarium are all located near Apache Family Campground.
Looking for other destinations to camp this summer? Check out Lake Ashley Park
Review
Here are a few reviews from Apache campers:
Brad Stillwell on Google Review shares:
"Very friendly staff and a great location as well. Beautiful beach and plenty of access to it from the park. I wish it were kept up a little bit better (basic maintenance), but I'm sure it's hard with so many people coming and going. The store on the property needs more products. I was sold out of a lot of stuff in July when I went. I'd go again in a heartbeat."
Christine Stratton shares:
"We have stayed here many times. The location is great, and the price is reasonable, I love the beach and pier. The activities are good. The only thing we wished was different was the pool area. Several area campgrounds (the competition) have upgraded pool areas. Definitely a great place to stay." 
Want To Visit Apache Family Campground Pier?
If you plan on staying at Apache Family Campground, it is essential to make a reservation. You can do this by booking on their website.
Need An RV?
If you need assistance finding cheap RV rentals, feel free to contact Cozy Turtle RV Rentals. We are an RV rental company located at the heart of Myrtle Beach and can hook you up with several interior and beachside camping spots throughout the Myrtle area.