Are you looking for a unique outdoor camping experience? Look no further than Hipcamp! Hipcamp is an online camping booking platform that offers campers the opportunity to book campsites on private land, yurts, teepees, and more. With Hipcamp, you can find the perfect camping spot for your next outdoor adventure. Read on to learn more about Hipcamp and how it can help you have the best camping trip ever!
What Is Hipcamp?
Hipcamp was founded by Alyssa Ravasio, an individual who grew up camping and adventuring in Northern California. It is an app and website that lets campers discover and book unique outdoor stays with both public and private landowners called Hipcamp Hosts. These stays are different from traditional camping experiences—they might be located in unique places or support the protection of wild places.
Hipcamp prides itself on being a close-knit group of people who love spending time outdoors. Its goal is to provide the most comprehensive resource for unique outdoor stay experiences and connect people with the land and each other. According to its founding members, being in the outdoors bring out the best of human nature, and they hope that through Hipcamp, more people will fall in love with spending time outside.
Where Is Hipcamp Available?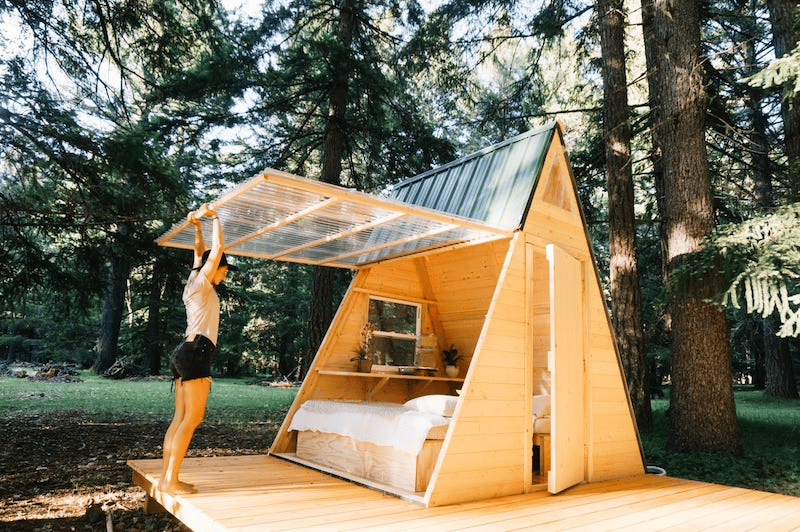 Since its founding in 2013, Hipcamp has expanded to several places throughout North America. Hipcamp started with coverage in the San Francisco bay area and today, is the most comprehensive resource for outdoor camping. This site allows you to book on both private and public land. And they cover all Army corps, State, Regional, and National Parks in all 52 States.
This tallies to around 22,517 Parks, 36,546 Campgrounds, and 378,484 Campsites across the USA. Hipcamp also displays real-time availability, user reviews, details, and user photos of public campgrounds in national parks.
How Much Does It Cost To Use Hipcamp?
The Hipcamp app is free of charge. Hosts host campers on their land for a price they set, which is normally between $5 and $100 per night. In addition to this, campers pay a small service fee in order to help with funding things like customer support and payment processing fees. Landowners who host through Hipcamp earn 90% of what they charge for the campsite every time somebody books it, so each booking puts money into the pockets of local landowners.
What Kind Of Camping Can You Find On Hipcamp?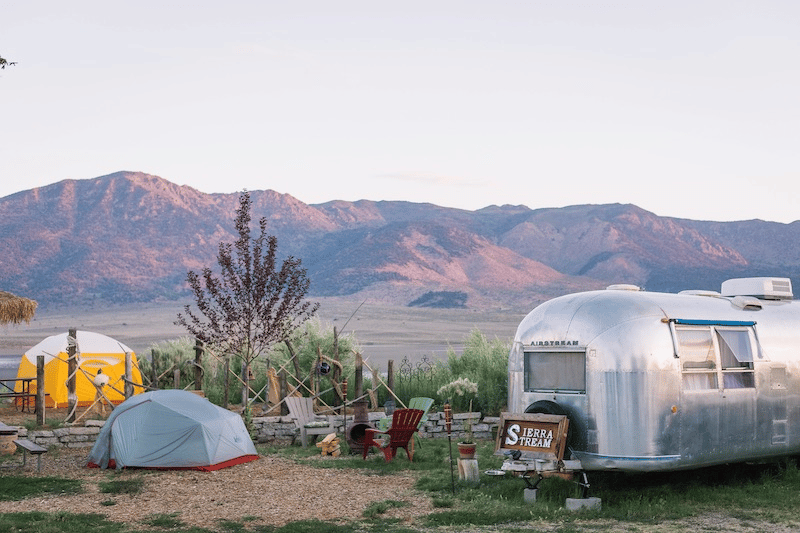 You can find all sorts of camping on Hipcamp, from rustic to luxurious. You can book tent camping, RV parks with hookups, glamping sites with amenities like showers and toilets, treehouses, and even yurts! You can filter your search by the type of camping you're looking for, so you can be sure to find exactly what you're looking for.
Note: While the website provides information on public parks and campsites, bookable Hipcamps are all located on private property and hosted by landowners.
Is Hipcamp Safe?
Thousands of RVers have used Hipcamp to locate one-of-a-kind camping spots since 2013, and it's been proven that the site is genuine. By vetting its hosts and requiring them to follow both Hosting Standards and an Inclusion Policy, Hipcamp helps guarantee secure stays.
Every Hipcamp is unique, as each experience depends on the host. To join the marketplace, every user must verify their identity and go through an internal quality assurance process conducted by Hipcamp to ensure that all sites meet specific standards.
Hipcamp has excellent reviews on Trustpilot (4.5 stars) and the app store, with safety being a top priority for both hosts and campers. Once a booking is made, the exact location will be sent to provide an idea of where it is located without sacrificing security.
Here are some reviews:
One user from Trustpilot shared:
"My booking experience was easy and stress-free. We found a Hipcamp site we believed would suit our needs, checked the dates, and tapped "make a reservation." Done!"
Another user shared:
"Great communication with host, easy to access. Cute place with flowers and horses. Camping was a little close to one another, but that might be because we got one of the last spots. We were in and out quick with a restful sleep. Thank you!"
How To Search For Campsites On Hipcamp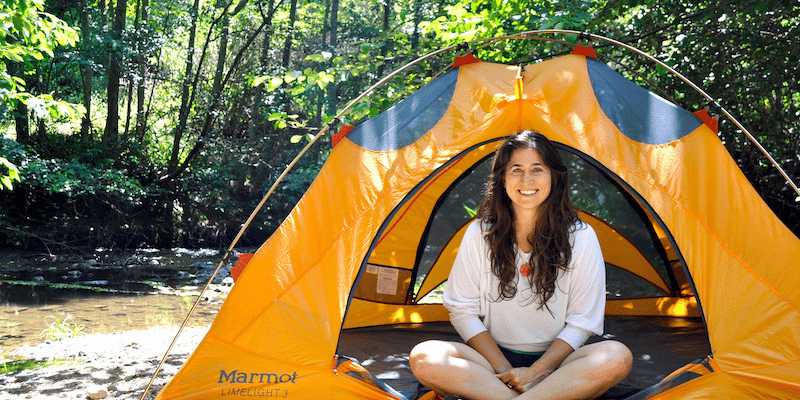 To begin, enter your selected dates into the app or website and apply the filters to locate an RV site that meets your requirements- you can narrow down your search by price range, RV length, available hookups, and the number of people permitted.
Next, read through the listing descriptions to get a better understanding of each spot's location, accessibility, amenities, and requirements. Some might only be accessible by four-wheel drive, while others may have GPS directions that require latitude and longitude.
Booking A Campsite
Booking an RV site with Hipcamp is simple. Once you've discovered a location that works for you, click through to the appropriate dates, then go through a few more pages to finalize either a booking request.
Hosts also have the opportunity to either approve or deny your booking request. They can also send you a message to ask additional questions about your party or desired stay. You should receive a response to your booking request within 24 hours. If you don't, the listing might be unavailable, or the host may be having technical difficulties.
After a Host approves your booking request or you've completed a booking, you'll receive an email or SMS confirmation with all the details of your upcoming trip. At this point, it's a good idea to introduce yourself to the host via the Hipcamp Message and ask any final questions about the property so that there are no surprises upon arrival.
Checking In And Out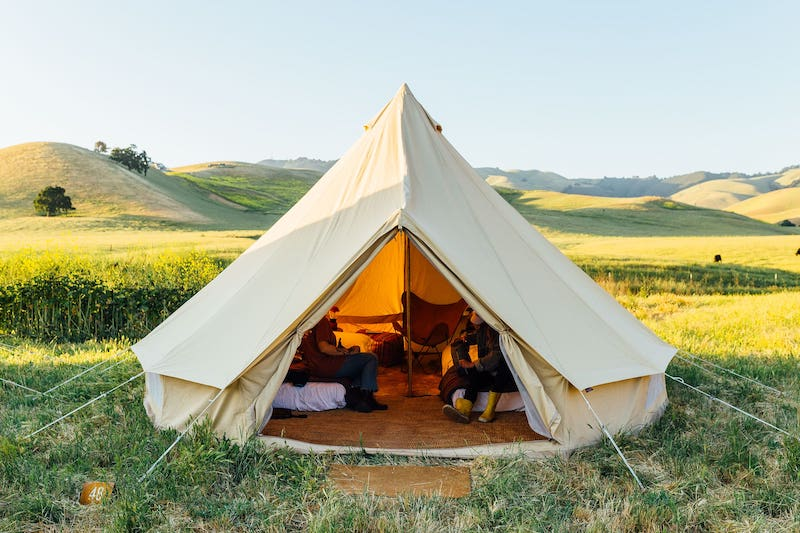 When you arrive at your Hipcamp, check in with the host to let them know you've arrived safely and get any final instructions about the property. If you're staying at a primitive campsite, the host may not be on-site, in which case you can typically just set up camp wherever you like.
Be sure to leave your campsite the way you found it when you check out. This means packing up all of your belongings, disposing of trash properly, and generally leaving the area clean. If there's a fire pit, be sure to extinguish the fire completely before you leave.
Note that some hosts will welcome you in person when you arrive, while others will provide detailed instructions so that you can make yourself at home. If you get lost or have trouble finding the entrance, don't hesitate to shoot the host a message via SMS or text. They usually respond quickly and are more than happy to help ensure that you have a positive stay.
Pros And Cons
Pros
1. Privacy: Hipcamp's campgrounds are generally larger than five acres, and they're frequently equipped with just a single campsite where you can spread out. This is possibly one of Hipcamp's most significant distinctions compared to public parks or other private campgrounds, especially for RVers used to being crowded in with dozens of other vehicles.
2. Easy to communicate with hosts: You can easily introduce yourself to Hipcamp hosts and ask any questions you may have about their property before booking. This makes it easy to get a sense of what to expect upon arrival and also helps build rapport so that you're not arriving as a complete stranger.
3. Every experience is different: Since Hipcamp hosts are individuals, each experience is going to be different. Some might invite you over for a campfire, while others will give you complete privacy. It really depends on the host and what they're comfortable with.
Cons
1. Limited selection in some areas: Hipcamp is still growing and doesn't have a ton of listings in every state. This may not be an issue if you live in states with a lot of properties, but it can be limiting if you're looking to book a Hipcamp elsewhere.
2. Not all Hipcamps are created equal: Since each Hipcamp is different, there's no guarantee that you'll have a good experience at every property. This is why it's important to read the listing carefully and communicate with the host before booking.
Some Hipcamps are also very primitive, which means you may need to bring your own water, firewood, and other camping supplies. This is something to keep in mind when packing for your trip.
3. It May be difficult to find: Some Hipcamps are located in remote areas, which can make them difficult to find. This is something to keep in mind when planning your trip.
Summary
Hipcamp is a great option for RVers and campers looking for more privacy and amenities than what public campgrounds typically offer. This site is also a good option if you're looking for a unique camping experience since each Hipcamp is different.
Need An RV?
Planning a trip? Let Cozy Turtle RV Rentals help you out! We offer a variety of RV rentals that are perfect for any size group, so be sure to check out our RV rental options. You can also contact us today to learn more about our rentals.