Are you thinking of taking your family camping this year? If so, you're in for a lot of fun. Family camping trips are a great way to spend time together and get away from the hustle and bustle of everyday life. But it can also be tricky – especially if you're going on your first family camping trip.
In this blog post, we will discuss everything you need to know about family camping. We'll provide tips on how to plan your trip, what gear you'll need, and some ideas for fun activities that everyone will enjoy!
What Is Family Camping?
Family camping is about spending time in nature with your loved ones, disconnecting from technology, and enjoying quality time together. It's a great way to bond with your family and create lasting memories.
Where To Go On A Family Camping Trip
There are many places where you can go camping with your family. Some popular options include state and national parks, forests, private campgrounds, and beaches. You can also camp in your own backyard if you have the space! This can be an excellent option for families with small children.
Camping Essentials: What Gear Do You Need For Family Camping?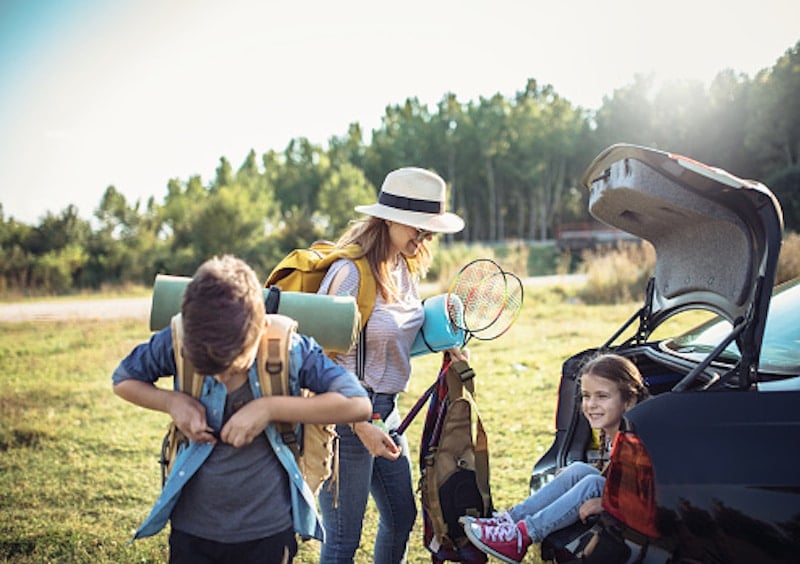 If you want to go camping with your family, you'll need some specific outdoor gear. Below, we list the most important ones:
Camping gear: This includes items such as lanterns, flashlights, and matches.
Tent: A tent is necessary for shelter from the elements. Choose a size that will comfortably fit everyone in your group. You'll also need some sleeping gear.
Camp stoves: A camp stove is necessary for cooking meals at camp.
Food: Be sure to pack enough food for everyone in your group.
Water: It's essential to stay hydrated when camping. Pack enough water for everyone in your group.
First aid kit: A first aid kit is necessary in case of any accidents or injuries.
Medications: Be sure to pack any medications you or your family may need.
Clothing: Pack appropriate clothing for the weather and activities you'll be doing.
Maps: A map is essential if you're planning on doing any hiking.
Hiking boots: If you plan on doing any hiking, be sure to pack a pair of comfortable hiking boots.
Rain gear: Rain gear is essential for any camping trip.
A Picnic table: For hearty meals with the family.
Games and activities: Such as cards and monopoly.
Types Of Camping
There are various types of camping, and the type you choose will depend on your preferences and needs. Below, we've outlined the most popular types of camping:
Tent Camping
Tent camping is the most popular type of camping. It involves pitching a tent and sleeping in it. Tent camping is an excellent option for families because it's affordable, and many different types of tents are available.
It's essential to choose the right size tent for your group. You'll also need to pack a sleeping bag and camp stove. Family tent camping can be a great way to bond with your loved ones and create lasting memories.
Backpacking
Backpacking is a type of camping where you carry all of your gear with you in a backpack. Backpacking is an excellent option for families because it's convenient, and you don't have to take all of your gear with you.
RV Camping
RV camping is an excellent option for families who want all the comforts of home while camping. RVs come in all shapes and sizes, so you can choose one that's right for your group. RV camping is typically more expensive than tent camping, but the added comfort can be worth it. You'll need to pack all the same camping gear as you would for tent camping, plus any additional items that your RV may require.
If your family is new to camping, we recommend starting with RV camping. It's a great way to get started and see if you enjoy it.
How To Plan A Family Camping Trip
Planning a family camping trip can seem daunting, but it doesn't have to be. With some planning and preparation, you can ensure that your journey is enjoyable for everyone. Here are some tips to get you started:
Choose a destination: There are many beautiful places to camp all across the country. Once you've selected a location, it's essential to research the area. This will help you determine what type of camping is available and any permits or reservations that may be required.
Time frame: Decide how long you want to spend camping after that. Your schedule and the amount of free time you have will determine this. We advise preparing for two to three days if you're camping for a weekend—plan on staying for four to five days if you're making a long journey.
Gather Essential Supplies: Next, you'll need to gather all of the essential camping gear. This includes the camping essentials we listed above. It's crucial to ensure that everyone in your group has the proper clothing and footwear for the trip. Depending on the time of year and location, you may also need to pack additional items, such as rain gear or hiking boots. Don't forget the entertainment! Bring along some games and activities to keep everyone occupied.
Pack for your trip: The moment has come to start packing for your trip now that you have all the necessary equipment.
It's important to pack wisely so that everything fits in your vehicle. Start by loading the heavier items first, such as the tents and sleeping bags. Then, fill the empty spaces with lighter items, such as clothing and food. Be sure to pack a first aid kit and any medications you or your family may need.
Tips For Cooking While Camping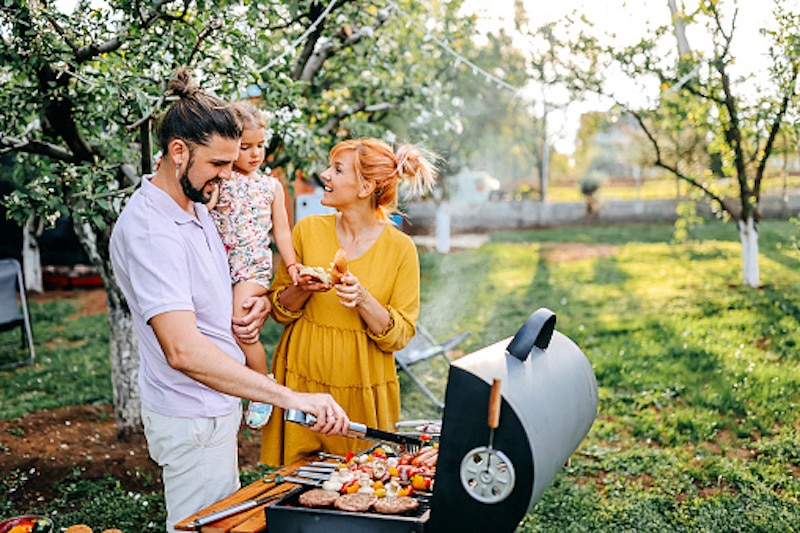 Camping and food go hand-in-hand. Your family camping adventure is not complete without some delicious campfire meals.
There are many easy and tasty recipes that you can make while camping. One of our favorites is s'mores. All you need are graham crackers, chocolate, and marshmallows. Roast the marshmallows over the fire and sandwich them with a piece of chocolate between the graham crackers. Yum!
Another great option is foil packet meals. These are easy to make and can be cooked over the fire or on your RV stove. Choose your favorite ingredients, such as meats, vegetables, and seasonings, and place them in a foil packet. Then, cook the packets over the fire or stove until the food is cooked.
If you would like to learn more tasty camping recipes, check out our guide!
Safety And Emergency
Safety is always a top priority when camping. Be sure to familiarize yourself with the area before setting up camp. This will help you avoid any potential hazards. Once you're at camp, you must keep an eye on your belongings. Never leave food or valuables unattended. If you're hiking, stay on marked trails and bring a map.
In case of an emergency, it's essential to have a first-aid kit handy. This should include bandages, antiseptic wipes, pain medication, and anything else you may need in case of an injury. It's also a good idea to have a plan in case you get lost. Be sure to let someone know where you're going and when you'll be back. Lastly, bring a whistle or flare gun to signal for help if needed.
How To Set Up Camp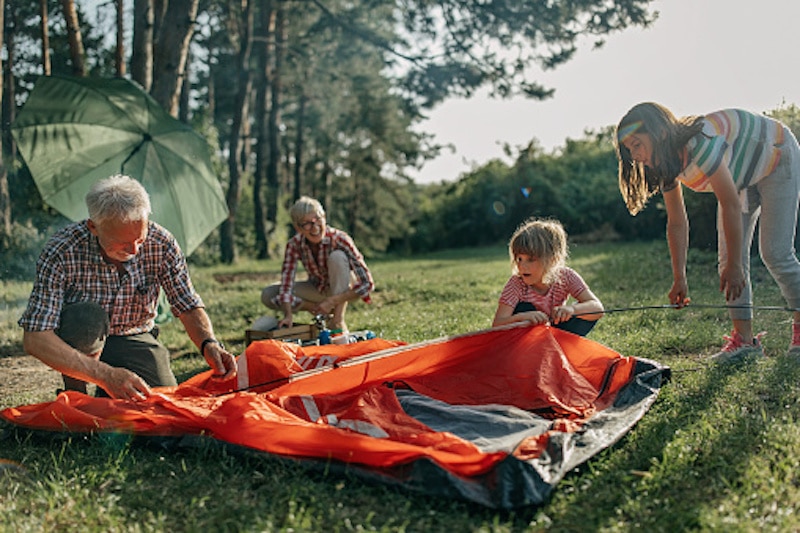 Setting up camp can be one of the most fun parts of the trip. Once you've arrived at your campsite, you'll probably need to set up camp. This process can vary depending on the type of camping you're doing.
If you're car or RV camping, you'll likely have a more easy setup. Find a level spot to park your vehicle. If you're tent camping or backpacking, you'll need to find a location that's away from any potential hazards, such as steep cliffs or bodies of water. No matter what camping you're doing, setting up your tent in an area free of debris is essential.
Once you've found a good spot, it's time to start setting up your tent. Stake the corners of your tent into the ground. Then, unroll your sleeping bags and put them inside the tent. If you're using a camp stove, set it up in a safe area away from flammable materials. Now that your campsite is set up, it's time to start exploring!
Camping Activities With The Family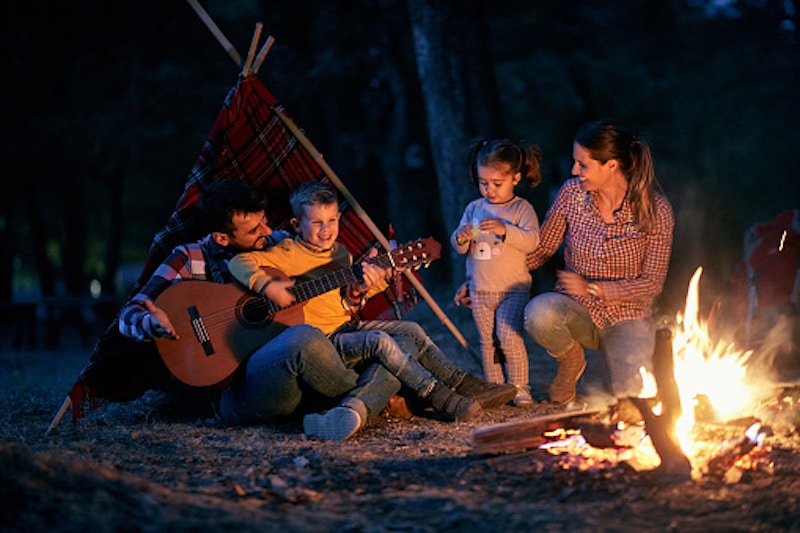 One of the best parts about camping is that there are so many fun activities! Here are a few ideas to get you started:
Hiking: Explore the local trails and take in the scenic views.
Swimming: Take a dip in the lake or river to cool off on a hot day.
Fishing: Try your hand at catching dinner.
Campfire cooking: Make s'mores, hot dogs, or pancakes over the open flame.
Star gazing: Lie back and enjoy the show.
Conclusion
Camping is a great way to spend time with your family and enjoy the outdoors. With some planning, you can ensure that your trip is safe and fun for everyone. Make sure to pack all the essentials, including clothing, camping gear, food, water, and first-aid supplies.
Also, explore the area and try out different activities when you're at camp. Doing all of these will ensure that your family camping trip is one to remember. Thanks for reading!
Need An RV? Contact Us!
We hope you enjoyed this blog post. If you're interested in camping but don't have an RV, consider renting one from us! We offer a wide variety of RVs to choose from, so we're sure to have the perfect one for your needs. Contact us today, and we'll help you get started on planning your next camping trip