Camping is a beloved pastime for many, and for good reason! It's a great way to get outside and enjoy nature, plus it's affordable since you don't have to book a hotel or anything.
If you're new to camping or just need a refresher on what to bring, this camping list is for you! We've included everything from the basics like tents and food to the more specialized items like bear pepper spray.
You'll be fully prepared for an unforgettable camping trip with this camping checklist!
Items  To Have In Your Camping List (By Category)
For Indoors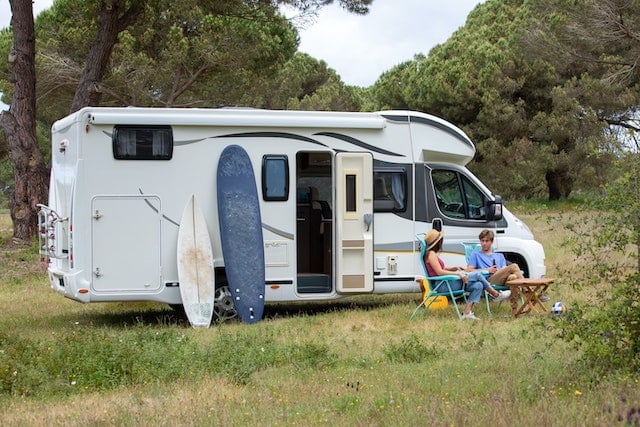 The standards of an indoor campsite are determined by the facility in which you are staying, but there are a few basic things to consider. For example, will you need an air mattress, or will a sleeping bag on the ground suffice?
If you'll be staying at a campground with partly equipped accommodation, call ahead and find out what goods they provide and which ones you'll need to bring yourself, such as bedding, dishes, and cooking utensils.
Additionally, if you have young children with you, be sure to bring along some toys and activities to keep them occupied and any necessary baby gear.
Here are some examples of common indoor items to think about:
Pillows
Blankets
A portable charging station
An air mattress, pump, and repair kit
A sleeping bag and insulated liner
Cots
A hot water bottle
A sleeping pad or mattress topper
A plug-in or battery-operated fan
Earplugs and a sleeping mask
A tent-safe heater
For Outdoors
The great outdoors is what camping is all about! This is where you'll find fresh air, beautiful scenery, and an opportunity for adventure. Be sure to pack accordingly to make the most of your time in nature and to be prepared for anything.
Some common outdoor items to consider include:
A season-appropriate camping tent and tent stakes
A tarp
Flashlights and headlamps
Some firewood
A picnic table
Camp chairs
A mallet or hammer
Mosquito netting
A lantern with fuel
Matches, firestarter, or a lighter
A refillable water dispenser
Kindling to help start a campfire
A spacious cooler and ice
Campsite decor
Citronella candles to repel insects
Tablecloth clips
Outdoor lighting
Tools For Camping
While not strictly necessary, having a few tools on hand can make your camping trips much more pleasant. These items can help with common issues like bad weather or broken equipment and can even be used for fun activities like roasting marshmallows over the campfire.
Some common tool items to consider include:
A hammock
A pop-up pavilion or shade structure
A folding table
An outdoor rug
Recreational Camping Gear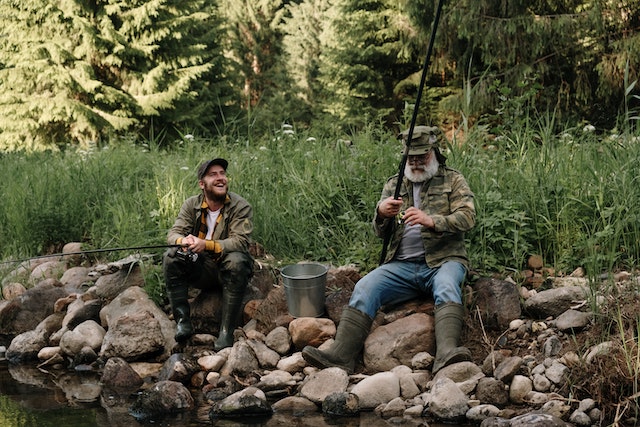 One of the best things about camping is having the opportunity to enjoy all sorts of outdoor activities. Depending on your interests, you may want to bring along some extra gear to make the most of your trip.
Some common recreational gear items to consider include:
Fishing poles and tackle
Winter sports equipment
A kayak or canoe
Swim towels
Lifejackets
Lawn games, like badminton and cornhole
A hiking daypack
Board games and playing cards
A music player and speaker
A video camera or camera
Trekking poles
Binoculars
Bikes, skateboards or rollerblades
Instruments to play music around the campfire.
Glow sticks
Frisbees, volleyballs, footballs
Tickets to special events or local attractions
A local attractions guidebook
Books
Clothes And Shoes To Brave The Elements
Remember to pack your luggage for a camping trip according to the season, local climate, and weather forecast. Tightly roll each clothing component instead of folding it before packing it away in your suitcase to save space, and use airtight bags to keep out moisture.
If you're staying at a campsite with laundry facilities or own an RV with a built-in washer, you may get away with packing fewer clothes than you would for a traditional vacation. However, it's always better to err on the side of caution and pack a few extra outfits, just in case.
Some common clothing and shoe items to consider include:
Thick socks, preferably made of wool
A sweater, hoodie, or fleece pullover
Pants and shorts
Pajamas
T-shirts
A raincoat
Light layering pieces
Underwear
A swimsuit or swimming trunks
A wide-brimmed sun hat or visor
A beanie or knit cap
Sunglasses
Gloves
Shower shoes
Walking shoes
Rain boots
Sandals or flipflops
Camp Cooking Essentials
No matter how you plan to cook your camp meals, there are some essentials that you'll need to bring along. If you're planning on cooking over a campfire, pack plenty of extra wood. It's always better to have too much than not enough!
Some common cooking items to consider include:
A grill and some fuel
A portable cooking stove
Some roasting forks
A coffee percolator
A dutch oven (cast-iron)
A grate
Camp Kitchen Utensils
Camping utensils are available from a variety of specialty stores. They're generally constructed of more rust-resistant materials and can be readily tucked away. Disposable or conventional utensils are available based on how often you intend to use them.
Here is what you need:
knives, spoons, and forks
Cooking knives
Measuring cups
An instant-read food thermometer
Plates
Spatulas, mixing spoons, and tongs
A washable cutting board
A fire-safe frying pan
Shatter-proof cups and mugs
Oven mitts
A bottle opener
A can opener
A bear proof food vault for overnight storage
Coffee filters, if applicable
Kitchen scissors
Toothpicks and a container to keep them dry
Small food storage bags
Food storage containers
Food Items
The food you pack will depend on how long you're staying, what kind of camping trip you're taking, and your personal preferences. If you're camping with young children, pack plenty of snacks and easy-to-prepare meals. And don't forget the marshmallows for s'mores!
Some common food items to consider include:
Cooking oil
Spices, herbs, and seasonings
Bottled water, soda, and juice
Eggs
Potatoes
Popcorn in a fire-safe popping pan
S'mores ingredients
Meat
Nut butter and jelly
Fresh fruits and vegetables
A loaf of bread
Condiments, including ketchup, mustard, relish, and mayonnaise
Grab-and-go snacks, like trail mix and energy bars
Sliced cheese and deli meat
Cereal or granola
Beef jerky
Hotdogs and hamburgers
Chips, pretzels, or other salty snacks
Canned beans
Breakfast meats
Hygiene And Toiletries
While some people enjoy the natural feel of camping, most of us still appreciate having access to basic hygiene and toiletry items.
A small first-aid kit is also a good idea in case of minor cuts, scrapes, or bug bites, and don't forget the sunscreen!
Some common hygiene and toiletry items to consider include:
Hand soap
Bath towels and washcloths
Hand and body lotion
Body soap, shampoo, and conditioner
A hairbrush
Cotton swabs
Toilet paper
A handheld mirror
Glasses and contacts and lens wipe and contact solution
Dental floss
Tissues
A water-safe shower bag
A razor and shaving cream
Menstrual products
Deodorant
Makeup and skincare items
A portable shower and toilet, if applicable
Baby wipes for quick wipe-downs between washes
A toothbrush and toothpaste.
Clean-Up Gear
No one wants to leave a campsite messier than they found it, so be sure to pack enough clean-up gear to last the duration of your trip. To make clean-up a breeze, fill all the necessary supplies, including garbage bags, a small shovel, and a brush.
Some common clean-up gear items to consider include:
Environmentally-friendly dish soap
Trash bags
Plastic bags or laundry hamper for dirty clothes
Dishtowels
Paper towels
A drying rack or clothesline
Cleaning supplies, like disinfectant wipes
A stain-remover pen for clothes
A portable sink or basin for dishwashing
A cleaning sponge
A broom and dustpan
Safety Items
Safety should always be a top priority when camping. Be sure to pack items like a first-aid kit, flashlight, and whistle in case of an emergency and any items specific to your camping location and activities. Although it doesn't qualify as a safety item, a GPS can help you stay on the right trail if you're car camping.
Some common safety items to consider include:
A portable fire extinguisher
Hand sanitizer
Spare cash
An emergency blanket
High SPF, water-resistant sunscreen
A map of the area
Insect repellant, with DEET if applicable
Spare batteries
Jugs of freshwater, for emergencies
A compass
A field guide with information about local plants and animals
Bear mace
Water treatment or filtration system
Printed directions to the nearest hospital
A whistle
A disposable rain poncho
Personal Belongings
Of course, you'll also need to pack your personal belongings to make the most of your camping trip.
Some common personal belongings items to consider include:
All licenses and permits
SPF-protected lip balm
Your wallet with credit cards and legal ID inside
Your keys
A cell phone and charger
An insulated water bottle
A copy of your campsite reservation confirmation, if applicable
A travel-sized umbrella
First Aid
No matter how careful you are, there's always a chance someone might get hurt while camping. Be prepared for minor injuries by packing a small first-aid kit.
Make sure your first-aid kit includes the following items to ensure that each person is a safe and happy camper:
Adhesive bandages
Alcohol
Gauze
Hydrogen peroxide
Anti-itch medication, such as calamine lotion
Over-the-counter pain relievers, antihistamines, and antacid tablets
An oral thermometer
Finger splints
Eye drops
Liquid bandage
Non-latex gloves
Sunburn cream or gel
A snakebite treatment kit
Prescription medications
Items For Camping With Kids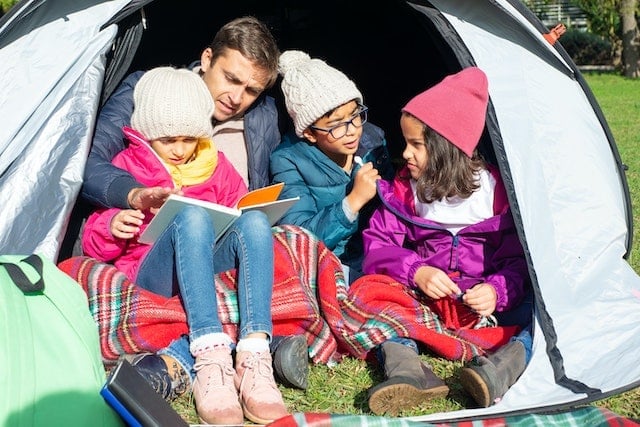 If you're planning to camp with young children, there are a few extra items you'll need to pack to make the trip enjoyable for everyone.
Some common camping with kids items to consider include:
A crib or bassinet
Pop-up playpens
A baby monitor
Baby wipes and diapers
A wearable baby carrier
A portable baby bathtub
Indoor and outdoor toys
An outdoor high chair
Baby food
A current photo
Child-sized camping chairs
Items For Camping With Pets
If you're planning to camp with pets, there are a few extra items you'll need to pack to make the trip enjoyable for everyone.
Some common camping with pets items to consider include:
Waste disposal bags
A dog leash and harness
Food and water bowls
Dog food and treats
A pet first-aid kit
A pet bed
Outdoor dog toys
Dog ID tags
Conclusion
Camping is a great way to enjoy the outdoors, but it's important to be prepared before you head out for your next camping trip. Be sure to pack all the essential items on this list, as well as any other items specific to your camping location and activities. With a little planning and preparation, you're sure to have a safe and fun-filled camping trip.