Looking for a fun RV resort vacation that the whole family will enjoy? Look no further than Willow Tree RV Resort in Myrtle Beach! Willow Tree is packed full of activities and attraction that will keep you entertained and wanting more!
Willow Tree RV Resort is one of South Carolina's most popular state parks. It provides a diverse range of services and attractions to guests, making it ideal for a day trip or weekend escape.
Everything you need to know about Willow Tree RV resort will be covered in this blog post. We will also provide you details about the park's amenities and attractions, as well as some feedback from people who have already been.
Why You Should Visit Willow Tree RV Resort Campground
At Willow Tree RV resort you have access to one of the most outstanding landmarks in South Carolina, the grand strand beach! Willow Tree RV Resort campground is a jewel 12 miles inland in a lovely location just minutes from the ocean. It is in close proximity to the Grand Strand region.
There are a lot of place where you you can enjoy shopping, dining, entertainment, and activities. Some of these places include Cherry Grove fishing pier, Myrtle Beach, Calabash, and Sunset Beach. All of which are just a short drive away.
Also, Willow Tree RV Resort is the one of the only campgrounds that overlooks a large lake which is perfect for fishing, kayaking, and canoeing.
More About WillowTree RV Resort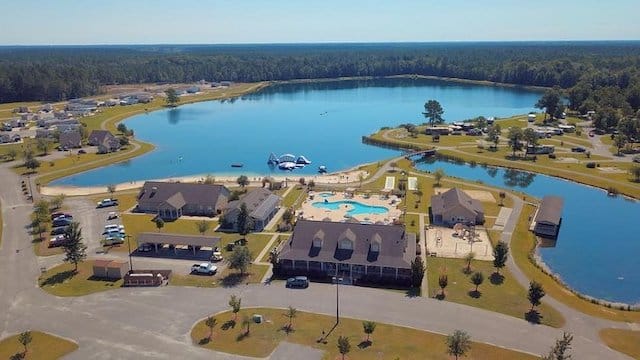 Here are some amazing facts about Willow Tree RV resort:
Large RV Parking Sites: Willow Tree RV Resort offers large RV parking sites that can accommodate any size RV. Willow Tree RV sites are the largest and most spacious in the area, with space available for nearly every camper or RV.
Pull-Through Sites: Willow Tree also features pull-through sites which make it easy to get in and out of the RV sites.
Pet Friendly: Willow Tree is pet friendly, so you don't have to leave your furry friend behind or have them stuck up in a pet boarding facility.
Alternative Ways to Stay: The campground provides lake front cottages as an available alternative to stay.
Highest Rated RV Resort: Willow Tree RV resort is one of the highest-rated RV resorts on the East Coast. You will see some of the reviews from satisfied customers in the coming section.
Large Arces of Land: The RV park has a very large campground with over 2500 acres of land.
Camping Options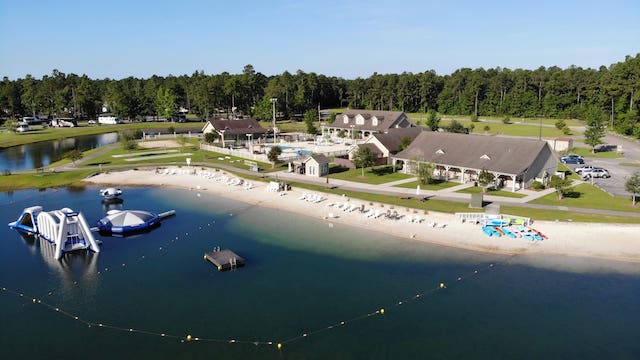 Willow Tree resort offers plenty ways to camp for everyone, whether you're a seasoned camper or a first-time camper. Full hookups, large, fully paved RV pads, and lush landscaping is available at our Lakeside and Premium pull-thru RV sites.
Also, WillowTree RV resort has Lake front Cottages that provide unrivaled views of its vast lake. The bedroom cottages are fully equipped full electrical hook up , queen size beds, flat screen TV, hot tub, a large concrete patio, a laundry room, an arcade and recreation room. This provides an home away from home experience for campers!
Things To Do At Willow Tree RV Park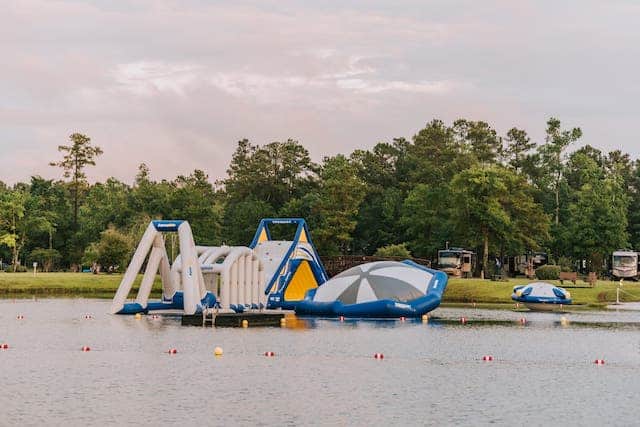 Willow Tree RV Resort is packed with activities to keep you busy during your stay. Here are some of the campsite features that you can do at Willow Tree RV resort:
Fishing: Willow Tree RV Resort campground is located on a large lake, which makes it the perfect spot for fishing. The park also has a bait and tackle shop so you can purchase all the supplies you need.
Kayaking and Canoeing: If you enjoy being out on the water, Willow Tree RV Resort campground is a great place for kayaking and canoeing. The park has a wide variety of boats that you can use, including paddle boats, pontoon boats, and kayaks.
Swimming Pool: In the RV Park's Splash Zone, you can enjoy the Grand Strand's only in-lake waterpark. This is a way to relax at the white sand beach while the youngsters play in the shallows, or take a turn in adventure-themed swimming courses and slides. Also, there is a designated swimming pool nearby with a kiddie pool, which is perfect for a swim in the lake or relaxing on a tube or pool float.
Shopping: The Grand Strand offers a variety of shopping opportunities, which are just minutes away from Willow Tree RV Resort campground. You can find everything from outlet malls to beach stores.
Dining: There are also many dining options available in the area, including seafood restaurants, pizza places, picnic table and barbecue joints.
Free WiFi: With access to the free Wi fi connection at Willow Tree RV resort, you can surf the internet freely and enjoy uninterrupted internet services.
Outdoor fun: There are plenty outdoor games available. You can play ping pong, play pool games, and enjoy outdoor games as well. Also, you can go for some lake swimming or enjoy pedal boats in the Myrtle beach area.
RV Camping: This beautiful campground has an adventure inspired park and spacious campsites for all types of indoor and outdoor fun. You can have camp activities like fire ring, charcoal grill, and other fun activities.
Reviews
John Kenny (Verified Google Review) shares:
"Had our very 1st RV overnight there last night. Beautiful park and in lake waterpark. Had lakeside site. Easy backing with an escort from the check-in desk. Woke to a stunning sunrise over the lake with 50 or so geese gliding in and out. Must be even more fun in warmer times with their beach, boats, jacuzzi, pool. Upscale clean combined toilets and shower in one with 8 separate units. Thanks, Malinda for easy check-in and assistance."
Jacqueline Maas (Verified Google Review) shares:
"We love Willow Tree it is a well-maintained resort with wonderful amenities and super friendly and welcoming staff. They have always been very accommodating when possible and provided great service. We also store our RV on site which makes it super easy when we camp there. I would recommend this to anyone who is looking for a super clean and fun place to stay!"
Conclusion
If you're looking for a place to relax this weekend, Willow Tree RV Resort is the perfect spot. With its large campground, beautiful lake, and variety of activities, Willow Tree RV Resort will keep you busy and entertained during your stay. So, what are you waiting for? Make Willow Tree RV Resort your next vacation spot!
Need An RV Rental Expert?
Cozy Turtle RV rentals specializes in RV rentals and have assisted a number of families in finding the ideal RVs for rent at reasonable prices. If you're searching for a cost-effective method to go camping, give us a call now!
We are located in the center of Myrtle Beach, and we can connect you with a variety of indoor and beachside camping options all around the Myrtles. Contact us at 843-455-3138 or visit our website to reserve an RV.