Oak Plantation Campground is a beautiful place to spend your summer vacation! The campgrounds are spacious and well-maintained, and the staff is super friendly. And if you want to explore the area, there's plenty to see and do within easy driving distance. Oak Plantation is definitely a great location for a relaxing getaway! In this article, we'll give you a rundown of all the great things Oak Plantation Campground has to offer.
About Oak Plantation Campground
When in Charleston, Oak Plantation is the ideal place to stay! With over 200 sites and a large area of land, Oak Plantation offers plenty of space for camping, hiking, fishing, and more. And if you're looking for some fun activities to do while you're here, they've got you covered!
Oak Plantation has been family-owned and operated for over 45 years! It's a great campground that's just minutes away from Charleston's historic plantations, downtown historic district, golf, shopping, and the elegant beaches. It also comes with a dose of southern hospitality that will make you feel right at home.
Amenities & Features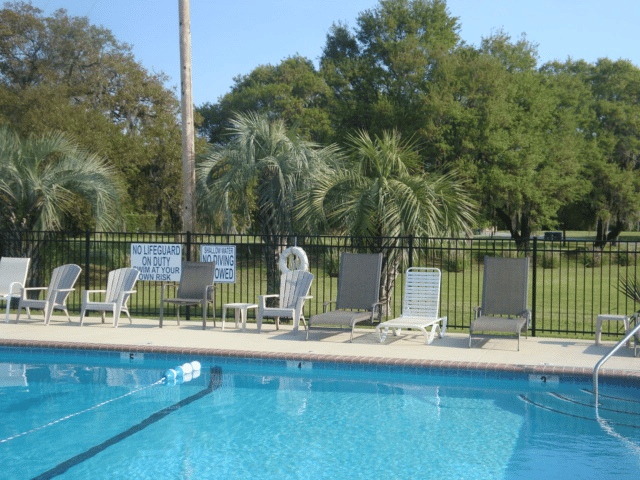 Oak plantation is a very nice campground with tons of amenities. Below we list some of them:
 30 Amp – 50 Amp full hookup sites on gravel drive-on pads

Big rigs are welcome

Quiet, restful atmosphere

Paved roads for easy access

Largest campground in Charleston

Trading post convenience store stocked with RV supplies, ice, some groceries, health items, and book exchange.

New Publix grocery & pharmacy within walking distance

No Satellite, but cable TV is available at all sites

Gas station with diesel next door

RV park

On-site food truck

A dump station

LP gas available

Wi-Fi Internet

Clean, modern showers and restrooms

Nice laundry room

Sparkling outdoor pool (Not heated)

Picnic shelter for large family gatherings

Play area, disc golf, and garden chess
Attractions Near Oak Plantation Campground
According to the oak plantation campground website, here are some closeby attractions:
Magnolia Plantation And Gardens
This plantation was founded in 1676 by the Drayton family and the most well-preserved plantation in the Charleston area. It has been designated as one of the Most Beautiful Gardens in America and is the only one to be recognized in South Carolina!
The Magnolia Plantation has witnessed the history of our country develop before it, from the American Revolution to the Civil War and beyond, surviving for centuries and seeing it all. It is also the oldest public tourist attraction in the United States. Ever since this monument opened its doors to visitors in 1870, it has provided a unique view of some of the world's most beautiful flowers and plants.
Boone Hall
Yes. Another plantation! Major John Boone, an Englishman who arrived in Charleston in 1681, established Boone Hall on the banks of Wampacheone Creek. The family and descendants of Major Boone were instrumental in the development of South Carolina, the colonies, and the United States.
In 1743, Major John Boone's son planted live oaks in two equally spaced rows. This spectacular approach to his home symbolizes the southern heritage and will take root in your memory for many years to come.
Charleston Museum
Founded in 1773, The Charleston Museum is recognized as America's first museum. It houses collections that tell the story of Charleston and the Lowcountry region from its natural history to the Civil War.
The museum is located in historic downtown Charleston near many other attractions such as Rainbow Row, Battery Park, and Waterfront Park.
Fort Sumter National Monument
This National Monument preserves the site of the first shots of the Civil War, which were fired here on April 12, 1861. Fort Sumter is located in Charleston Harbor and can be reached by boat from patriots point or fort Moultrie.
The best way to see Fort Sumter is by taking a ferry ride out to the island. The ferry leaves from Liberty Square in downtown Charleston and Patriots Point in Mount Pleasant. You can also take a private boat or charter a helicopter for a bird's eye view of this historic site.
Charleston Beaches
Oak Plantation Campground is just a short drive from some of the most beautiful beaches in the world! Folly Beach, Sullivan's Island, Isle of Palms, and Kiawah Island are all nearby.
Charleston is also home to several state parks and nature preserves, such as James Island County Park, which has a beach, fishing pier, trails, and much more.
SC Aquarium
The South Carolina Aquarium is a popular tourist attraction in Charleston and is located on the city's historic waterfront. The aquarium has a variety of exhibits, including one on sharks and one on loggerhead turtles. In addition to the displays, the aquarium includes a gift shop and cafe. Alligators, stingrays, and various fish may be seen in the aquarium.
The aquarium has an extensive education program and offers classes, camps, and field trips for all ages. They also have a Sea turtle rescue program that has saved hundreds of turtles since it began decades ago.
Charleston Tea Garden
The Charleston Tea Garden is the only tea plantation in the United States, and it is located on Wadmalaw Island outside of Charleston. The fields may be toured as well as the factory, where you have a chance to try some of the different types of tea produced here. A gift shop on-site sells tea as well as other souvenirs inspired by Charleston.
Middleton Place
Middleton Place, a National Historic Landmark and an enduring, vibrant, and important element of the Charleston and American experience, is owned and managed by the Middleton Place Foundation. The Foundation, a 501(c)(3) educational trust established in 1974, uses historic preservation, documented study, and interpretation as a force for education, enlightenment, and positive change.
The Hunley
In 1864, the submarine Hunley became the first successful combat submarine when she sank the Navy steamer USS Housatonic. For more than a century, she was lost and then rediscovered from the sea in 2000, and now scientists are attempting to unravel the mystery behind this submarine. You'll explore what it was like to serve aboard a submarine through new interactive exhibits!
Cypress Gardens
Beautiful Cypress Gardens has been a favorite group and family destination since 1932. Visitors from all around the country come to see this distinctive and entertaining attraction, which has been featured in many national publications and popular television shows and movies, including The Notebook and The Patriot.
Reviews

"We landed at Oak Plantation for an extended stay of 8 weeks; this place is absolutely wonderful. The staff is helpful and nice, and I do not have one bad thing to write about. The lots are huge and easy to park, even the largest rigs, we have a 43′ 5th wheel, and I easily backed it up and still had enough room for a center console boat and a vehicle. The bath houses are very clean; the campground is spotless and well maintained.
Even the other campers are a delight to be around, with plenty of room for kids to run and a dog park. The only downside to this park is pulling out on to the main road "lots of traffic," but not their fault! I would absolutely stay here every time I come to Charleston and highly recommend it to others. Close to countless restaurants and things to do, but off the beaten path enough to be relaxing."
"I was concerned about our camp ground and made our reservation because the person who answered the phone sounded unfriendly and rude. But the young man who checked us in was very kind and friendly. Our campsite was private and beautiful. The only drawback was no campfire ring. We had a campfire in our weber cooker. They have a nice dog park with fresh water available. Signs to dog owners to be considerate, but there was poop left by rude dog owners. Perhaps it would be beneficial to have doggie bags available."
Conclusion
Oak Plantation Campground is one of the best RV parks in Charleston and there are many reasons to choose for your next camping trip. It is the perfect place to stay for those who want to explore all that Charleston has to offer. With its convenient location, ample amenities, and friendly staff, it is no wonder that this campground is such a popular destination.
It is also close to a lot of attractions! From the historical sites to the beaches, there is something for everyone at this campground. Pets are welcome at Oak Plantation Campground! So pack your bags and head on down to Oak Plantation Campground for an unforgettable camping experience.
Need An RV Rental Service For Your Trip?
Are you planning a stay at Oak plantation campground or one of the other surrounding campgrounds? If your answer is yes, the Cozy Turtle RV staff would be delighted to assist you with your next family vacation.
We specialize in RV rentals and have assisted numerous families in finding the perfect RVs for rent at affordable rates. Reach out today if you are searching for an inexpensive way to go camping!