Myrtle Beach State Park camping is a great way to experience all that the area has to offer. This beautiful park sits nestled among the oceanfront maritime forest of Myrtle beach.
It is a quiet and unexpectedly verdant getaway from the otherwise bustling beach and offers educational programming, a nature walk, and some of the state's best surf fishing.
If you're not familiar with the entire park or aren't sure what to expect, this blog post will tell you everything you need to know! We'll cover topics like campground facilities and things to do in the area. So whether you're a first-time camper or just looking for some tips, keep reading for all the details on Myrtle Beach State Park camping.
Camping Information
The Myrtle Beach State Park campground is located off of South Kings Highway (Rte 17) near the Myrtle Beach Airport. The main campground offers individual water and electrical hookups.
The overflow campground is for tents only, does not offer electricity, and has central water. RV sites range from 30 to 40 feet in length, while others accommodate smaller units such as tents. Below, we discuss some amenities and policies in detail:
Pet Policies
Pets are not permitted in the cabins or on the premises. Pets are also not allowed on the beaches from 10 am to 5 pm, Monday through Friday (7 days a week) between May 1 and Labor Day, according to county legislation.
However, pets are permitted in most other outdoor areas throughout the year as long as they are under physical restraint or leashed at no longer than six feet.
Sites With Electricity & Water
This is one of the best Myrtle beach campgrounds mainly because of its amenities. There are 140 standard sites in the park. All of these sites come with water and electricity. Asides from this, there are also 138 full hookup sites.
Hot Showers
The park has shower houses with both hot and cold water. These are available to all guests and are open 24 hours a day.
Dump Station
The park gives guests access to a dump station. Its usage is included in the price of the campsite.
Designated Tent Camping Sites
Overflow campsites are available from Easter weekend through Labor Day at the 30-site campground. Tent sites with access to central water (no electricity) are known as overflow campsites.
Reservation Policies
Call toll-free at 1-866-345-PARK (7275) or go to the park's reservations page and click "Make a Reservation" at the top of this page to make a camping reservation or view current rates. Rates vary according to season and demand, and they are subject to change.
Reservations for two nights or more are required for camping reservations. Camping reservations must be made at least one (1) day in advance of arrival. If you reserve less than one (1) day before your stay, you will need to contact the park directly.
For example, if today is Friday and you're making a reservation to check in on Friday, you must do so through the park's official website or by calling. After-hours campers should contact the park's office for the gate combination and access to the camping area.
Nature Center
The nature center at Myrtle Beach State Park is open year-round and offers a variety of programs for all ages. The center has exhibits on the local ecosystem, as well as live animals that guests can see up close. The nature center also offers walking trails, an auditorium, and a gift shop.
Things To Do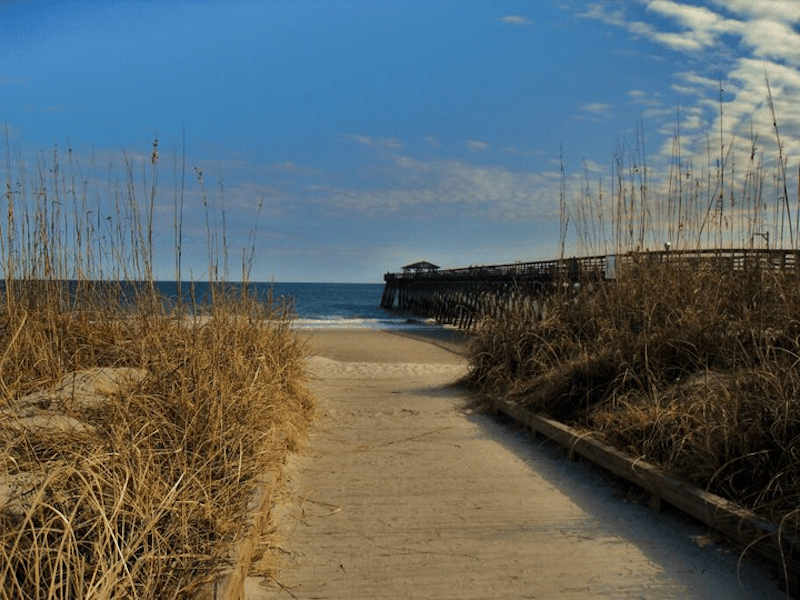 There are tons of things to do both in and around Myrtle Beach State Park. Of course, the beach is the main attraction. But if you're looking for something else to do, there are plenty of options. Below, we discuss some of the most popular things to do in the area.
Fishing
Myrtle Beach is a great place to fish. There are many spots along the shore where you can drop a line and try your luck. The park also has a pier where fishing is allowed (with a valid fishing license).
Horse Trails
From the third Saturday in November to the last day of February, horseback riding on the beach is accessible. There is a fee/ permit for each horse that enters the park.
The permit is only for the horse. Horses are not allowed in the park overnight. And riders must also have current Negative Coggins papers for each horse brought into the park.
Geocaching
Geocaching is a real-world, outdoor treasure hunting game using GPS-enabled devices. Participants navigate to a specific set of GPS coordinates and then attempt to find the geocache (container) hidden at that location.
Myrtle Beach State Park has several geocaches hidden throughout the park. This is a great activity for the whole family.
Swimming
The park has a designated swimming area near the park office and store. The water is usually calm in this area, making it perfect for swimming and splashing around.
There are also several lifeguard towers along the beach. So you can feel confident that someone will be there to help if you need it.
Picnicking
Picnicking is a popular activity at Myrtle Beach State Park. There are several picnic tables and grills located throughout the park. Visitors are welcome to bring their own food and drinks or take advantage of the many dining options in the area.
Recreational Area
Myrtle Beach State Park also has a recreation area with bocce balls and horseshoe pits. This is a great place to spend some time if you're looking for a break from the beach.
Nature Trail
The park has several nature trails that wind through the woods and offer views of the ocean. These trails are perfect for a leisurely stroll or a vigorous hike.
Places To See
There are many places to see in and around Myrtle Beach State Park. Below, we discuss some of the most popular attractions in the area.
1. Myrtle Beach Skywheel
The SkyWheel, a prominent structure in the city of Myrtle Beach, is an exciting attraction that overlooks part of the city's skyline. It's a Ferris wheel with a height of 187 feet and is located near Landshark Bar & Grill on North Ocean Boulevard in the city center.
The SkyWheel is the state's sixth highest observation wheel, and it is well-known throughout the state because of its height! It has been in operation since 2011 and is one of the most notable sights with Gondolas that can transport up to six people for three-wheel rotations.
2. Ripley's Aquarium
Ripley's Aquarium, located on Broadway at the Beach, is one of Myrtle Beach's top attractions. The facility contains more than 1000 different sea creatures that are displayed in over 50 individual exhibits. In addition to the standard fish that you would find in an aquarium, Ripley's also has sharks, stingrays, and even penguins! You can explore the aquarium through a series of walkways and tunnels that offer up-close views of the aquatic life.
3. Myrtle Beach Boardwalk
The Myrtle Beach Boardwalk is a 1.2-mile wooden promenade that stretches along the oceanfront from 2nd Avenue Pier to 14th Avenue North. The boardwalk is a great place to take a leisurely stroll, go for a run, or ride your bike. You'll also find plenty of shops, restaurants, and cafes along the way.
4. Barefoot Landing
Barefoot Landing is an outdoor shopping complex that features more than 100 stores and restaurants. It's located in North Myrtle Beach and is adjacent to the Barefoot Resort golf course. The complex has a number of notable attractions, including the House of Blues, Alabama Theatre, Alligator Adventure, and character shows featuring Dolly Parton and Elvis Presley.
5. Brookgreen Gardens
Brookgreen Gardens is a 9,100-acre nature preserve that features sculptures, gardens, and a zoo. It's located in Murrells Inlet, about 20 minutes south of Myrtle Beach. The gardens are divided into four distinct sections, each with its own theme. You'll also find a café and a gift shop on site.
6. Ripley's Believe It Or Not
Ripley's Believe It Or Not is an odditorium that features bizarre artifacts and exhibits from around the world. It's located in Myrtle Beach's Broadway at the Beach complex. The museum is home to more than 500 different items, including a shrunken human head!
7. Hollywood Wax Museum
The Hollywood Wax Museum is a museum that features likenesses of some of Hollywood's most popular celebrities. It's located in Myrtle Beach's Broadway at the Beach complex. The museum is divided into several sections, each with its own theme. You'll also find a café and a gift shop on site.
Review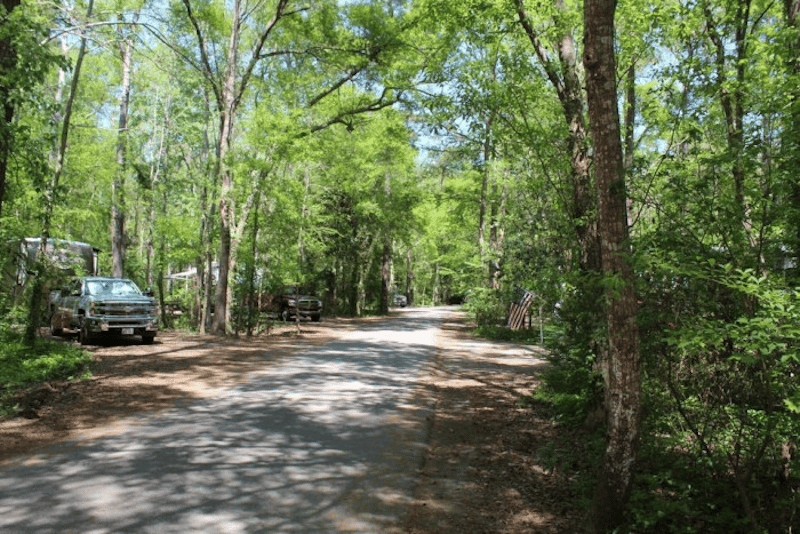 "Totally worth it! I'm sure we only had them to explore a small portion of the park, but man, was it worth it!!!! They also allow you to come back on the same days once you've paid. I love that they allow dogs (we took her to the beach after 5 pm), and omg, it was so much fun. This beach is a lot quieter than most down by the hotels. It feels cleaner too. We loved the pier and little boardwalks. Took a quick trail too, which was super scenic. Overall, beautiful experience."
Conclusion
Myrtle Beach State Park is definitely one of the best places to visit in South Carolina. It's a great place to relax, have fun, and enjoy the outdoors. So what are you waiting for? Pack your bags and head to Myrtle Beach State Park today!
Need An RV?
If you need assistance finding cheap RV rentals, feel free to contact Cozy Turtle RV Rentals. We are an RV rental company located at the heart of Myrtle Beach and can hook you up with several interior and beachside camping spots throughout the Myrtle area.