Briarcliffe Resort is one of the most serene vacation spots in South Carolina. It offers visitors a wide selection of services and attractions, making it an excellent choice for a relaxing getaway.  This blog post will contain all you need to know about this resort. Stick around!
Facts About Briarcliffe RV Resort
Before we dive into the amenities and attractions at the RV site, here are a few facts about this RV campground:
Briarcliffe Resort is located at 10495 N Kings Hwy, Myrtle Beach, SC 29572. It is just a short distance from North Myrtle Beach.
It is situated along the Intracoastal Waterway, about a mile from the Grand Strand.
Briarcliffe Resort is home to over 161 RV sites and a wide variety of great park models on the property.
Briarcliffe Resort is affiliated with Passport America.
There are also four tennis courts, a basketball court, a shuffleboard court, and a playground.
It is a pet-friendly resort so that you can bring your pets along for the trip.
Amenities At Briarcliffe Resort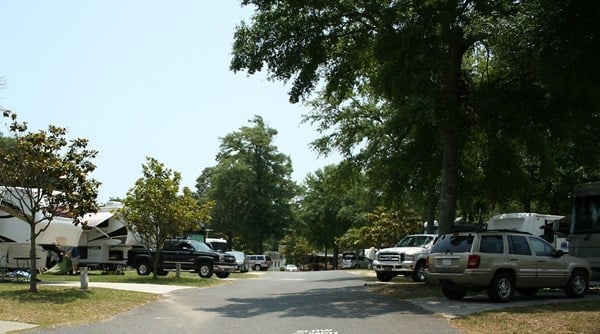 Briarcliffe is not just any RV resort , it contains some of the most coveted amenities in Myrtle Beach. Here are some of the amenities that guests can utilize while staying at Briarcliffe Resort:
Horseshoe pits
Shuffleboard
Putt-Putt
Concrete pads
Basketball court
Large sites that accept big rigs and provide the utilities to accommodate your state of the art equipment
Full hookups
A fenced dog park
A nice pool overlooking the Intracoastal Waterway
Tennis courts
Mobile wash and good laundry facilities
A beautiful clubhouse for socializing and playing games
The resort has paved streets with street lights and each site has a concrete parking area and patio
Events and Activities At Briarcliffe RV Resort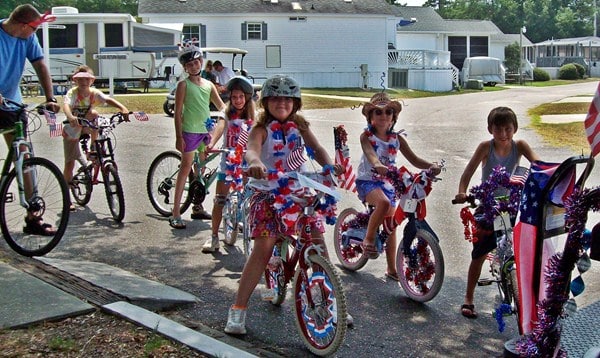 Now that you have seen the list of amenities at Briarcliffe Resort, here are some popular events and activities that take place at the resort:
Wildlife Watching: Briarcliffe Resort is home to various wildlife, including alligators, sea turtles, geese, and more. You can take a nature hike or go on a kayaking adventure to see some of the animals up close.
Fishing: The Intercoastal Waterway is a good location to fish, and Briarcliffe Resort has its private pier where you can try your luck at catching flounder, redfish, trout, and more.
Golfing and Golf Cart Rentals: There are several golf courses in the area, and you can rent golf carts to get around the resort. A-Jax Golf Cart Rentals and Graham Golf Cars are at your services at Briarcliffe RV park.
Biking: There are miles of paved trails at Briarcliffe Resort, perfect for an afternoon bike ride.
Shopping: There are several shops in the area, including a grocery store, souvenir shops, and more.
Dining: The dining options and restaurants at Briarcliffe Resort are endless. You can find anything from seafood to Italian cuisine in the area. They include Kings Famous Pizza, Calabash Seafood Hut, Dino's House of Pancakes, and The Golden Corral.
Briarcliffe Resort Reviews
Here are a few reviews from the guests who have stayed at Briarcliffe RV park:
Monnie Blackman (Verified Google Review) shares:
"We stayed here for the first time, and it was so peaceful and clean!! Everyone there was nice and kind! We would walk to the broadway and shop and go walking around the park, and all the people there waved and talked to us. It's like being at home. I can't wait to go back!"
Eric B. from TripAdvisor shares:
"We have visited Briarcliffe Resort for 2 seasons now multiple times. Coast to Coast visitors can say up to 2 weeks with a very reasonable fee. Walking distance to Barefoot Landing, House of Blues, Alabama Theater, and a slu of dining option, Briarcliffe Resort is right for Snowbirds and summer visitors. Primarily seniors in the winter with a host of activities and social events. It is always a relaxing time when visiting."
RV Rental Service In Myrtle Beach
Planning a stay at Briarcliffe Resort? If your answer is yes, then the Cozy Turtle RV team would be delighted to assist you in planning your next family vacation.
We specialize in RV rentals and have assisted numerous families in finding the perfect RVs for rent at affordable rates. Reach out today if you are searching for an inexpensive way to go camping! We're located in downtown Myrtle Beach, and we can connect you with a variety of indoor and beachside camping opportunities throughout the Myrtle Beach area.