Barefoot RV Resort is one of South Carolina's most attractive state parks. It provides a diverse range of services and attractions for guests, making it ideal for a day trip or weekend getaway.
This blog post will cover everything you need to know about Barefoot RV Resort. We will also provide you details about the park's attractions and give you some feedback from guests who have already been to this popular RV resort. Let's get started!
Why Should You Visit Barefoot RV Resort?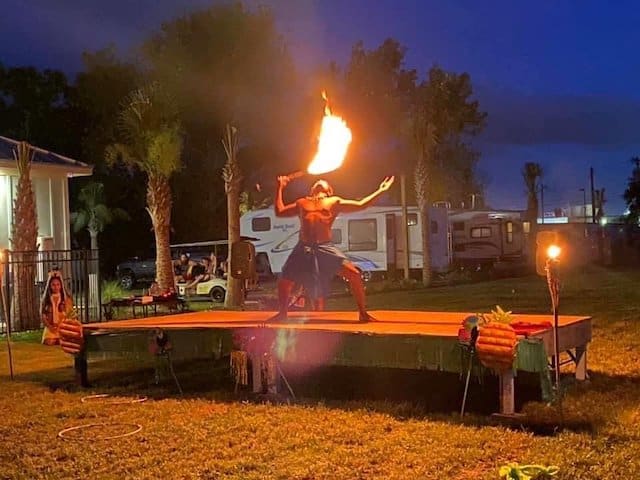 Barefoot RV campground is an RV resort located at 920 37th Ave S North Myrtle Beach, SC 29582. They are dedicated to ensuring you have a relaxing and worry-free camping experience. What's more, there are loads of RV sites and cute tiny homes to choose from.
At Barefoot RV Resort, you get to enjoy all the benefits of camping while only being a golf cart ride away from Barefoot Landing. There are also various golf courses, family activities, restaurants, nightlife attractions, and other attractions in the resort.
If you appreciate the sea, you'll love this resort, It's just a few minutes away from the beach, and you can indulge your passion for it by camping by the seaside. You can also marvel at all of the wonderful bird and fish species.
Barefoot RV Resort, however, has a lot more to offer. You'll have access to the snowbird area and other attractions on the campground.
Fun Facts About Barefoot RV Resorts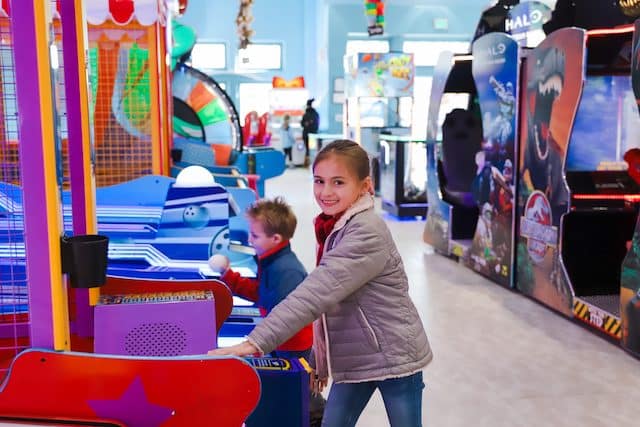 Before we dive into the attractions and amenities that this campground offers, here are some amazing facts about Barefoot RV Resorts:
It is located in North Myrtle Beach, South Carolina. This means that the Barefoot RV campground is close to other amazing locations that Myrtle Beach offers.
They offer great RV parks and tiny homes.
The Barefoot campgrounds can handle modern extra large rigs.
The barefoot RV site is close to the Hawaiian Rumble Golf, Alligator Adventure, and House Of Blues.
Golf carts and pets are welcome on the grounds.
You can watch alligators and other wildlife activities.
This is one of the only RV sites with spacious paved sites with full hookups, free WiFi/cable, a picnic table, a fire pit, & city water/sewer.
Activities At Barefoot RV Resort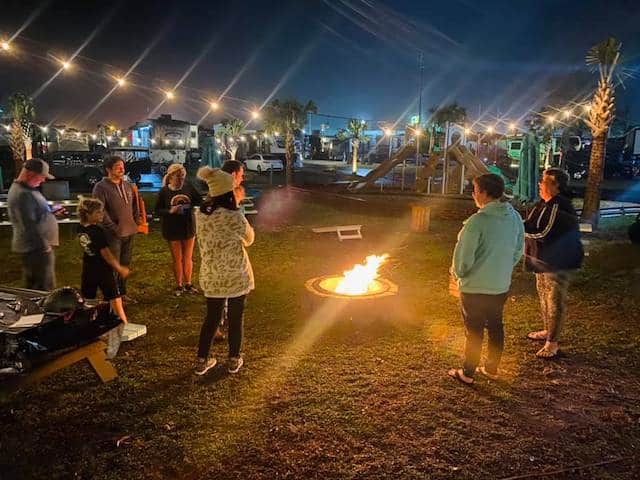 Now that we know a little more about the Barefoot RV Resort let's dive into some of their fun activities.
Golfing: One of the main attractions at this resort is golfing. The Barefoot RV Resort is located close to several championship golf courses. These courses include Azalea Sands Golf Club, Eagle Nest Golf Club, and Barefoot Resort & Golf.
Shopping: Many shopping opportunities are available near the Barefoot RV Resort. These include Barefoot Landing, Broadway at the Beach, Myrtle Beach Mall, Tanger Outlets, and Coastal Grand Mall.
Entertainment: In addition to golfing and shopping, many entertainment options are available. These include Barefoot Princess Riverboat, House of Blues Myrtle Beach, Alabama Theatre, Carolina Opry, and Palace Theater.
Dining: There are many fast food options, dining, and several restaurants available near the Barefoot RV Resort. These include Zaxby's, Benny Rappa's Trattoria, Bonefish Grill, and Carrabba's Italian Grill.
Boating and Fishing: There are also many opportunities for boating and fishing. Several marinas in the area include Barefoot Marina, Myrtle Beach Yacht Club, and Grand Strand Marina. Also, there are several fishing charters such as Reel Action Fishing Charters, Captain George's Deep Sea Fishing, Wise fishing Charters, and Hurricane Fleet.
Now that we have a better understanding of what the Barefoot RV Resort offers let's look at some of the campground's amenities.
What Amenities Does Barefoot RV Resort Offer?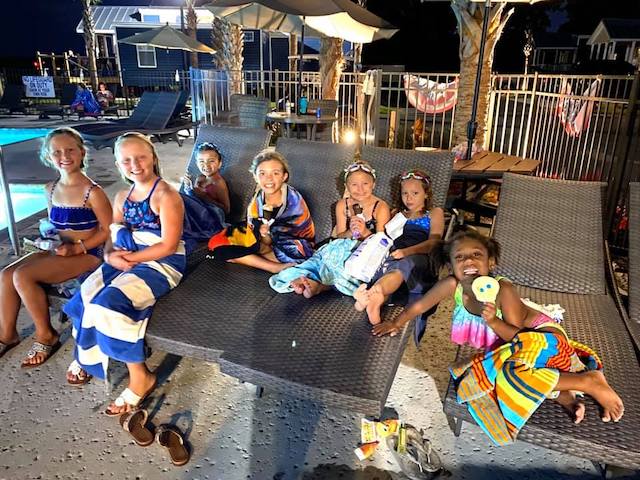 Now that we know a little more about the history of the Barefoot RV park and some interesting activities let's get into what features they offer campers in terms of attractions and amenities.
Internet Access: Barefoot RV Resort offers WiFi and wired internet access.
Cozy Room: The rooms are conducive with comfortable beds, bathrooms, and other facilities.
Cable TV: The resort also offers cable TV with tons of channels.
Laundry Facility: There are laundry facilities available for guests to use.
Restrooms and Showers: The campground has restrooms and showers available for guests.
Picnic Areas: There are picnic areas available for guests to use. You can get also get a picnic table for your meals.
Playground: Barefoot RV campground also has a playground area and a fire pit.
Beach Access: Beach access with parking 1/2 a mile away.
Reviews About Barefoot RV Resort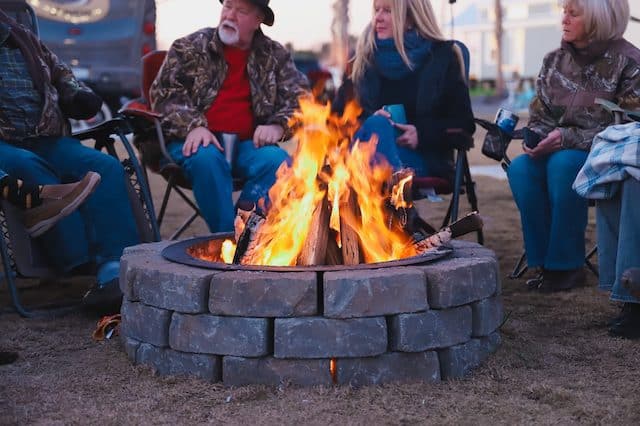 Here are some reviews from guests at Barefoot RV resort.
Mike Rose (Verified Google Review):
"Very new and very clean! Concrete pads were huge and awesome with beautiful Bermuda sod between sites. Nice picnic tables and fire rings at every site. Uplit palm trees throughout. Proximity to Barefoot Landing is great…you can get there without even getting on the main road. The beach is about a 10-minute walk. It's a small resort but that's a plus in my opinion."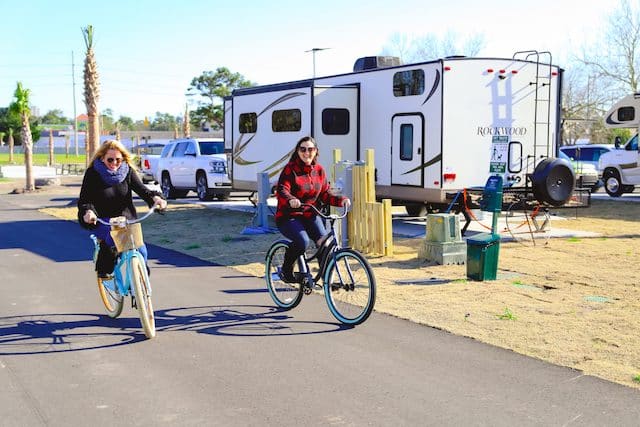 Leigh Moore (Verified Google Review):
"I chose this resort for our wedding anniversary and am so glad I did. We were impressed right away with the cleanliness, well-lit, concrete pads, and services offered. Wood delivery, trash pickup, and golf carts from a local business were delivered on-site. We also chose the best spot I think. In the back near the gorgeous pool was a dog walk area and you could enjoy the small planes coming in and out. The communication was also done well here. Emails and text .. never had to worry about a thing. I will be back!"
Conclusion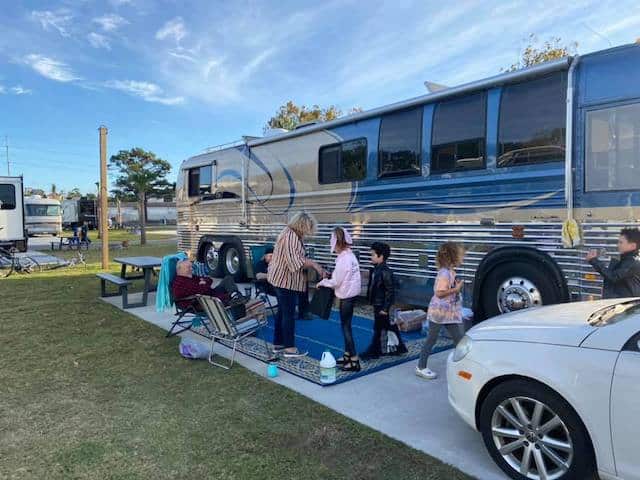 Barefoot RV site is a great place to go with family, kids, and friends if you are looking for golf, shopping, entertainment, or full-time relaxation. The campground offers many amenities and is close to a lot of Myrtle Beach attractions. It is also rated highly by guests.
Before you go, the Cozy Turtle RV team would be delighted to assist you in planning your next family vacation. We specialize in RV rentals in the Myrtle Beach area and have helped numerous families locate the best RVs for rent at a reasonable price. If you're looking for an RV for your Barefoot RV resort getaway, reach out to us!