The beauty of Myrtle Beach is not just limited to its shoreline – so buckle up for the Best Breakfast Myrtle Beach edition! Just as its waves and sand make for the perfect vacation escape, its breakfast spots are also worth the visit.
Whether you are headed to the beach, exploring the golf courses, or just looking for a cozy place to start your day, these five spots will not disappoint. From sweet delicacies like pancakes to savory omelets, Myrtle Beach has something for everyone's palate. Here are the five best breakfast spots to start your day in Myrtle Beach.
Best Breakfast Restaurants In Myrtle Beach, South Carolina
Whether you're a resident or just visiting the Myrtle Beach area, finding a good breakfast spot can set the tone for the rest of your day. Luckily, the area boasts some of the best breakfast restaurants around, and there's no shortage of delicious food options to choose from.
From savory breakfast burritos to sweet pancakes, there's something for everyone at a Myrtle Beach breakfast restaurant. So why not start your day off on the right foot and fuel up with some mouth-watering breakfast fare from one of the area's top-notch breakfast spots? Trust us, your taste buds will thank you.
Johnny D's Waffles and Benedicts
Johnny D's is a local favorite for their cozy atmosphere, friendly staff, and mouth-watering breakfast menu. Their homemade Belgian waffles, made from scratch benedicts, and signature omelets are some of the best dishes on their menu. In addition to that, they have gluten-free and vegetarian options as well.
Croissants Bistro & Bakery
Croissants started as a small bakery but has grown into a highly rated breakfast and lunch spot. Their freshly baked bread and pastries are not to be missed for your morning meal. They offer everything from breakfast sandwiches to crepes. Croissants' breakfast menu is inspired by different regions of France, Italy, and America which provide a unique taste to their customers.
Eggs Up Grill
Eggs up Grill is a chain of breakfast restaurants located throughout the U.S. They specialize in freshly cooked breakfast and brunch items such as omelets, biscuits and gravy, and pancakes. Their menu provides plenty of options for both vegetarian and meat-eaters.
Blueberry's Grill
Blueberry's Grill is designed to make every person feel welcome and comfortable. Their breakfast menu offers sweet and savory crepes, skillets, and sandwiches. You should try their sweet potato pancakes which are considered to be their signature dish.
Mammy's Kitchen
Mammy's Kitchen has been around since 1953. They are famous for serving the best southern breakfast items. Their mouth-watering dishes include French toast, biscuits and sausage gravy, and country fried steak. The prices are reasonable, and the servings are generous.
Sea Captain's House Restaurant
The Sea Captain's House Restaurant is a delightful breakfast place, offering everything from delicious breakfast classics to seafood specialties that will tantalize your taste buds. If you're a fan of crab cakes, you must try their crab cake benedict, a mouthwatering twist on the classic eggs benedict that will leave you feeling satisfied and happy.
And if you're in the mood for something more savory, their seafood omelet is the perfect choice, featuring fresh seafood wrapped in fluffy eggs. What truly sets this restaurant apart is the genuine warm and welcoming feel of southern hospitality that permeates its walls. You'll leave feeling like a cherished guest, counting down the days until you can return.
Donald's Pancake House
Nestled in the heart of Grand Strand lies the go-to restaurant for locals and visitors alike – Donald's Pancake House. With their unbeatable chocolate chip pancakes, fluffy buttermilk pancakes, and great service, it's no wonder that Donald's has become a favorite for many.
From the moment you step inside, you'll be greeted with warm smiles and an inviting atmosphere that'll make you feel right at home. And, of course, the food is something to write home about. Each and every time you visit, you'll leave feeling satisfied and already planning your next trip back. So if you haven't already experienced the magic of Donald's, be sure to stop by during your next visit to the Grand Strand – you won't regret it.
Harry's Breakfast Pancakes
For breakfast lovers everywhere, Harry's Breakfast Pancakes offers a savory twist on a classic dish. While they may be best known for their delicious pancakes, Harry's also serves up some mouth-watering french toast.
You can even top your meal off with a variety of fresh fruit options, adding an extra pop of flavor to your morning. And, if you happen to find yourself in Myrtle Beach, make sure to check out their location there for the ultimate breakfast experience. Harry's will have you starting off your day feeling satisfied and ready for whatever adventures come your way.
Crepe Creation Cafe
If you're a fan of both sweet and savory breakfasts, then the crepe creation cafe is the place for you. This charming cafe boasts an impressive menu featuring a wide variety of crepes that are sure to satisfy any craving. However, what's not to be overlooked is their traditional eggs benedict – a classic breakfast dish that they execute flawlessly.
On the other hand, if you're wanting something light and fresh, their avocado toast is just as impressive. This cafe has quickly become a myrtle beach staple, attracting both locals and tourists alike. Whether you're a breakfast enthusiast or just looking for a quick bite, the crepe creation cafe is a must-visit spot.
Exploring the Different Types of Breakfast Foods in Myrtle Beach
Myrtle Beach, South Carolina, is a popular tourist destination located on the East Coast. The city is renowned for its beautiful coastline, family-friendly attractions, and, of course, its delicious food. If you are visiting Myrtle Beach, you cannot leave without trying some of the scrumptious breakfast foods that the city has to offer.
Southern-Style Breakfast
Myrtle Beach is located in the South, and you can expect to find an excellent selection of Southern-style breakfast foods. The most notable of these is biscuits and gravy, which is a dish made of fluffy, buttery biscuits smothered in a savory gravy made of sausage, milk, and seasoning. Other popular Southern-style breakfast foods in Myrtle Beach include grits, waffles, and fried chicken biscuits. Most restaurants in the city serve excellent Southern-style breakfast foods.
Seafood Breakfast
Since Myrtle Beach is located on the coast, it is no surprise that seafood is a popular breakfast option at many restaurants in the city. Guests can order shrimp and grits, crab cakes benedict, or smoked salmon with a bagel and cream cheese. The seafood breakfast options in Myrtle Beach are some of the most unique in the country and are a must-try for anyone visiting the area.
Pancakes and Waffles
The sweet aroma of freshly made pancakes and waffles wafts through the many cafes and diners in Myrtle Beach. Typically served with a dollop of butter and maple syrup, these sweet treats are a hit with locals and tourists alike. If you have a sweet tooth, be sure to try some of the city's renowned pancake houses.
Fast-Food Breakfast
Breakfast on the go is a popular option for travelers and those in a hurry. Myrtle Beach has plenty of fast-food outlets serving breakfast, from Burger King and McDonald's to Dunkin' Donuts and Starbucks. They offer everything from breakfast sandwiches to wraps, bagels, and pastries. You can grab a bite and a coffee on the go as you explore the city.
Buffet Breakfast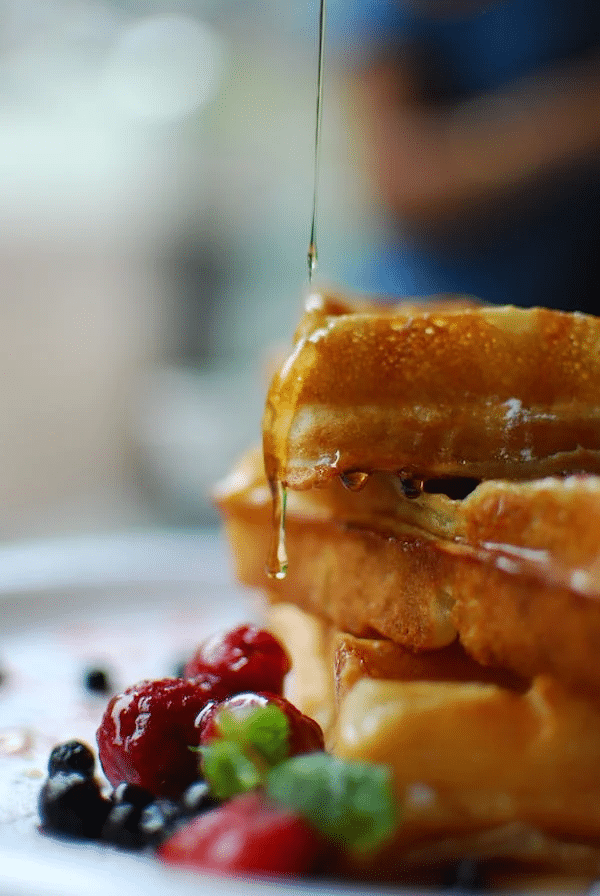 If you're in the mood for an all-you-can-eat breakfast buffet, Myrtle Beach has an endless selection of options. Most of the best breakfast Buffets in the city serve a wide range of dishes, including freshly made omelets, bacon, eggs, biscuits, gravy, Belgian waffles, fruit trays, and much more. If you're traveling with children, many buffets also have a special section for kids with cereal and pancakes.
Conclusion
In conclusion, these five breakfast spots are just a small list of the best breakfast options in Myrtle Beach. You can't go wrong with any of these options, and each one will leave you feeling satisfied and ready for your day.
The next time you visit Myrtle Beach, make sure to check out Johnny D's Waffles and Benedicts, Croissants Bistro & Bakery, Eggs Up Grill, Blueberry's Grill, and Mammy's Kitchen. Let your taste buds have a vacation of their own and indulge in the quintessential experience of southern breakfast spots.
Cozy Turtle RV Rentals
While you stop at any of these delicious breakfast spots, head over to Cozy Turtle RV!
We have so many RV rentals to choose from, something that will keep the whole family happy!