Have you ever wanted to try your hand at golf but didn't know where to start? Now is the perfect time to visit Top Golf Myrtle Beach, the ultimate driving range and entertainment experience. At Top Golf, you can have a great time with friends without worrying about your skill level. Here's why a trip to Top Golf should be on your list of must-dos the next time you're in Myrtle Beach, SC.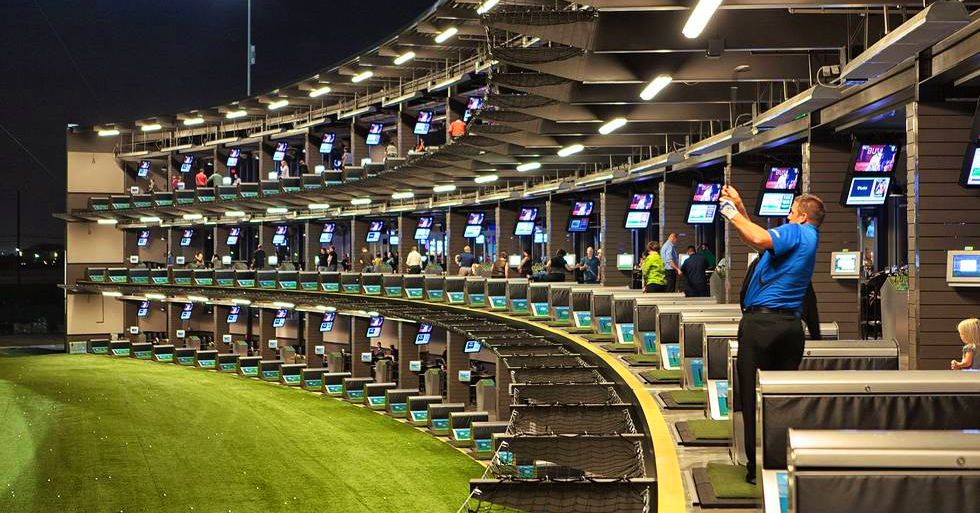 TopGolf Myrtle Beach Location
Step inside TopGolf Myrtle Beach and discover the ultimate entertainment destination! With climate-controlled hitting bays, HDTVs on full display, complimentary clubs available to use, and their state of the art scoring system – you'll be immersed in a thrilling experience. TopGolf Myrtle Beach is a premier entertainment destination with year round comfort. Plus their high tech balls will keep score for you as they soar towards massive outfield targets! Take aim at giant outfield targets while enjoying food & drinks from the sports bar & restaurant – it's an unforgettable way to spend your day here in beautiful South Carolina.
Guests should book a reservation online, though that isn't required. TopGolf Myrtle Beach is located at 2850 Robert Grissom Parkway Myrtle Beach, SC 29577. Hours of operation are Mon-Thurs: 10AM – 11PM, Fri-Sat: 10AM – 12AM, and Sun: 10AM – 11PM. Prices are per hour per bay. You'll definitely want to spend more than two hours here, so make sure to plan for hours of fun! Oh and did we mention Tuesdays are half price?
Experience an unforgettable entertainment experience at their state-of-the-art venue! With 70+ all weather bays across three floors, you can play Topgolf games to your heart's content, while a 28ft video wall and 200+ HDTVs show the day's best sporting events. Free WiFi lets you stay connected with friends and family as you explore the bar & restaurant or take in the views from up high on the rooftop terrace complete with fire pits for some extra warmth. They also offer private event spaces perfect for groups of any size – no matter what time of year it is!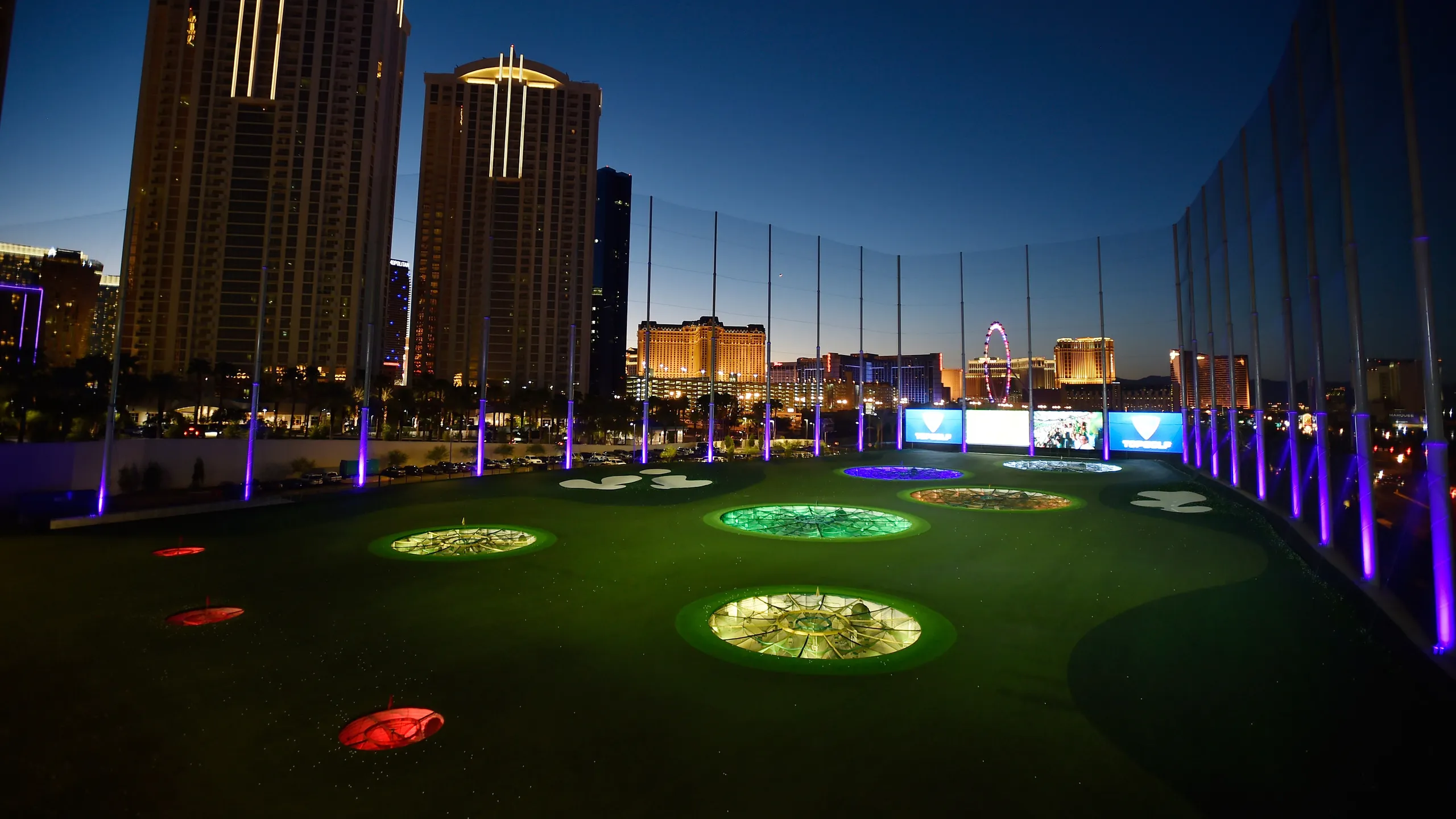 Competitive Golf Games
At Top Golf, you can do it all. Whether you want to just practice your drive or actually play a round of golf, there are options for all levels and abilities. If you're a beginner, there are lessons available from experienced instructors so that you can learn the basics before hitting the course. For those who have more experience, Top Golf offers fun game modes like "Golf Blitz" and "Horse Race," where players compete for points in different target challenges. It's a great way to have fun with friends without getting too serious about the game itself.
Step up to the tee and become a golfing pro at Topgolf! With micro-chipped technology, you'll receive an unforgettable experience as your every move is tracked with precision. There's no need for paper or scorecards – just grab your clubs and get ready to show off some serious skill with games designed around fun challenges like long drives & accuracy tests that will have you swingin' until the sunset!
Top Golf
Players of this game are immersed in a thrilling world where accuracy and precision have never been more important. By connecting with our cutting-edge microchip technology, each play receives their own ball that they must aim at any target to score points. The farther you hit it and the closer your shot lands to its mark determines how many points you'll earn – so go big or stay home!
Quick 9 Novice
Put your marksmanship to the test in this thrilling game of speed and precision! With three chances on each Red, Yellow, and Green target, aim close to the center for maximum points. Don't forget – Your last shot at each one will score double!
Top Score
Test your accuracy and aim at the Topgolf championship! Your precision will be rewarded as you gain higher multipliers for hitting farther targets or closer to their center flag. Get ready to reach new heights in golfing fun with this high-scoring version of an age-old classic game.
Top Shot Rookie
Step up to the shooting range and test your accuracy in this nerve-wracking competition! Five shots are all you have to hit four targets at different distances. Master the challenge for explosive rewards, but beware — one wrong move could cost you dearly!
Top Chip
Test your aim and prove you're the top chip in TopChip! Launch five shots at both red and yellow targets for a chance to score points. Make sure you don't miss, or else see those points disappear as fast as they came. Ready yourself for an extra challenge by shooting ten times at the green target — only true marksmen will succeed here!
Top Pressure
Put your skills to the test with TopPressure and its three levels of increasing difficulty. Challenge yourself by aiming for each section on the yellow target, but be careful not to hit one twice or you'll lose points! Want an even bigger challenge? Unlock Advanced mode – if you score at least 30 standard TopPressure points or 100+ in Topgolf during your next visit within a month's time, it can be yours.
Top Scramble
Golfers of all levels face off in a thrilling competition on an even playing field! Teams are created and only the best putts count towards their score.
Top Shot Intermediate
In this thrilling challenge, you must aim carefully and accurately to hit the correct targets at four different distances. With only five shots per distance – Yellow, Green, Brown and Blue – precision is paramount in order to maximize your points!
Quick 9 Expert
Compete for accuracy and glory as you take aim at three different targets! See how close to the center of each target you can get with your shots – keep an eye out, because your last attempt earns double points. Who will claim victory in this thrilling test of marksmanship?
Top Drive
The audacious White and Trench teams take their most daring shots as they strive to hit distant goals in this difficult game. Even skilled gamers will find themselves pushed to the limit!
Top Shot Advanced
Test your skills with this thrilling target-shooting challenge! Take aim at four different distances, ranging from Green to White. You'll have five shots to prove your accuracy – miss the mark and you could lose points! Put yourself up against the clock in a game that tests precision and focus.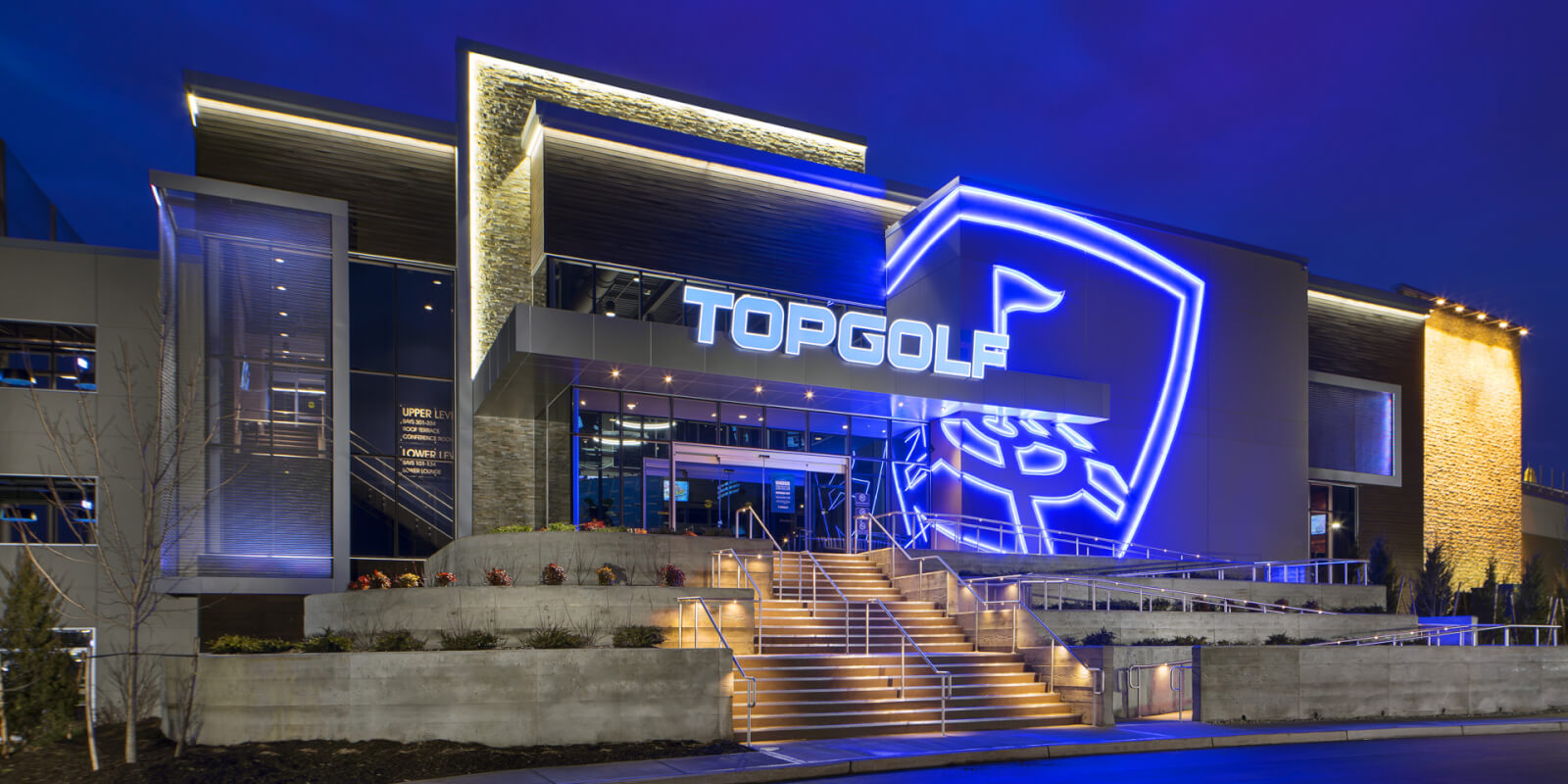 Food & Drinks
Top Golf isn't just about golfing—it also has plenty of delicious food and drinks on offer! The menu features classic American favorites like burgers and wings as well as unique dishes like Fried Chicken Heat-Wich and the famous Injectable Donut Holes. With over 30 beers on tap (including craft options), there is something for every taste. Or if cocktails are more your thing, don't worry – they've got an extensive drink menu!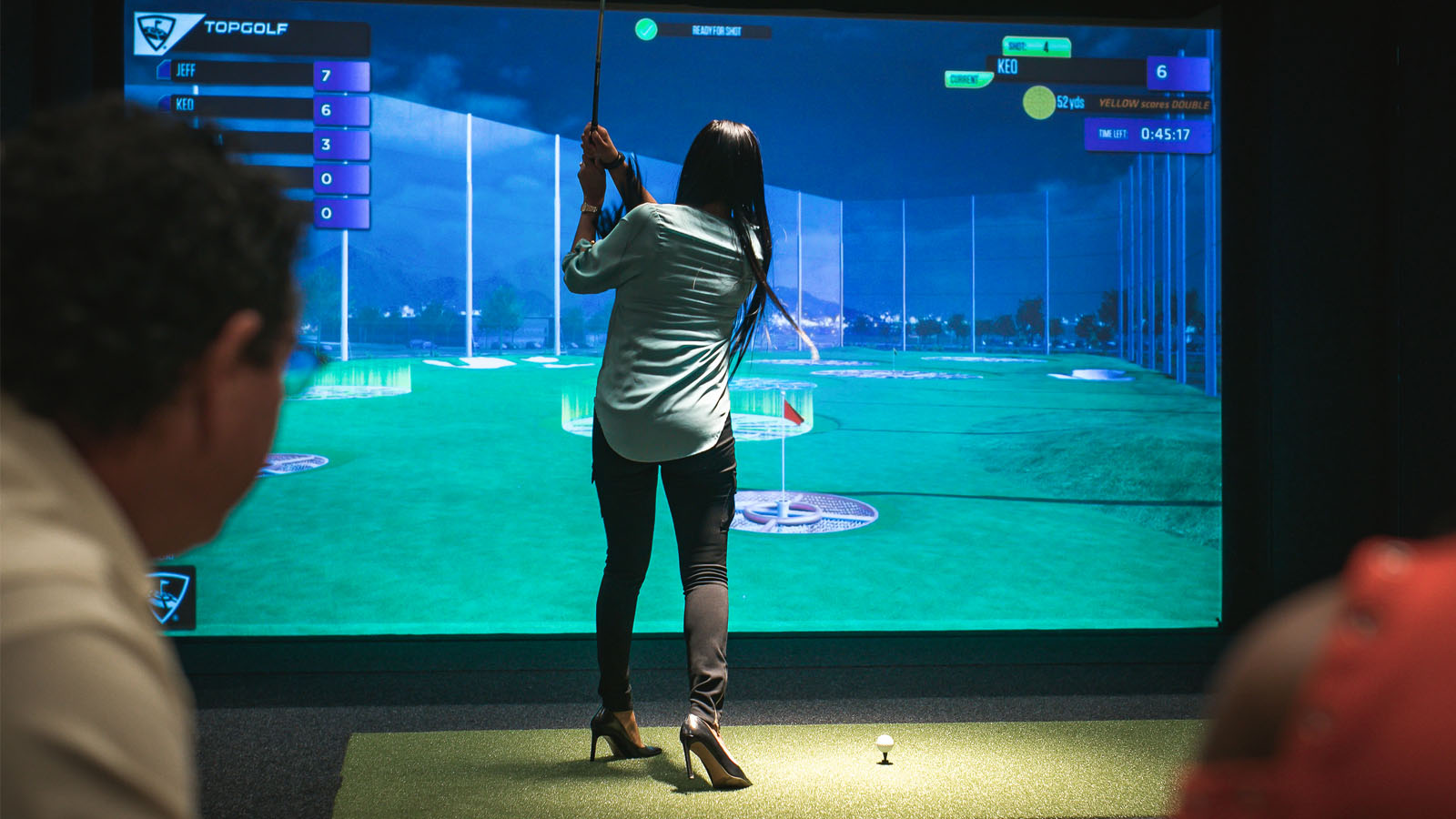 Fun & Games at Top Golf Myrtle Beach
When you need a break from the golf course, there are plenty of other activities to keep you entertained at TopGolf. There's two full bars complete with TVs playing sports games throughout the day where you can watch all your favorite games; pool tables in each bar area; private event spaces; live music; and even an arcade featuring popular video games like Mario Kart and PacMan! And for those looking for some extra excitement, try out their virtual golf simulators which allows players to play rounds from some of the most famous courses around the world!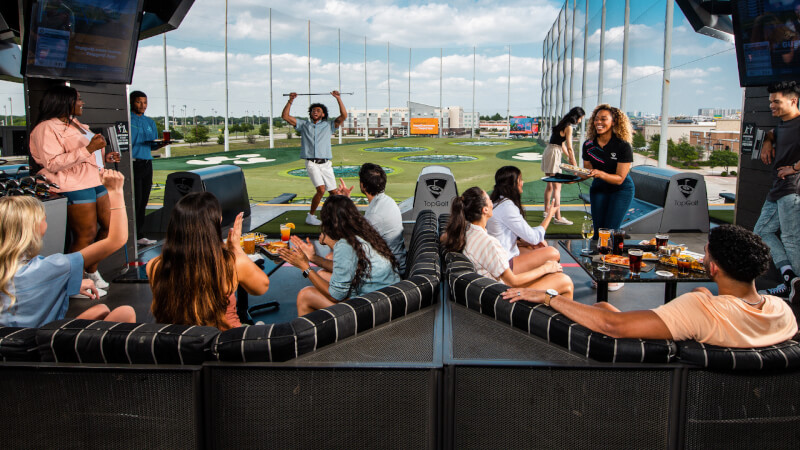 Parties & Events
Change up your next gathering by choosing a venue unlike any other – TopGolf. From wild parties to memorable meetings, they offer an experience that will be sure to make you and your guests say "Wow!"
From the aspiring golf ace to those brand new to the sport, Topgolf is an awesome way for everyone of all skill levels and backgrounds to join in on some good old-fashioned competitive fun. It's a great excuse for friends or colleagues alike – no matter what industry they're from – to get out of stuffy corporate settings and enjoy something different!
Planning the perfect party? Look no further! Their versatile and all-weather event spaces are here to make your festivities a success, whatever it may be – rain or shine. They'll provide you with an unforgettable experience for any size gathering from seven of your closest friends up to 1,000 co-workers.
Not sure how to make your event truly unforgettable? Let Topgolf help you level up. They offer exclusive enhancements, like live leaderboards and one-on-one lessons with their Pros! Make it extra special by giving out branded apparel and gifts. Now that's what we call making memories worth bragging about!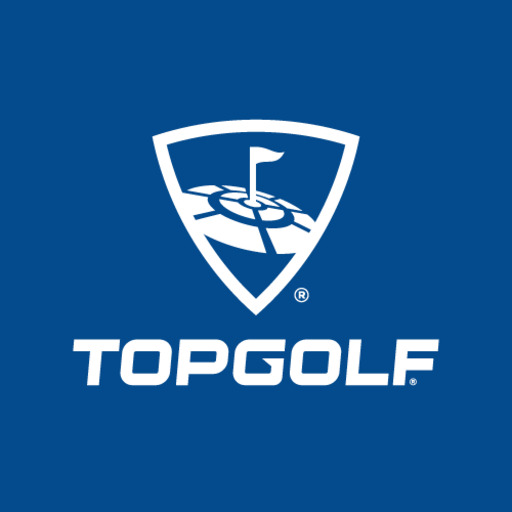 Conclusion
So what are you waiting for? Make your next trip to Myrtle Beach, SC one to remember by planning a trip to TopGolf Myrtle Beach today! Whether you're an experienced golfer or just starting out, this range has something for everyone – from lessons and practice time on their real grass bays to tasty snacks and drinks at their restaurant/bar/arcade combo setup! With such a variety of activities available under one roof, it's no wonder why people come back again and again! Plus, they host special events year-round so there's always something new happening each season – don't miss out!
Looking For A Place To Stay In The City?
If you're planning your next trip to Myrtle Beach to check out this attraction, start planning your stay now! Nothing beats soaking up the sun and waves of Myrtle Beach from the comfort of your own RV. Renting an RV from Cozy Turtle is easy and affordable, so you can have all the comforts of home while enjoying everything that Myrtle Beach has to offer. Check out our website today to learn more about our rentals, or give us a call to book yours now!