RVing is a great way to see the country and explore new places. If you're looking for an RV rental in Myrtle Beach, SC, Cozy Turtle is the perfect option. We have a variety of RVs to choose from, so you can find the perfect one for your needs. Plus, our location is unbeatable – we're just minutes away from some of the best spots on the South Carolina coast. In this article, we will talk about the services we offer, our history, and some of the RV options we have available for rental.
Cozy Turtle: The Best Myrtle Beach RV Rental
Cozy Turtle RV Rentals is the best RV rental company in Myrtle Beach, South Carolina. Our mission is to provide amazing and comfortable accommodations to campers in SC Myrtle Beach. Our RV rental company has been serving the Myrtle Beach area for several years, offering various RV rentals, from small pop-ups to large Class A motorhomes.
Cozy Turtle RV Rental understands the "race" campers hoping to visit South Carolina's campgrounds face and the challenges they experience during their RV selection process. Not to mention that most RV owners are unfamiliar with all the RV types and their features.
To save you this stress, Cozy Turtle RV Rental has a team of RV experts who will help you choose the perfect RV for your camping needs. In addition, we offer RV delivery and set-up services to make your camping experience more convenient. Cozy Turtle RV Rental is bringing a breath of fresh air to the RV Rental space and instilling a sense of accommodation and hospitality in every single RV rental.
The Cozy Turtle RV Story
Cozy Turtle RV Rental is the brainchild of Adam Mitchell, a serial entrepreneur who wanted to diversify his business portfolio and get into real estate. However, he did not know that visiting Myrtle Beach would make him start an RV rental business.
Adam Mitchell, who was always an RV enthusiast, purchased his first RV (Big Cougar) for personal use in February 2020 while living in Virginia. However, he instantly saw the business opportunity lying right before him when he began exploring other RV Rental platforms.
However, within two years, the company had grown to become one of the largest RV rental companies in Myrtle Beach, with a fleet of over 30 RVs.
Adam Mitchell's passion for RVing changed the RV rental industry in Myrtle Beach. RV rentals were not fairly common in Myrtle Beach before his arrival, and most people saw RVs as something only "old people" used. However, Adam's vision to make RVing accessible to everyone who wanted to camp in Myrtle Beach was a success.
Cozy Turtle RV Available Vehicle Types
Cozy Turtle RVs suit any camper's needs and are pet-friendly. They include:
2020 Keystone Cougar Half-Ton 34TSB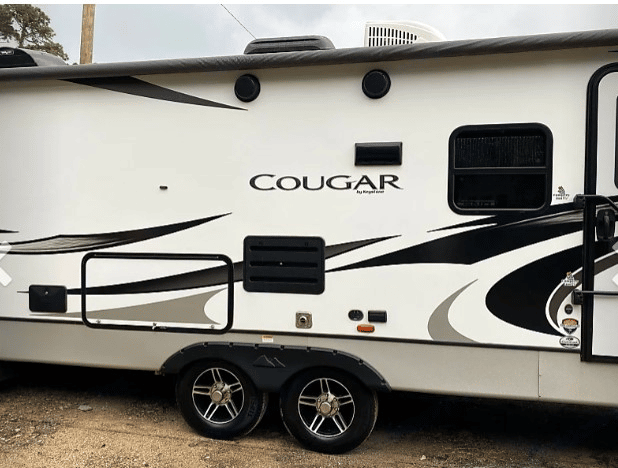 This travel trailer can accommodate up to eight people, and it is perfect for couples or families who want to RV with enough space. The RV can fit a queen-size bed, a convertible sofa, and a dinette. It also has two slideouts, an outside kitchen, and an electric fireplace. It is 34ft long and goes for $150 per night.
2021 Keystone Cougar 364BHL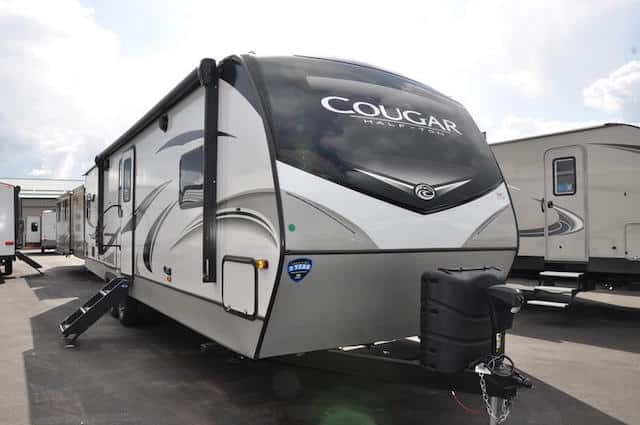 This 5th wheel is built with comfort and fun for the whole family on a camping adventure. The half bath in the bunk area and separate from the other space offers peace of mind and convenience for RVers. The RV can fit a queen-size bed and four bunks. Some versions also come with a sofa that converts into a bed and a dinette that converts into a bed. It is 36ft long, sleeps six people, and goes for $149 per night.
2021 Grand Design Solitude 3550BH
This RV is roomy and updated with the best layout and appliances from Grand Design. The oversized bunks are enough room for two. The Theater seating also has heaters and massagers built in for comfort while watching tv. There is also plenty of storage!
You have an outdoor grill set and a good size party area with the 16′ awning. There is extra counter space for cooking as well in the kitchen. The 2021 Grand Design Solitude 3550BH is about 40ft long, sleeps eight people, and rents for $159 per night.
2021 Grand Design Imagine 2800BH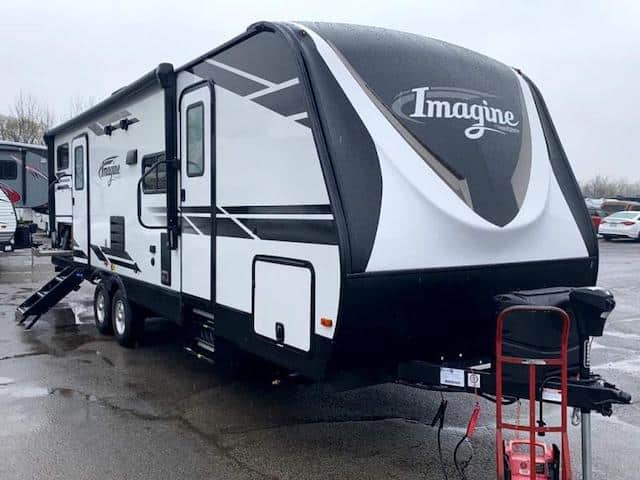 This is a great RV for a small family or a couples getaway! It's often regarded by campers as a home away from home. Here, you have a great covered party area for your campsite with the nearly full trailer length awning, a Blackstone to make all your food outside in the outdoor kitchen, and a large pantry to store your stuff during your trip! Enjoy the recliners while watching TV, a king-size bed to sleep in, and two Twin XL bunk beds. This travel trailer is 32ft, sleeps six people, and rents for $125 per night.
2020 Forest River No Boundaries NB10.6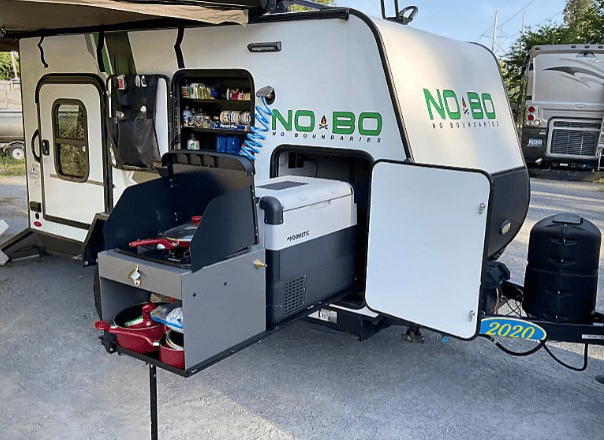 This travel trailer is meant for the adventure/outdoorsy type that wants a little more luxury with camping by not being in a tent, especially in the hotter months. This excellent adventure trailer sleeps four and has a fridge and freezer, a television, a coffee maker, an ice maker, and a toaster. Also, there is storage for clothes and space to store items. The 2020 Forest River No Boundaries NB10.6 is budget-friendly, 14ft, and goes for $75 per night.
2021 Gulf Stream Enlighten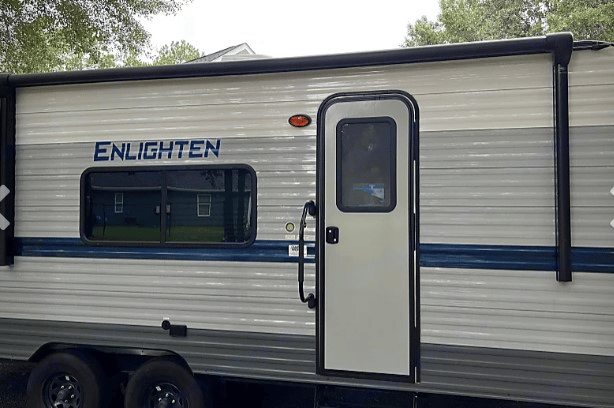 This is a great RV for a small family getaway to the beach! It comes with a propane fire pit in case you don't want to mess with burning wood and still want to make s'mores with the family! The awning also covers most of the RV's length, which is great for those bright sunny days if you need a quick shade break and when it is drizzling.
The Enlighten RV offers a cozy feel but enough room for everyone to enjoy. It easily sleeps 5 with the queen-size bed, the oversized twin bunks on top of one another, and then the dinette folds down into a bed as well. It is 27ft long and costs $105 per night.
Renting An RV
If you're a first-time camper and are worried about setting up your RV rental, don't be! At Cozy Turtle, we make RV rental easy for everyone. We include setup, delivery, and pick-up in our RV rental rates. So all you have to do is enjoy your camping trip! What's more, every RV rental comes with tons of bonuses! Some of them include:
Coffee Maker
Ice Maker
Kitchen Essentials – plates, cups, bowls, forks, knives, spoons, and cooking utensils with measuring cups
Bakeware and Cookware (Pots & Pans)
Mixing Bowls/containers for leftovers
2 rolls of paper towels and 2 rolls of RV-safe toilet paper
Trash bags
We understand that things happen, so we encourage cleaning! Cleaning supplies such as cleaning wipes, disinfectant spray, vacuum cleaner, broom, and dish soap are all permissible.
Outdoor camping mats for those sandy or muddy campsites
Outdoor grill and fridge
3 Tips For Camping In Myrtle Beach During Fall Months
Below, we will give you three tips for RV camping in Myrtle Beach during the fall months!
1. Bring Layers Of Clothing
The weather in Myrtle Beach during the fall months can be unpredictable. It could be sunny and hot one day and then cool and rainy the next. That's why it's important to bring layers of clothing with you on your RV camping trip.
2. Make Sure Your RV Is Stocked With Food And Supplies
Myrtle Beach is a popular tourist destination, so RV campgrounds can fill up quickly during the fall months. That's why it's important to make sure your RV is stocked with food and supplies before you arrive.
If you're planning on cooking meals in your RV, we recommend bringing canned goods, dry goods, and other non-perishable food items. It's also a good idea to bring along plenty of snacks and drinks for your RV camping trip. Some of our favorite RV camping snacks include trail mix, granola bars, and fruit cups. And don't forget the marshmallows for making s'mores!
3. Bring Along Entertainment
There's nothing worse than being bored on an RV camping trip. That's why it's important to bring along plenty of entertainment for your trip. Some of our favorite RV camping activities include playing card games, telling ghost stories around the campfire, and hiking in the nearby state parks.
If you're bringing along children on your RV camping trip, we recommend bringing along some toys and games to keep them occupied. Some of our favorite RV camping games for kids include I Spy and scavenger hunts.
Need An RV?
If you plan to camp in Myrtle Beach, SC, and need an RV, Cozy Turtle RV Rental in Myrtle Beach is your best option. We offer various RV services and RV rental options to fit your needs. We can have your RV delivered to various RV Parks in the Myrtle Beach area, including ocean lakes family campground, myrtle beach state park, north myrtle beach, and much more. Book an RV Today!