Looking for something exciting and unique to do? Look no further than Pirates Voyage Myrtle Beach, where you can experience a swashbuckling adventure that the whole family will love! With thrilling stunts, pirate battles, and plenty of audience participation, Pirates Voyage is the perfect place to make some lasting memories.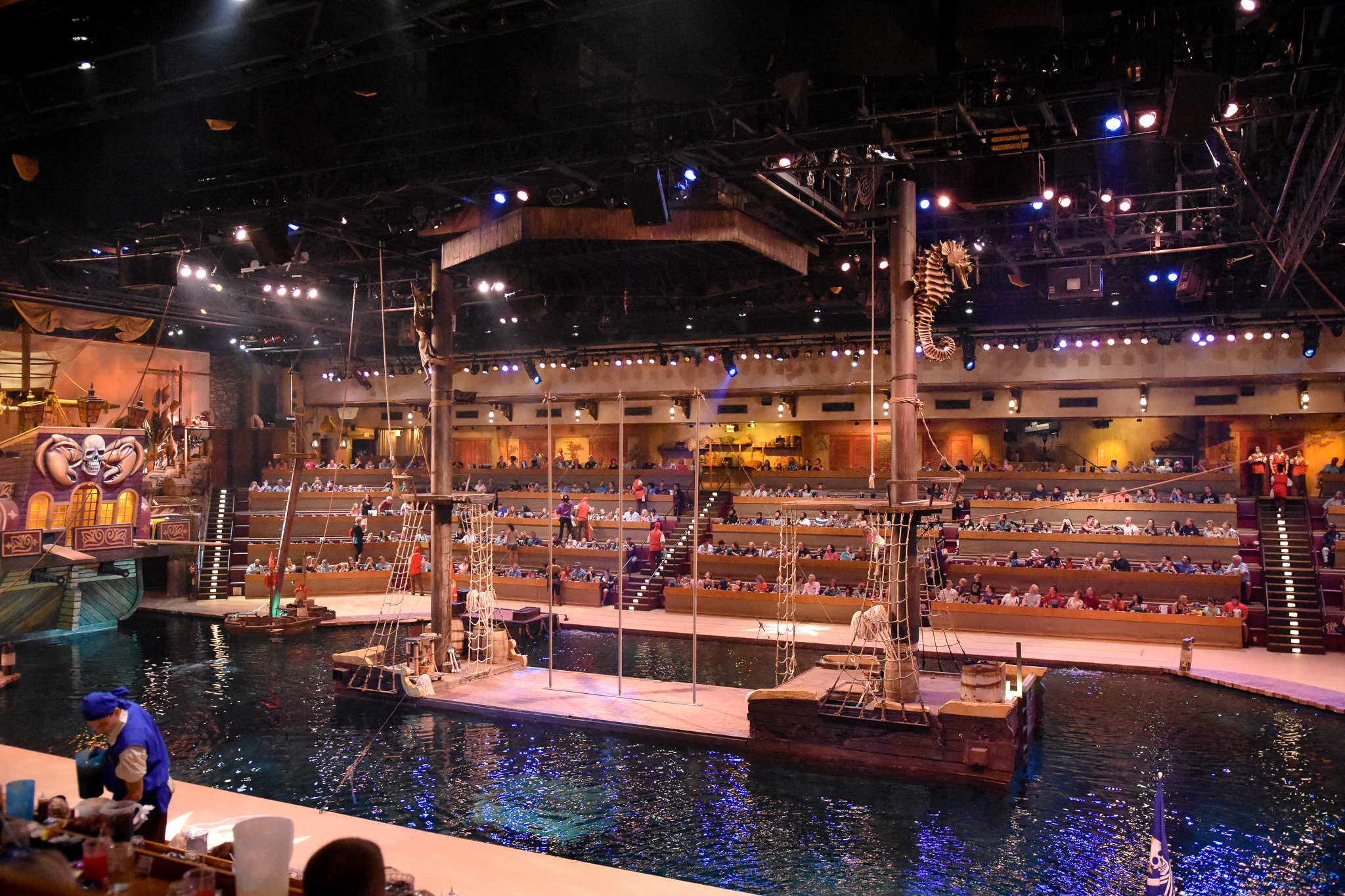 What Can You Expect?
At Pirates Voyage, you'll be transported back to a time of pirates and high seas adventure. The show features two opposing pirate crews on an epic voyage across an indoor lagoon filled with pyrotechnics, cannons, and even live animals. During the show, you'll see daring stunts such as sword fighting and acrobatics while enjoying the show's story-driven narrative. Your evening at Pirate's Voyage won't just be about watching the show from your seat; it's also about audience participation! Guests can join in on the action by cheering for their favorite pirate crew and singing along with classic sea shanties.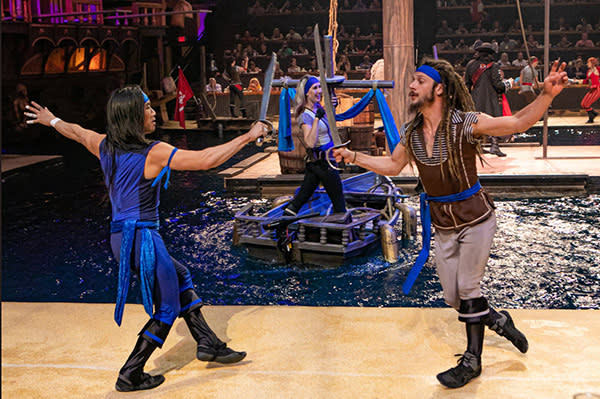 Myrtle Beach, SC Pirates Voyage Dinner Show
Join Captain Blackbeard and Calico Jack on a swashbuckling journey at Pirates Voyage Dinner & Show in Myrtle Beach, South Carolina! Sail away with their daring crews aboard two full-sized pirate ships as they battle across land and sea. Meanwhile, be captivated by beautiful mermaids, tropical birds – plus an amazing four course pirate feast fit for any buccaneer! The most fun place to eat awaits…arr me hearties!!
The Dinner Menu: A Fabulous Four Course Feast
Voyager Creamy Vegetable Soup
Buccaneer Bread
Half O' Roasted Cackler (Chicken)
Swashbucklin' Sugar-Cured Ham
Cob O' Buttery Corn
Pirate Herb-basted Potato
Apple O' Me Eye Pie
Unlimited Coca-Cola®, tea or coffee
Delicious Vegetarian, Gluten-Free Meals, Vegan and Dairy Free meals are available upon request.
*Please mention at time of reservation.
About The Pirate Voyage Show
Step into a swashbuckling world of adventure with the extraordinary show combining Captain Jack Sparrow and Cirque du Soleil! We all know that Dolly Parton knows how to put on a great show and that is what Dolly Parton did with the Pirates Voyage Dinner Show. Brave sword fights, blazing cannons and mystical mermaids soar over an epic 15-foot deep lagoon along two full sized pirate ships. Davy Jones' lost treasure is up for grabs as brave dock diving dogs, scurvy sea lions and tropical birds join the journey – all while your family enjoys a 4-course meal delivered to their seats by buccaneers! What could be better than live animals, a pirate show, food, and fun? Set sail on this thrilling quest packed with action in land, deck or water – it's sure be one unforgettable experience. The Crimson and Sapphire Crews will give you the time of your life!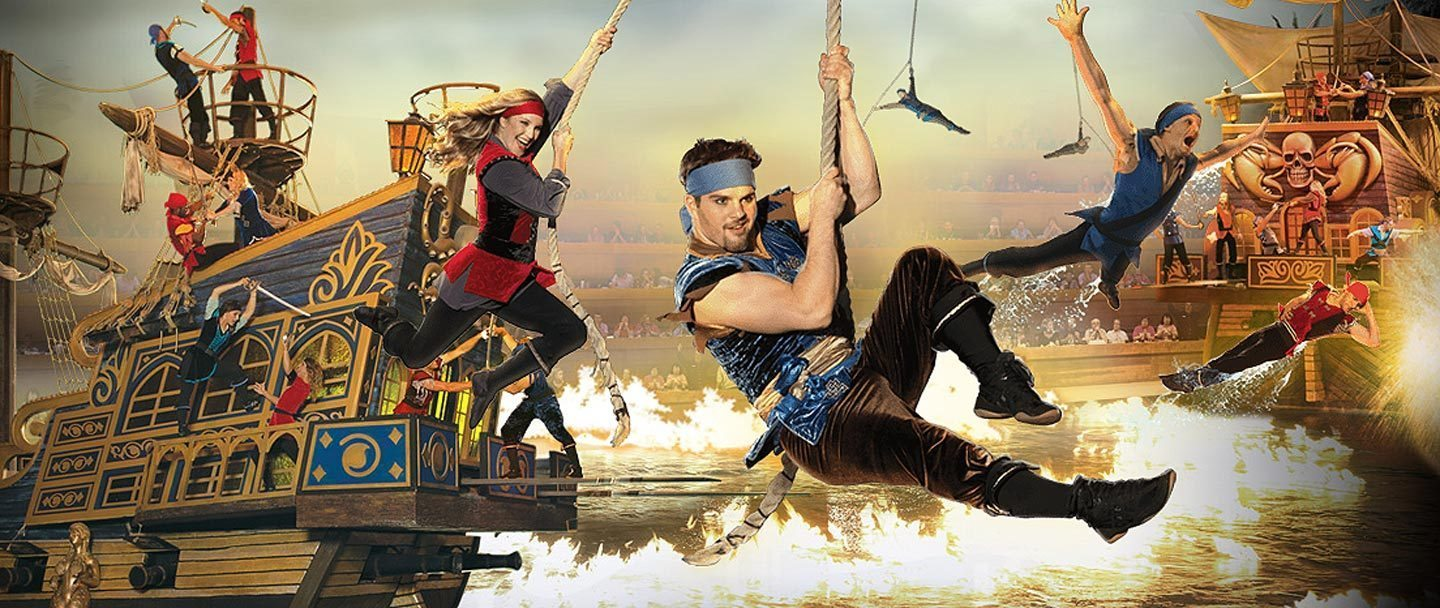 Additional Information About The Voyage Theater
Ahoy, landlubbers! Set sail for Pirates Village and join them in a swashbuckling adventure this season. Make sure to arrive 30 minutes pre show – but no more than 45 so that ye can make it on board without delay to the actual show! They kindly ask you leave your strollers behind; however if yer little pirate is 2 or younger they'll need their own ticket and feast. For dietary needs mates they offer tasty vegetarian, gluten-free, vegan and dairy free options upon request – please contact the Ticket Sales Department directly for assistance with reservations.
Ahoy Matey, before stepping on board their exciting voyage with live animals and pirates, please be mindful of any allergies or medical conditions. For the safety and well-being of everyone at sea, they kindly ask that no photos or videos are taken inside the facility! Last of all me hearties: accessibility services are available too – wireless headsets await hearing impaired adventurers in their domain!
Myrtle Beach Pirates Voyage Tickets
If you're looking for swashbuckling excitement and go back to medieval times, then check out this swashbuckling experience. Grab your Pirates Voyage Myrtle Beach tickets for a fun dinner and a pirate show. When buying tickets, you can decide if you want to sit on the Sapphire side and be apart of the Sapphire crew or you Crimson side and be apart of the Crimson crew. After picking your crew, either the Crimson or the Sapphire crew, you're sure to have a good time. Tickets range in price depending on the area you decide to sit. Adult Pirates Voyage tickets start at $69.99 and child Pirates Voyage Tickets start at $34.99. Book your Myrtle Beach Tickets now for great food and an amazing show!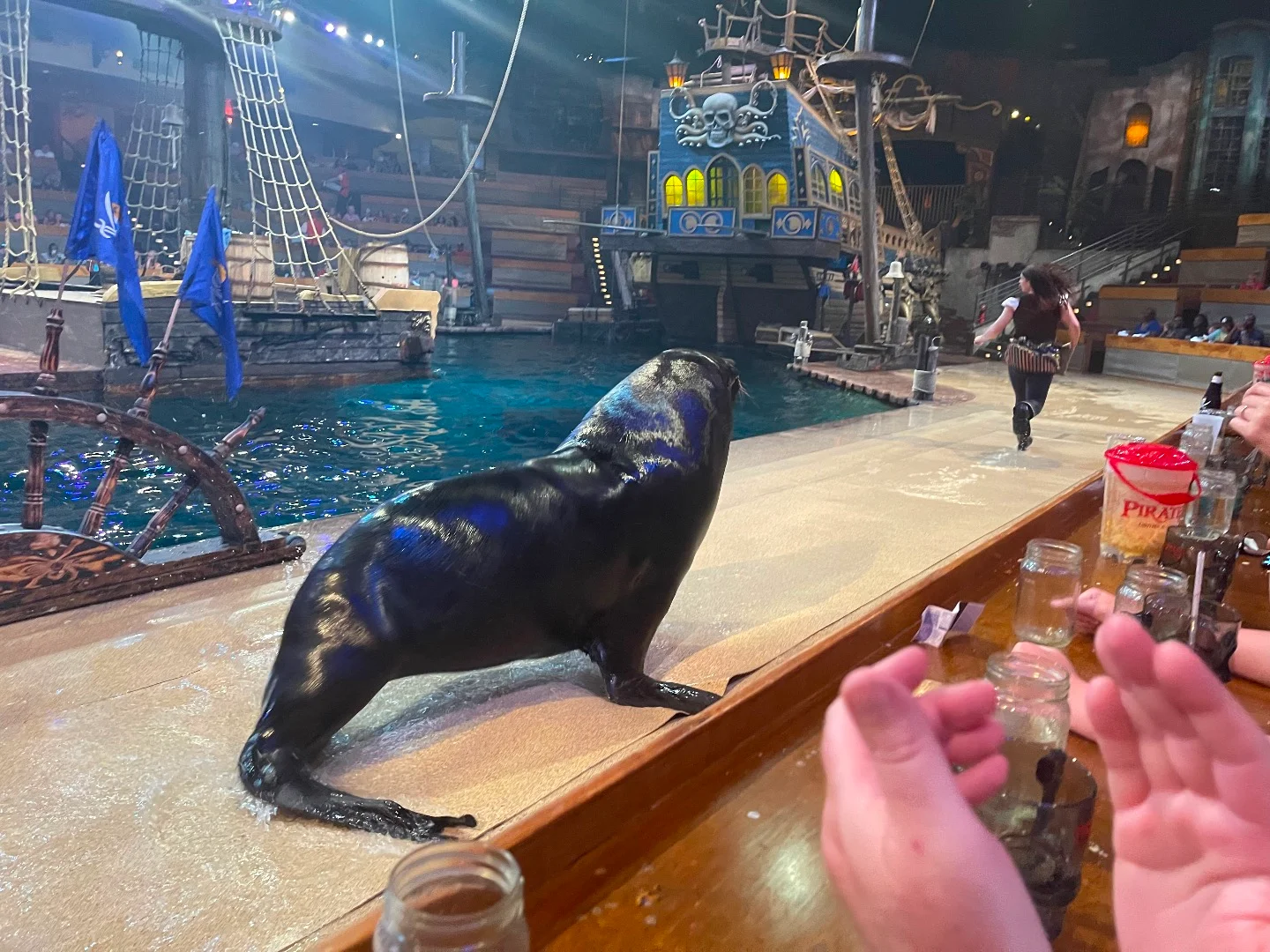 The Gift Shop
After seeing the show, guests can head over to the gift shop to find souvenirs such as t-shirts, hats, mugs and more! You can even purchase exclusive pirates costumes so you can dress up like one of your favorite characters from the show!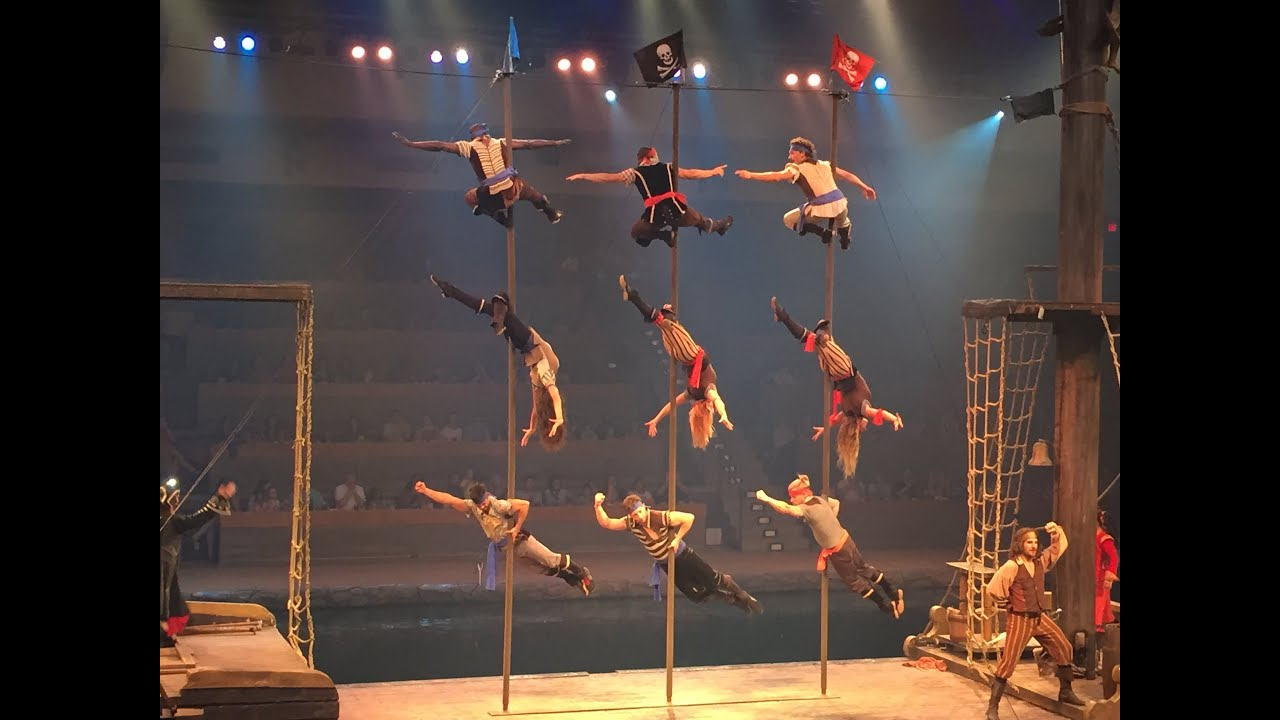 Why Should You Visit The Myrtle Beach Pirates Voyage Dinner Show
Are you looking for an exciting adventure? Look no further than Pirates Voyage Myrtle Beach! This family-friendly dinner show is the perfect way to spend time with your loved ones, with a unique combination of thrilling stunts, pirate battles, and delicious food.
Pirates Voyage offers a night full of excitement and fun. From the moment you arrive, you will be captivated by the sights, sounds, and smells as you enter the quaint village that takes you back in time. Once inside, you will be treated to a swashbuckling battle between two groups of pirates. You'll witness daring feats of aerial acrobatics while they fight for lost treasure. As if that wasn't enough entertainment, live animals such as parrots and sea lions add even more excitement to the performance.
The show isn't just about thrills; it also provides some delicious eats. No bad food here! The best part about Pirates Voyage is that it is designed to be enjoyed by all ages. Kids can get into character by dressing up like a pirate before they head out for their adventure on the high seas! Or even get a little face painting done. Then once inside, they can participate in interactive games such as limbo or hula hoop contests throughout the performance. It truly is an event that everyone can enjoy together—from toddlers to grandparents alike!
Pirates Voyage Myrtle Beach is an unforgettable experience for anyone who visits this unique dinner show! Not only do guests get to witness incredible acrobatic acts and battles between rival pirate crews but they are also treated to delicious food along with interactive activities for families young and old alike. If you're looking for something exciting to do with your loved ones, then don't miss out on this one-of-a-kind adventure!
Group Events
Avast ye hearty adventurers! Are you ready to embark on a swashbuckling journey with your scallywag crew? Come grab some grub at Pirates Voyage Dinner & Show, where the treasure and thrills await. Whatever kind of party or event it may be—from family reunions to corporate outings—they'll provide special discounts for groups of 20 people or more as large as 940. Not only will they serve up delicious vittles in an unforgettable atmosphere, but guests can also kick back upstairs near their own bar and restrooms complete with outdoor balcony views that set sail any gathering into total blissful pandemonium. So get yer group together matey; it's time ta search fer buried booty!
Bring your group together for a swashbuckling night of adventure at Pirates Voyage Dinner & Show! Their crew will ensure that all guests have an unforgettable experience with customized banquet services, exclusive and themed meeting spaces, as well as dedicated dinner shows. Whether you are hosting 50 or 940 people, their two specially arranged event rooms can accommodate any size gathering – perfect to create lasting memories of fun and excitement.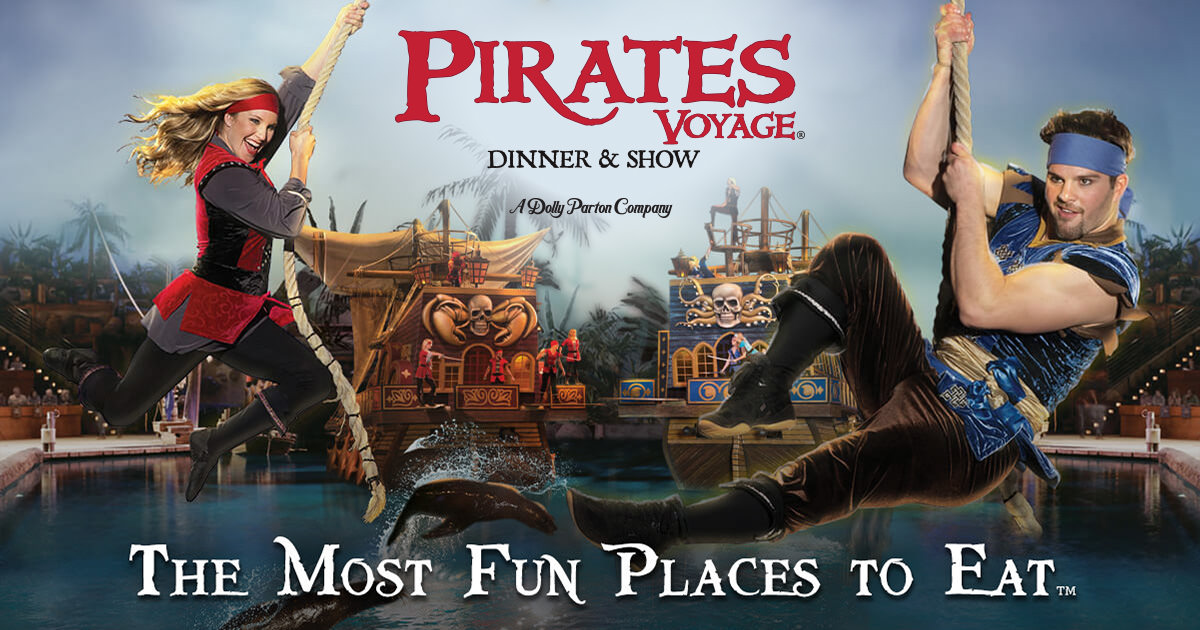 Conclusion
Pirates Voyage Myrtle Beach is an unforgettable experience that your entire family will enjoy! Whether you're looking for a fun evening out or just want to escape into another world for a few hours, this swashbuckling adventure has something for everyone! So grab your tickets today and get ready for an evening of drama, excitement and laughs!
Did we mention they also have a location in Pigeon Forge?
Myrtle Beach Places To Stay: Cozy Turtle RV Rental
Make the most of your next getaway to Myrtle Beach when you stay in an RV from Cozy Turtle! Our affordable and easy rentals give you all the creature comforts of home, while still providing access to enjoy everything that the iconic destination of Myrtle Beach has to offer. So what are you waiting for? Start planning now – visit tour website or call us today start creating memories with friends and family at the beautiful Myrtle Beach! And why not catch The Pirates Voyage Dinner Show Myrtle Beach while you're here?