Myrtle Beach, SC is home to several seafood restaurants, but none come close to the dining experience offered at Pier 14 Myrtle Beach. This restaurant offers a blend of fine cuisine and breathtaking views of the Atlantic Ocean.
From the elegant decor to the authentic flavors, Pier 14 Myrtle Beach restaurant is a must-visit for seafood lovers.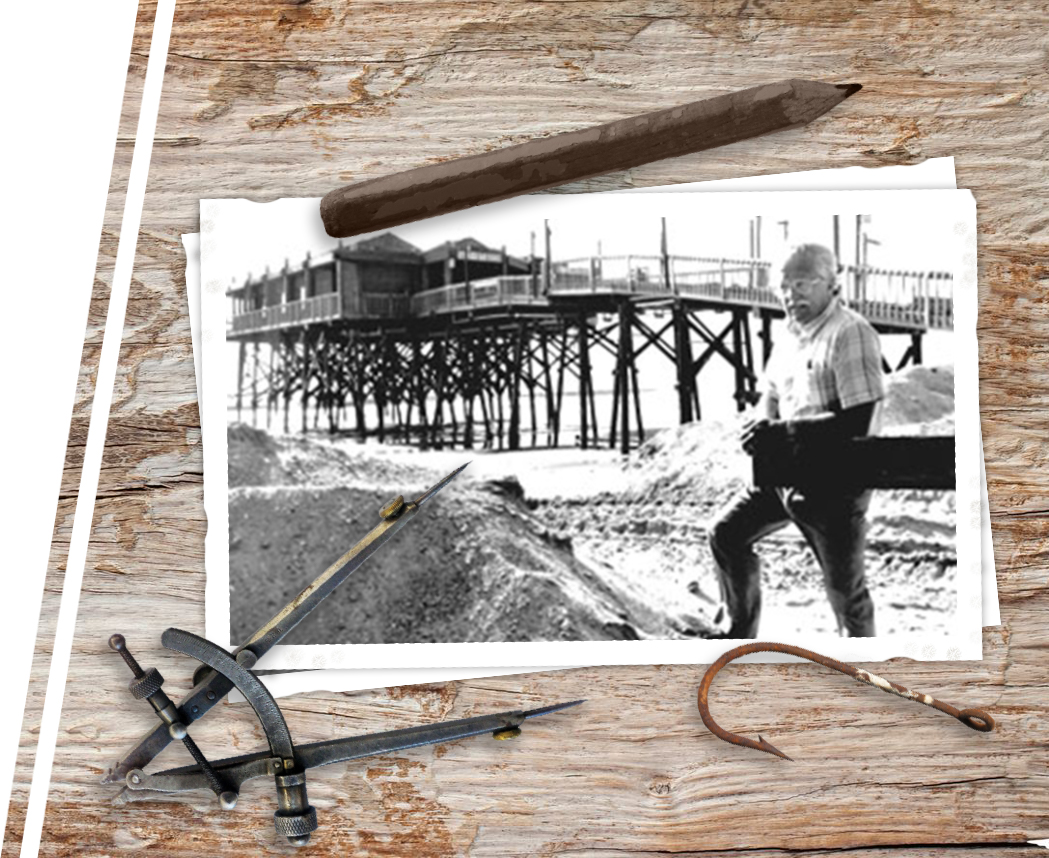 The History of Pier 14
For nearly a century, Pier 14 has been a defining feature of this oceanfront location. Originally opened in 1926, the pier has undergone several changes to become what it is today. In 1984, a rebuilt Pier 14 opened its doors as a nightclub and late-night dinner venue. However, the concept didn't pan out as expected.
In 1986, Bryan Devereux took over ownership of Pier 14 and revamped the focus to food and beverage. Since then, Pier 14 has been renowned for its delicious cuisine and beverages.
Though Hurricane Hugo in September 1989 caused significant damage to the pier, Pier 14 refused to buckle. The front ramp leading to the restaurant was lost, along with the pier that extended more than 90 feet beyond the restaurant over the ocean. However, the restaurant portion remained intact, making Pier 14 one of the few piers to survive Hugo's force.
Despite facing adversity, Pier 14 continues to stand tall as a testament to its enduring legacy.
Atmosphere
Pier 14 restaurant boasts a spectacular view of the Atlantic Ocean, with a pier that stretches out into the waters. This offers a serene atmosphere and a magnificent view of the sunset.
The restaurant provides indoor and outdoor seating, allowing diners to experience the ocean breeze while savoring their meals. The interior decor of the restaurant is elegant and perfectly complements the ocean view.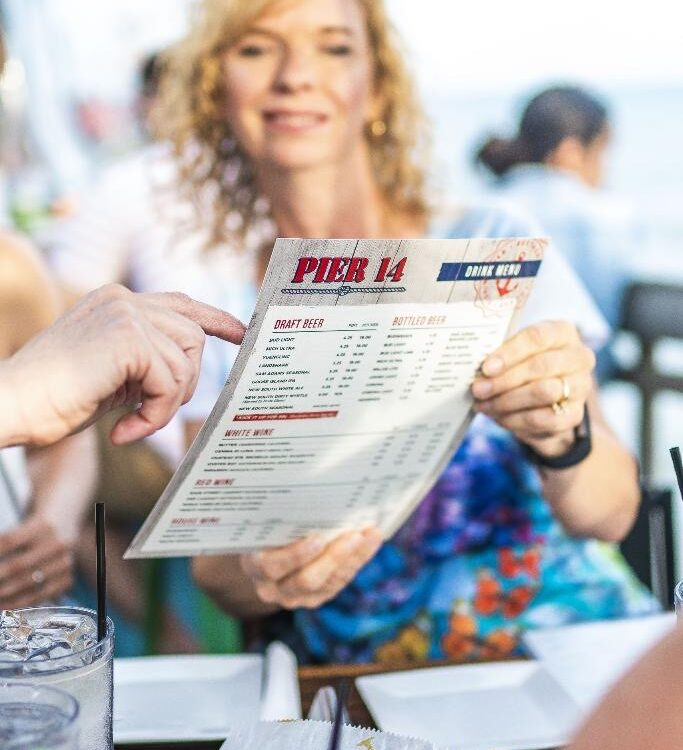 Menu
Pier 14 restaurant offers a wide range of seafood delicacies that will leave you craving for more. The menu features dishes such as shrimp and grits, crab cakes, seafood pot pie, grilled fish, and much more. The seafood is fresh and perfectly seasoned, giving diners an authentic taste of local cuisine.
The restaurant also offers a variety of non-seafood dishes for those with different tastes. Plus they have cold drinks and a full bar! Whether you're looking for bar food, lunch, or your a seafood food enthusiast you'll find something delicious!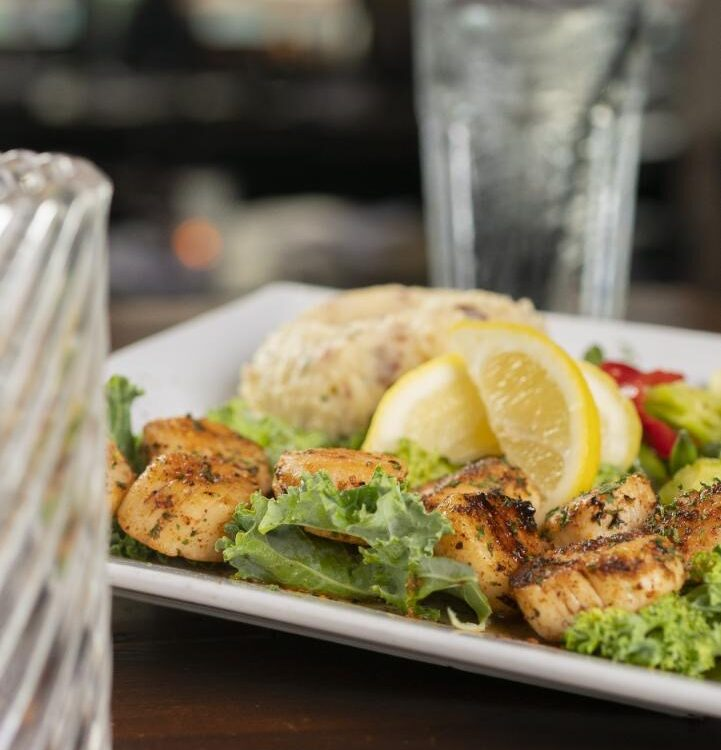 Top Menu Items
Starters
Shark Bites

Lightly fried white fish served with our Pier 14 boom boom sauce

Soft Pretzels

2 large pretzels served with a spicy mustard or honey mustard
Soups & Salads
Traditional House Salad

California harvest greens, cherry tomatoes, cucumbers, red onions, bacon and croutons with your choice of blue cheese crumbles or shredded cheddar cheese

Carolina Clam Chowder

Cream New England style with diced potatoes and smoky bacon

Garden Vegetable Soup

Tender vegetables in a vegetable broth
Handhelds
Pier 14 Seafood Roll

Your choice of either yellowfin poke tuna (tossed in a cucumber wasabi & teriyaki glaze) or Argentine shrimp salad with lettuce, served on a hoagie bun with either macaroni or bean salad

Beyond Burger

Meatless vegan patty topped with fresh tomatoes, red onion and leaf lettuce; served with crispy fries

Chicken Sandwich

Grilled or fried chicken breast, topped with cheese, fresh tomatoes, red onion and leaf lettuce; served with crispy fries
From the Seven Seas
Popcorn Shrimp

Lightly fried and served with slaw and a side of your choice

Fantail Shrimp

Lightly fried or sautéed and served with slaw and a side of your choice

Crab Legs

Lightly fried and served with slaw and a side of your choice
Chicken and Pasta
Cheese Ravioli

Jumbo cheese ravioli served with marinara or alfredo sauce. Add crustacean topping – 9.95

Pier 14 Crustacean

Your choice of either grilled chicken or white fish, smothered with shrimp and scallops in our creamy Alfredo sauce. Served with our red skin garlic mashed potatoes

Chicken Dinner

Two 6 oz grilled chicken breasts, grilled with either sweet teriyaki or BBQ sauce, served with our red skin garlic mashed potatoes
From the Grill
Fire Grilled 8 oz Filet Mignon

USDA Choice midwestern beef served with red skin garlic mashed potatoes
Desserts
Triple Chocolate Cake

Layered chocolate cake with chocolate ganache and chocolate mousse

Key Lime Pie

Creamy key lime with a graham cracker crust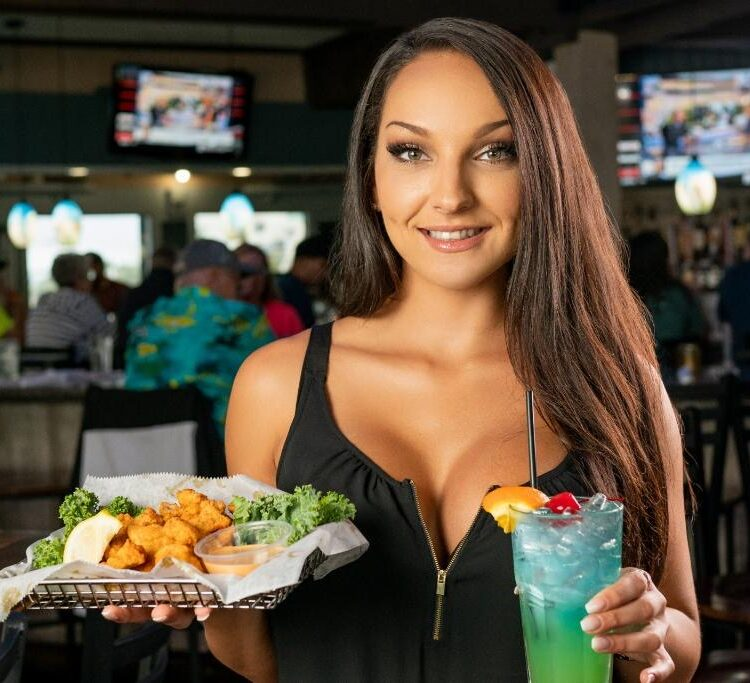 Service
The staff at Pier 14 Myrtle Beach is friendly, welcoming, and attentive to the needs of diners. They go above and beyond to ensure great food, great service and a pleasant dining experience for their customers.
The servers are knowledgeable about the menu offerings, and can recommend the perfect meal and drink pairings. The service at Pier 14 is exceptional and adds to the whole dining experience.
Events
Pier 14 restaurant offers various events and specials throughout the year. They host live music bands on Friday and Saturday evenings, giving diners a chance to enjoy their meals while being serenaded by local artists.
They also hold special events such as wine tastings, seafood festivals, and more. These events provide a unique experience and a chance to socialize with other diners.
Location
Pier 14 is located in the heart of Myrtle Beach on North Ocean Blvd, making it easily accessible to locals and tourists.
The restaurant is just a short walk from the famous Myrtle Beach Boardwalk and Promenade, and a few minutes from other popular Myrtle Beach attractions. The location of the restaurant makes it a perfect spot for visitors looking to take a break from exploring the town.
Gift Shop & Fishing
Looking for the perfect combination of relaxation and fun? Look no further than Pier 14, where you can indulge in food, fishing and shopping to your heart's content. Cast your line and bask in the beautiful scenery as you wait for your next catch. You can even rent all the equipment while you're there at the tackle shop, and even get a reel rental!
And once you're ready to take a break, head over to the adjacent gift shop with your shopping list for classic souvenirs to remember your day. With endless options to choose from, there's something for everyone at Pier 14.
So bring a few friends or family, grab a fishing rod, and get ready for a day filled with laughter, adventure, and memories that you'll cherish for years to come.
Conclusion
Myrtle Beach area restaurants offer an exceptional dining experience that is unmatched, especially the Pier 14 being as it's the Grand Strand's only restaurant over water. From the breathtaking views of the Atlantic Ocean to the exceptional seafood dishes, the restaurant is a must-visit for seafood lovers.
The staff is friendly and welcoming, adding to the whole dining experience. The location of the restaurant is perfect for visitors looking to take a break from exploring. Overall, Pier 14 restaurant should be on your list of places to visit during your next visit to Myrtle Beach.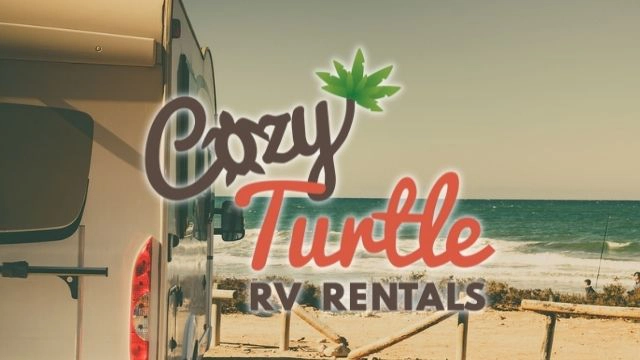 Cozy Turtle RV Rentals
Are you tired of the same old hotel experience every time you go on vacation? If you're heading to Myrtle Beach, consider switching it up and renting an RV from Cozy Turtle.
Not only will you have the freedom to explore the area on your own terms, but you'll also have all the comforts of home right at your fingertips.
Cozy Turtle's RVs are modern, spacious, and fully equipped with everything you need to make your vacation one to remember.
Say goodbye to cramped hotel rooms and hello to open roads and endless adventure. Book your Cozy Turtle RV today and experience Myrtle Beach in a whole new way.