November is a gorgeous month to go on a vacation, especially if you are looking for some warmth and sunshine before the arrival of the cold winter months. For those planning a trip to Myrtle Beach in November, we have some great news – the weather here during this time is pleasant, comfortable, and perfect for outdoor activities. If you are wondering what to expect from the Myrtle Beach weather in November, read on to find out everything you need to know.
Temperature and Weather Conditions
The Myrtle Beach weather in November is a perfect combination of sun, warmth, and a gentle breeze. The temperatures usually range between the mid-60s to mid-70s, which makes it comfortable for outdoor activities like golfing, beach strolls, and bike rides. Occasionally, there may be some rainy days due to the hurricane season, but it's rare to experience continuous rainfall. Indoor Pools are great when the weather is yucky outside.
Beach Activities
The temperatures and weather conditions in November are ideal for beach activities like swimming, sandcastle building, and sunbathing. The sea temperature ranges from 63-66°F, which may be chilly for some people, but for others, it is a refreshing break from the hot sun. You can also enjoy beach volleyball, frisbee, and other games during this time.
Events and Festivals
Myrtle Beach hosts several events and festivals in November, making it an exciting time to visit. This includes the annual Coastal Carolina Fair, which takes place in the first week of November. You can also attend the Myrtle Beach Holiday Parade, which takes place in the last week of November and features festive floats and live performances. This also means you can get a start on holiday shopping at some of the best Christmas Stores in South Carolina!
Accommodation and Travel
Since November is an off-season month, it is relatively easier to find accommodation and travel at affordable prices. You can avail of discounts on Myrtle Beach hotel rooms, rental cars, flights, and other travel services. Some restaurants and shops may also offer discounts or promotions as an incentive to attract customers.
Packing List
When visiting Myrtle Beach in November, you should pack light, comfortable clothing as well as a mix of warm and cool clothes to be prepared for any type of weather. You can pack shorts, t-shirts, dresses, and sandals for the day, and pants, jackets, and boots for cooler evenings. Don't forget sunscreens, hats, and sunglasses to protect yourself from the sun.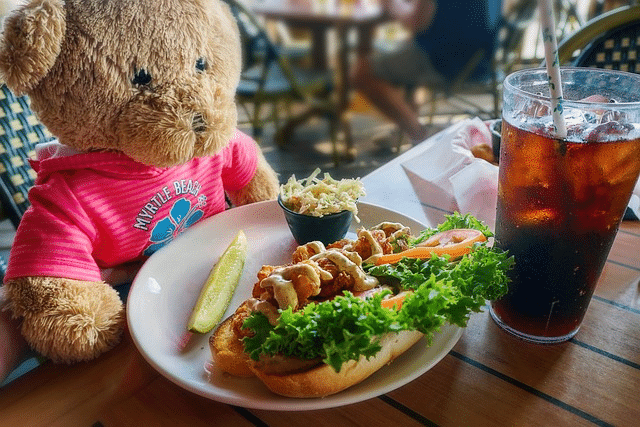 A Guide to Visiting Myrtle Beach SC in November
When it comes to planning a beach vacation, summer months tend to be the most popular. With warm temperatures and sunny skies, it's no surprise that people flock to coastal destinations during the peak season. However, have you ever considered visiting a beach town in the off-season? Myrtle Beach SC is a perfect destination for an off-season visit in November. In this blog post, we'll explore all the reasons why November is an excellent time to visit Myrtle Beach SC.
Fewer Crowds and Lower Prices
One of the most significant benefits of visiting Myrtle Beach SC in November is the lack of crowds. With the summer season over and the peak season winding down, the town becomes much quieter, making it an ideal destination for travelers who are looking to unwind and experience a more relaxing atmosphere. Additionally, Myrtle Beach hotels and resorts offer lower rates, so visitors can enjoy the beach town at a more affordable price meaning you can treat yourself to shopping!
Holiday Shopping
Catch tree-lighting events and then browse the interesting local shops at Broadway at the Beach, Barefoot Landing, or The Market Common. There are also several malls in the area, including the Coastal Grand Mall, Inlet Square Mall, Myrtle Beach Mall, and two locations of Tanger Outlets to find gifts for everyone.
Pleasant Weather
While temperatures may not be as warm as during the summer, November weather in Myrtle Beach SC is still pleasant and comfortable. Most days reach temperatures ranging from 50-70 degrees Fahrenheit. visitors can still enjoy outdoor activities without enduring the intense heat of summer. Fall foliage also adds a beautiful touch to the town, creating picturesque scenery throughout the region.
Festive Events and Activities
November is a great time to visit Myrtle Beach SC as the town hosts a variety of exciting events and activities. During the month, visitors can enjoy the Annual Intracoastal Christmas Regatta, The Great Christmas Light Show at the North Myrtle Beach Park and Sports Complex, and much more. These events make for an enjoyable addition to any beach vacation and create a fun and festive atmosphere throughout the town.
Golf Courses
Myrtle Beach SC is known for its exceptional golf courses, and November is an excellent time to hit the links. The lower temperatures make for a more comfortable experience without any sweltering heat or sweaty clothes. Additionally, fall foliage adds a scenic touch to the golf courses, making the experience even more enjoyable.
Seafood and Dining
Seafood is a staple in Myrtle Beach SC, and November is no exception. With fewer crowds, visitors can enjoy dining experiences at some of the town's most popular seafood restaurants without long wait times or crowds. Additionally, with Thanksgiving during the month, many local restaurants offer special Thanksgiving menus, providing visitors with a unique dining experience.
In conclusion, November is an excellent time to visit Myrtle Beach SC. With the town becoming less crowded, lower prices, mild temperatures, festive events, golf courses, and exceptional dining experiences, visitors are in for an unforgettable beach vacation. Whether you are looking to relax, enjoy outdoor activities, or explore the town's festive atmosphere, November is the perfect time to experience Myrtle Beach SC. Plan your off-peak beach getaway and explore everything this beautiful town has to offer.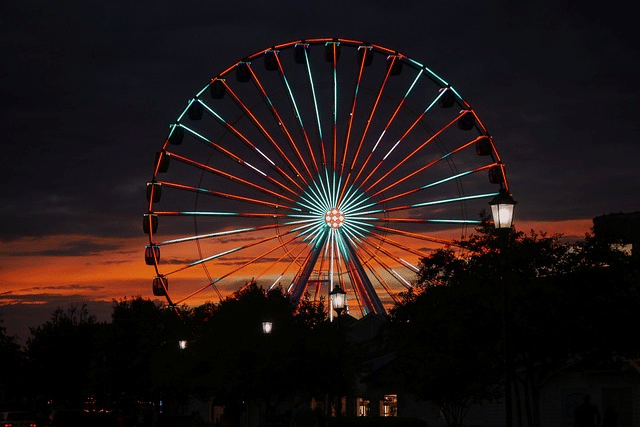 5 Beautiful Places You Must Visit in November at Myrtle Beach SC
The month of November is usually less crowded at Myrtle Beach, South Carolina, which makes it an ideal time for those seeking a peaceful getaway. Autumn has touched the beach, and with the temperatures hovering around in the 60s, it's just perfect for a vacation. There are plenty of places to explore and fun activities to do in November at Myrtle Beach. Here are the top five spots that you must check out.
1) Ripley's Aquarium:
This aquarium is a popular attraction for both locals and tourists year round, and November is an excellent time to visit. There are more than 10,000 sea animals, including sharks, stingrays and sea turtles, which you can explore. The aquarium also features interactive exhibits, including the Dangerous Reef and the Discovery Center, where you can experience some hands-on aquatic learning.
2) Broadway at the Beach:
This shopping, dining, and entertainment complex is one of the most popular destinations in Myrtle Beach. You can catch a movie, enjoy live music, or indulge in a little retail therapy. There are also several dining options for a romantic dinner, a quick bite, or a family meal. You can also find fun attractions like the WonderWorks museum, a mirror maze, and escape rooms.
3) Brookgreen Gardens:
This beautiful and serene garden is home to many sculptures, fountains, and indoor pools. It is located just south of Myrtle Beach, and the natural beauty of the garden makes it a perfect spot for picnics or a relaxing stroll. You can also explore the Lowcountry Zoo, which is home to several endangered species and native animals.
4) Myrtle Beach State Park:
November is an excellent time of year to enjoy the state park's natural beauty. Enjoy walking trails, fishing, or a picnic at Myrtle Beach State Park. You can also go camping as the state park has campsites available. The pristine beach at Myrtle Beach State Park is also perfect for swimming, sunning and relaxing.
5) Myrtle Beach Boardwalk:
Stretching over 1.2 miles, the Myrtle Beach Boardwalk is a great place to take a leisurely stroll and enjoy the beautiful ocean views. You can rent a bike and ride along the boardwalk or go shopping for souvenirs at the various shops. The Myrtle Beach Sky Wheel is a fan favorite. The boardwalk also features several restaurants, bars and cafes, where you can grab a drink and watch the sunset over the ocean.
Myrtle Beach is beautiful in November with fewer crowds and cooler temperatures, which make it an ideal destination for a relaxing vacation. Ripley's Aquarium, Broadway at the Beach, Brookgreen Gardens, Myrtle Beach State Park, and the Myrtle Beach Boardwalk are just a few places you can explore during your trip to Myrtle Beach. Plan your itinerary to include these destinations to get the most out of your November vacation at Myrtle Beach. Don't forget your camera; you wouldn't want to miss capturing the picturesque beauty of Myrtle Beach in November.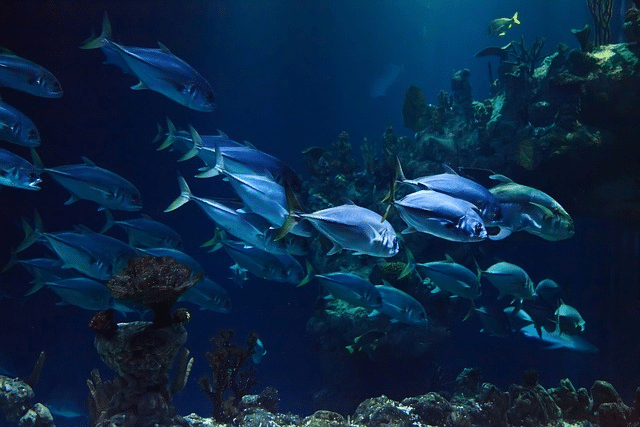 Cozy Turtle RV Rentals
With November upon us, the perfect time to book a cozy getaway awaiting you – at Cozy Turtle RV Rentals you have always dreamed about. Our service offers the flexibility for you to explore as much or as little of Myrtle Beach as your heart desires and just let go of all that holds you back from true relaxation. Forego the constraints of hotels and get comfortable in your own personal recreational vehicle.
Escape the hustle and bustle of everyday life when you take a getaway with Cozy Turtle, where nothing can compare to days spent in the sun and sand! For those who want an adventure they will remember forever, make sure to book with us today so you can experience Myrtle Beach like never before!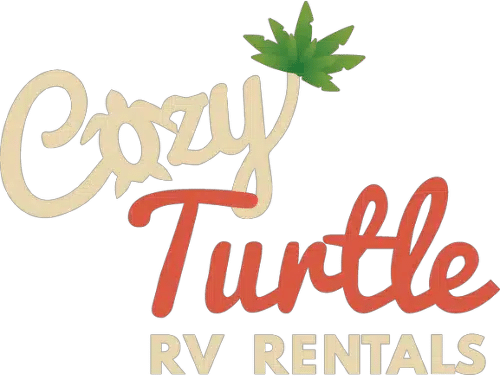 Conclusion:
To sum up, Myrtle Beach weather in November is an excellent time for a vacation destination. It offers pleasant temperatures, clear skies, and an array of outdoor activities to keep you busy. Moreover, the off-season month makes travel and accommodation more affordable, and you get to experience some exciting events and festivals. Don't wait any longer; start planning your Myrtle Beach trip today!