Myrtle Beach is a popular vacation spot for many people. The soft sand, emerald water, and various attractions draw visitors from all over. But one of the standout features of Myrtle Beach is its pier. This pier offers not only beautiful views but also a range of activities and amenities that make it a must-visit destination for beach lovers.
The Myrtle Beach Pier, also known as the Second Avenue Pier, is located in the heart of Myrtle Beach. This pier has been a part of the city's history since the 1930s and has undergone many renovations throughout the years. Today, it stands at 668 feet long and is a popular spot for locals and tourists alike.
One of the main draws of the Myrtle Beach Pier is the fishing opportunities it provides. Whether you're an avid angler or a novice fisherman, you can rent gear and drop your line at the pier. Plus, the pier's location ensures that you're likely to catch a variety of pier fish, including flounder, bluefish, and even sharks! There is a tackle shop next to the pier, convenient right?
If you're not into fishing, there are still plenty of reasons to visit the Myrtle Beach Pier. There are plenty of concerts during the summer, many of which are free. It is also close to the Skywheel so you can enjoy all of the sights and experiences of Myrtle Beach nightlife after a day of fishing. In fact, it's becoming increasingly popular among foodies. On the pier, you'll find several restaurants that serve up fresh seafood. From crab cakes to fried shrimp, you won't be disappointed. You can also grab a drink and enjoy the ocean view from one of the pier's bars.
For those who prefer a more active experience, the Myrtle Beach Pier has you covered. It's home to a giant, inflatable water park that's perfect for kids (and adults) who want to cool off and have fun. You can also take a ride on the pier's Ferris wheel for stunning views of the beach and ocean.
And speaking of stunning views, the Myrtle Beach Pier offers some of the best on the entire Grand Strand and east coast From the pier, you can soak in the ocean breeze and admire the coastline. Plus, if you're lucky, you might even spot some dolphins swimming by!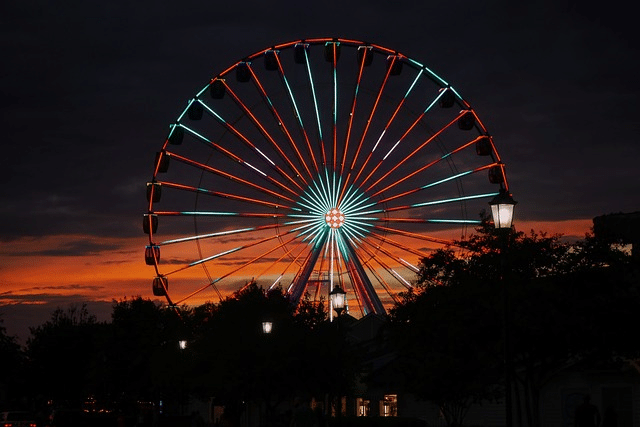 Fun and Sun: Things to Do on Myrtle Beach Fishing Piers
Myrtle Beach, South Carolina is an excellent place to spend your vacation. The city has a lot of wonderful things to offer to tourists and travelers who want to experience the beach, sunshine, and exciting activities. One of the most famous attractions in the area is the Myrtle Beach Pier. The pier is considered a must-visit location for those who come to Myrtle Beach. It is a fantastic destination with plenty of fun activities for people of all ages. This blog post will share the top things to do on Myrtle Beach Pier that will make your trip truly unforgettable.
Fishing:
The 2nd Avenue Pier on Myrtle Beach is an excellent place to go fishing, especially if you are an angler. People that love fishing can rent rods, reels, and tackle for reasonably low prices and spend time catching fish from the pier. The most common fish species found in the area are king mackerel, flounder, Spanish mackerel, and sea trout. Cherry Grove Fishing pier is also a great place to fish.
People Watching :
If fishing is not your cup of tea, you'll still love Myrtle Beach Pier. Some of the best things in life are free, and people-watching is one of them. You can sit down, relax, and watch the people walk by. You can see different people of all ages, young families, sunbathers, and couples enjoying the pier's ocean views.
Arcade Games:
The Pier 14 Arcade offers some of the best old-school arcade games. You can spend hours playing games like Skee-Ball, air hockey, and other classic arcade games. This arcade is not only fun, but it also gives you a taste of nostalgia.
Dining:
You can also enjoy a great dining experience on Myrtle Beach Pier. You can have a delicious meal while enjoying the incredible view of the beach and the ocean. The pier has a variety of restaurants that offer seafood, hamburgers, and other tasty dishes. Be sure to visit a gift shop to get a souvenir.
Beach Party:
Finally, the pier is an excellent party destination. The Oceanfront Bar and Grill on the Myrtle Beach Pier is the perfect place to have fun with your friends, listen to music, and sip on a cold drink. The pier also hosts several events, like live music, DJ nights, and other parties. Check the schedule of events and make sure to attend one of them on your visit!
Myrtle Beach Pier is a fun and exciting destination that offers something for everyone. Whether you're a fishing enthusiast, a food lover, a partygoer, or someone who simply loves to relax, the pier has it all. So, make sure to include this fantastic destination on your list of things to do when you visit Myrtle Beach. With its beautiful views, incredible activities, and excellent restaurants, Myrtle Beach Pier will surely become a favorite vacation spot for you.
A Guide to Myrtle Beach Pier Fishing: Tips, Techniques, and More
Myrtle Beach is a popular destination for tourists and anglers alike. With miles of coastline dotted with piers, Myrtle Beach offers abundant opportunities for pier fishing. Pier fishing is not only a fun activity but also a great way to catch some delicious fish, including flounder, red drum, black sea bass, and more. So, whether you're a seasoned angler or a novice, reading this guide will help you get started on your Myrtle Beach pier fishing adventure.
Choose the Right Pier
The most important factor in pier fishing is choosing the right pier. Not all piers are created equal when it comes to fishing, so it's essential to do some research before you head out. Check out some online forums or talk to locals to find out which piers are the most productive for fishing. Some popular piers for fishing in Myrtle Beach are the Cherry Grove Pier, Apache Pier, and the 2nd Avenue Pier.
Bring the Right Gear
To make your pier fishing experience enjoyable, you need to have the right gear. The good news is that you don't need to spend a fortune on equipment. All you need is a fishing rod, reel, some bait, and a pair of pliers. Some recommended baits for Myrtle Beach pier fishing are squid, shrimp, and cut bait. It's also important to remember to bring sunscreen, a hat, and polarized sunglasses since you'll be spending some time in the sun.
Check the Tide and Weather
Before you head out for pier fishing, be sure to check the tide and weather conditions. Both of these factors can affect your fishing experience. Fishing is typically best during the incoming tide, so plan your trip accordingly. Also, avoid pier fishing during a storm or windy day since it can be dangerous.
Be Patient and Persistent
Fishing requires patience and persistence, and pier fishing is no exception. Don't expect to catch a fish as soon as you cast your line. Sometimes it can take hours before you get a bite. So, don't get discouraged if you don't catch anything right away. Be patient and keep trying, and eventually, you'll catch something.
Pay Attention to Regulations
Lastly, it's essential to follow the rules and regulations of pier fishing. Make sure you have a valid fishing license, and be aware of the daily catch limits for different fish species. It's also important to handle the fish properly and release any undersized fish back into the water.
Myrtle Beach pier fishing can be a fun and rewarding experience if you follow the tips and techniques mentioned above. Be sure to choose the right pier, bring the right gear, check the weather and tide conditions, be patient and persistent, and follow the rules and regulations. With some time and practice, you'll be reeling in some fantastic catches in no time!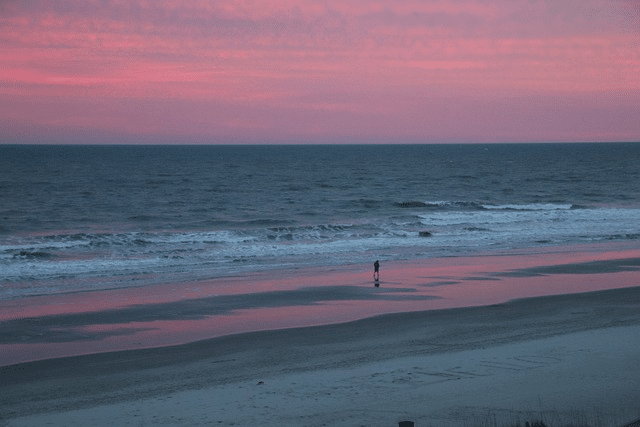 Enjoy Oceanfront Dining at the Pier in Myrtle Beach
Myrtle Beach is one of the most popular tourist destinations in the country, and for good reason. With its miles of pristine coastline and endless activities, it offers something for everyone. One of the most iconic attractions in Myrtle Beach is the Pier, which has been a fixture on the coastline for decades. The Pier not only offers stunning views of the Atlantic Ocean, but it also has several restaurants that provide some of the best oceanfront dining in the area.
Whether you're in the mood for a casual lunch or a romantic dinner, the Pier has several restaurant options to choose from. For a classic beach experience, check out Pier House Restaurant. You can dine on fresh seafood and other classic beach fare while enjoying the ocean breeze. If you're in the mood for something more upscale, head to the Fish House for creative seafood dishes, an extensive wine list, and an upscale atmosphere. With its glass walls overlooking the ocean, it's the perfect choice for a special occasion or a date night.
If you're looking for a more laid-back experience, check out the Boardwalk Cafe. This casual restaurant offers burgers, hot dogs, and other classic beach food, along with stunning views of the ocean. There's also a bar, so you can grab a cocktail as you relax on the pier.
Another great option is the Sharkey's Beach Bar, which offers a wide selection of drinks, live music, and a menu of classic bar food. It's the perfect spot to grab a drink with friends after a day at the beach or to enjoy a fun night out.
No matter which restaurant at the Pier you choose, you can expect fresh food, attentive service, and stunning ocean views. Plus, all of the restaurants are conveniently located right on the pier, so you don't have to go far to enjoy a great meal. And if you're lucky, you might even see dolphins playing in the waves while you dine.
If you're visiting Myrtle Beach, be sure to add the Pier to your itinerary. Not only is it a historic landmark, but it also offers some of the best oceanfront dining in the area. Whether you're in the mood for a casual lunch or a romantic dinner, you're sure to find a restaurant that fits the bill at the Pier. So grab a table, enjoy the view, and savor the fresh seafood and other delicious fare that Myrtle Beach has to offer.
Cozy Turtle RV Rentals
To conclude, if you are looking for a topnotch beach vacation and adventure, then come to Cozy Turtle RV Rentals in Myrtle Beach. Our luxury RVs will provide you with an unbeatable vacation that you and your family won't be able to stop raving about. What could be better than giving yourself the gift of discovery while on the road? Call today or visit our website and make this Myrtle Beach Pier experience yours!
Conclusion:
In conclusion, the Myrtle Beach Pier is a must-visit destination for anyone who loves the beach. Whether you're looking to fish, dine, play, or simply take in the view, there's something for everyone at the pier. So, on your next trip to Myrtle Beach, make sure to stop by the Second Avenue Pier. You won't be disappointed!