If you're in the mood for a change of scenery, consider visiting Mount Pleasant / Charleston KOA Holiday this season! With fun activities and picturesque views, it's definitely worth a visit.
Plus, what could be more relaxing than spending time outdoors surrounded by beautiful natural landscapes? In this guide, we'll go over everything you need to know about Mount Pleasant / Charleston KOA Holiday – Mt. Pleasant, SC.
About Mount Pleasant / Charleston KOA Holiday – Mt. Pleasant, SC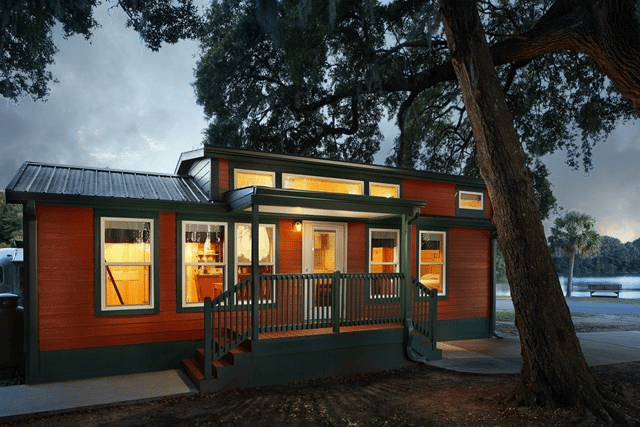 Staying at this KOA campground -located on the grounds of a genuine antebellum plantation- is clear evidence that you are in the Carolina Lowcountry. Beautiful live oaks with Spanish moss can be found throughout the campground.
You can go for a stroll on the campground's 1.5-mile nature trail, rent a bike or boat, play disc golf, and fish the private 30-acre lake (catch and release).
Asides from that, campers can visit historic Charleston and all it has to offer, including Fort Sumter National Monument and the many lovely plantations in the area.
The campground also features deluxe cabins, an RV park, and summer camp for kids.
Recreational Activities Available At Mount Pleasant / Charleston KOA Holiday – Mt. Pleasant, SC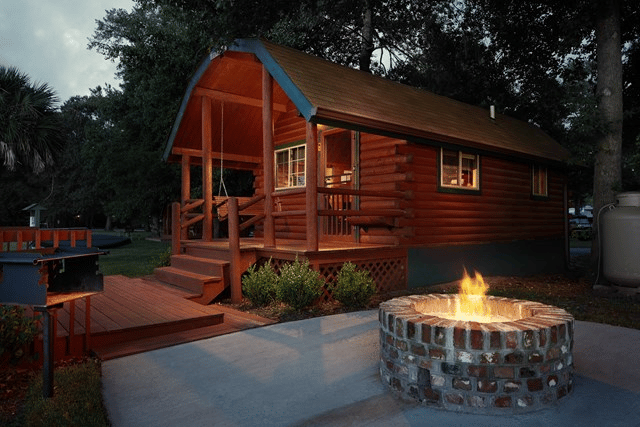 1.5 Mile Walking Trail
On your stroll through the South Carolina Lowcountry, you'll be treated to the finest views it has to offer!
Pass by a private fishing lake, where you can view heron, ducks, bass, and maybe an alligator.
Follow the markers through the woods and learn about this region's local history, vegetation, and birds.
Lastly, watch the tides rise and fall beside the marshes. Don't forget to keep an eye out for deer while you're out!
Swimming Pool
After a long day of exploring, go relax in a sparkling clean swimming pool. The pool is open from March 1 to November 1, and lifeguards are on duty during posted hours.
Please note that the pool isn't heated, so it may be too cold to swim during the cooler months.
30 Acre Fishing Lake
This camping ground has a private 30-acre fishing lake that is perfect for catch-and-release fishing. The lake is stocked with bass, catfish, and bream.
Basketball
Yup, they have a basketball court! So if you're feeling competitive, go challenge your friends or family to a game.
Disc Golf
This is a fun activity for the whole family! Disc golf is similar to regular golf, but instead of using clubs and balls, you throw Frisbees into baskets. It's a great way to get some exercise while spending time outdoors.
Boating
If you're looking to explore the area by water, you can rent a canoe, kayak, or paddleboard. They also have aquacycles available for rental.
Amenities Available At Mount Pleasant / Charleston KOA Holiday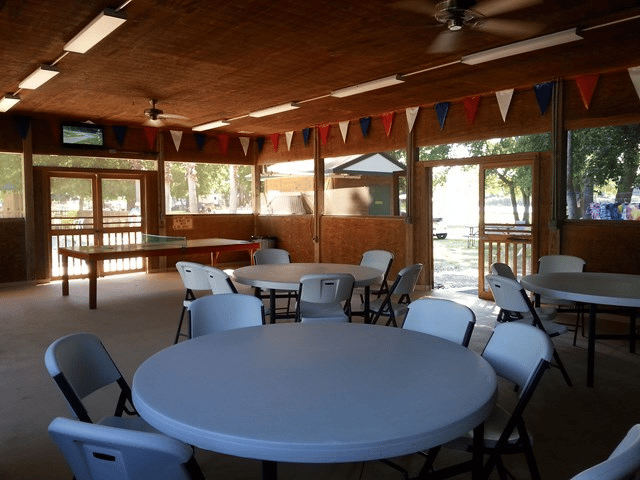 Here are some of the amenities available at this campground:
50 Max Amp
80′ Max Length
Wi-Fi
Cable TV
A concrete patio
Pool (4/1 – 11/1)
Propane
A Rec hall
A fire pit
An RV site
A family lodge
A camp kitchen
Fishing
Firewood
Bike Rentals
KampK9®
Note: Each lodge or cabin features a microwave, keurig coffee maker and a small fridge.
Attractions Near Mount Pleasant / Charleston KOA Holiday SC
There are plenty of things to see and do in the area! Some of them include:
Visit the only tea plantation in America on peaceful Wadmalaw Island. View miles and miles of gorgeous tea plants as far as the eye can see.
During an informative factory tour, learn how tea is made from scratch, enjoy a relaxing ride through the tea plantations, and discover one-of-a-kind boutiques during your trip.
The Charleston Tea Plantation, which is home to the American Classic Tea, is one of America's true gems. It's about 33 miles from the campground.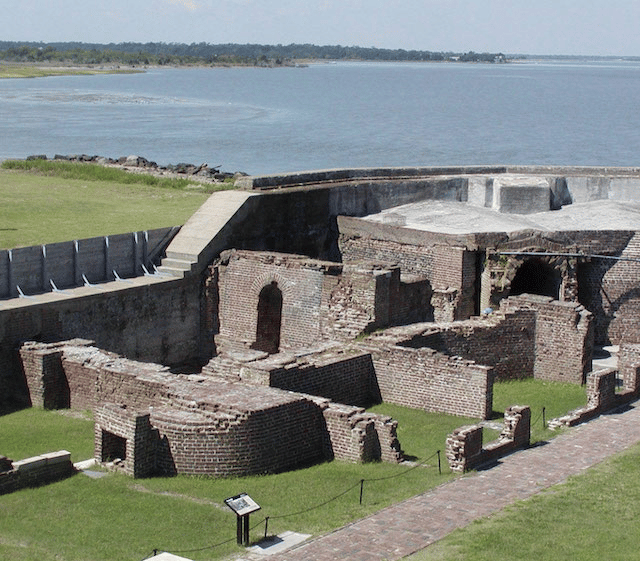 This is a must-see for any history buff! Fort Sumter was the site of the first shots fired during the Civil War. Take a ferry ride out to the fort, and explore the museum and grounds. You can even take a ranger-led tour. The monument is located about 35 miles from the campground.
This museum is home to aircraft carriers, submarines, cruisers, destroyers, and more. It's also home to the Medal of Honor Museum and the Vietnam Experience Exhibit. Patriots Point is located about 25 miles from the campground.
The Charleston Aquarium is a great place to learn about the local wildlife and ecosystems. Check out over 5,000 incredible creatures, including river otters, sharks, and loggerhead sea turtles, participate in the Touch Tank experience, or try your hand at feeding the rays.
Visit South Carolina's only Sea Turtle Hospital, see the 4-D theater, or be enchanted by the rare albino American Alligator. The aquarium is located on beautiful Charleston Harbor in downtown Charleston, 10 miles from the campground.
This plantation is one of America's oldest, and it's home to stunning gardens, a historic mansion, and plenty of wildlife. Take a stroll through the grounds, or take a boat ride through the swamp to see alligators in their natural habitat. The plantation is located about 30 miles from the campground.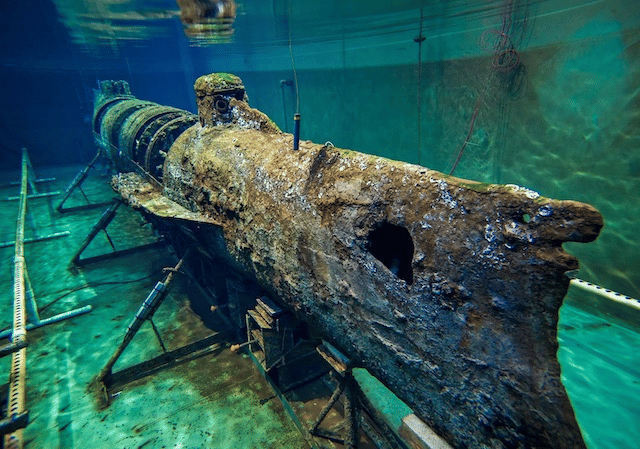 In 1864, the submarine Hunley became the first successful combat submarine when she sank the Navy steamer USS Housatonic. For more than a century, she was lost and then discovered from the sea in 2000, and now scientists are trying to solve her mystery.
You'll explore what it was like to serve aboard a submarine through new interactive exhibits and see;
The real Hunley in her 90,000-gallon conservation tank.
Artifacts that were discovered during the sub's excavation, including the legendary gold coin that saved the boat's captain's life.
A replica of the Hunley, facial reconstruction of the crew members, and much more.
Shem Creek is a great place to relax and enjoy the view. There are plenty of seafood restaurants with outdoor seating, so you can enjoy fresh seafood while taking in the stunning views.
This wonderful attraction is located just outside the KOA! Charleston Fun Park has something for everyone. It features go-karts, two mini-golf courses, an amazing arcade with more than 50 games, a bounce castle, an outdoor playground, gemstone mining, and a climbing wall. The Galley's lunch and dinner menus include Pizza, which is prepared from scratch. Parents may relax at the outdoor Tiki Bar with a beer or glass of wine while the kids have their fun in the park.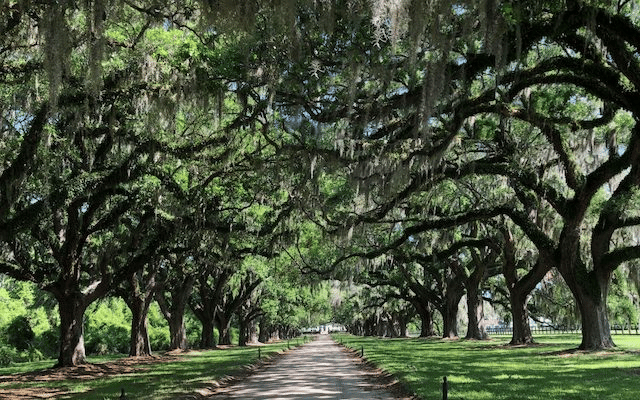 This plantation is one of America's oldest working plantations, and it's open to the public for tours. Learn about the history of Boone Hall, see the cabins, or take a stroll through the grounds. The plantation is located about 18 miles from the campground.
Reviews
Here are some verified Google reviews:
Larly Shares;
"This is a great combination of natural beauty and all the comforts of home. Clean and comfortable facilities, a fun little gift shop, a nice large lake with birds and fish, and hiking trails. Our site was awesome, with a yard, patio, and shade tree. We felt very safe as they patrol throughout the night.
The camp attendant even gave us a weather heads-up when we first arrived; a windy storm was predicted to hit during the night, and he suggested that we not extend our canopy. Hope to stay here whenever we are in the area."
Brian Graham Shares;

"This was our first time staying at this KOA. My son was recently stationed in Goose Creek, and we went to visit him this year. I have to say this is one of the nicest KOA's we have stayed at across the country. We are lifelong campers and have a big rig pulling a toad behind.
The site is easy to navigate, and the pad was very flat. We had a lake view out our front window and an amazing view. While all the staff was outrageously nice, I have to give a special shout-out to the camping attendants who treated us like family. If every business had employees like this, they would have way too many customers than they could handle. We look forward to planning our next trip there come spring."
Conclusion
As you can see, there's no shortage of things to do at Mount Pleasant / Charleston KOA Holiday – Mt. Pleasant, SC. So if you're looking for a fun and relaxing place to spend your holiday, look no further! This campground has everything you need and more. We hope this guide helped give you all the information you need to know about Mount Pleasant / Charleston KOA Holiday – Mt. Pleasant, SC. Have a great time on your trip!
Need An RV Rental Service For Your Trip?
Are you planning a stay at Mount Pleasant or one of the other surrounding campgrounds? If your answer is yes, the Cozy Turtle RV staff would be delighted to assist you with your next family vacation.
We specialize in RV rentals and have assisted numerous families in finding the perfect RVs for rent at affordable rates. Reach out today if you are searching for an inexpensive way to go RV camping!