With championship courses dotting the landscape, Myrtle Beach is a golfer's paradise. But sometimes, you just need a break from the links, and that's where mini golf comes in. There are plenty of miniature golf courses in Myrtle Beach, South Carolina, and many of them are top-notch. So if you're looking for a fun way to spend an afternoon or evening, check out some of these great mini golf spots!
1. The Hawaiian Rumble
Hawaiian Rumble's visitors are greeted island-style by a talking parrot at the clubhouse. It is also one of the best miniature golf courses in SC. The annual U.S. Prominigolf Open, which features putt-putters from around the country to compete in the nationally broadcasted event, takes place at Hawaiian Rumble.
It's a suitable miniature golf course with waterfalls and volcanoes that create an island-style design. In the clubhouse, visitors can meet and converse with the course's mascot, a talking parrot, before playing the 18-hole masterpiece. You can also check out the official U.S. Olympic Minigolf Team training facility (yes, there is such a thing) in the rear after your game.
2. Captain Hook's Adventure Golf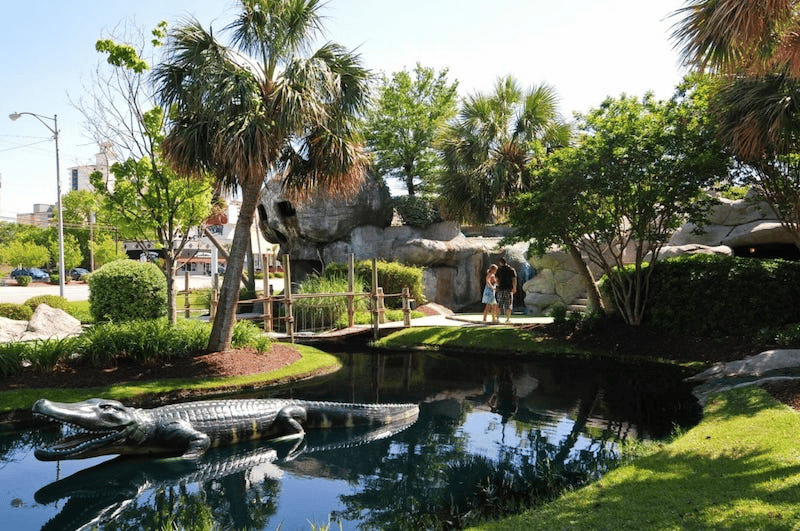 If you're looking for a fun and challenging mini golf course, Captain Hook's Adventure Golf is the place for you. The course is set up like the pirate ship of the infamous Captain Hook. It also comes with all of the obstacles and challenges that you would expect to find on a pirate ship. There are two different miniature golf courses to choose from, so you can come back and try both. And if you're feeling really adventurous, try the glow-in-the-dark course at night!
3. Molten Mountain Mini Golf
Molten Mountain Mini Golf is one of the most distinctive mini golf courses in Myrtle Beach. The course is set up like a volcano, and you can actually hit the ball into the lava! There are also waterfalls, caves, and other obstacles to add to the challenge. The course is so unique that it was even featured on the Travel Channel's "Greatest American Minigolf Courses" show.
4. Mutiny Bay
Prepare to take the plunge and make a splash at Mutiny Bay Golf in North Myrtle Beach, SC. This popular attraction, which is located near Main Street in downtown North Myrtle Beach, features a huge bay that separates the two 18-hole courses – Port Royal and Barbados.
The lake's centerpiece is a large pirate ship, which may be seen hiding on the rocky terrain. In fact, on the course, there is a surprise pirate performance every half hour. The trail leads you through gloomy caverns and beneath cascading waterfalls in your search for the pirates' hidden treasure.
5. Cancun Lagoon Miniature Golf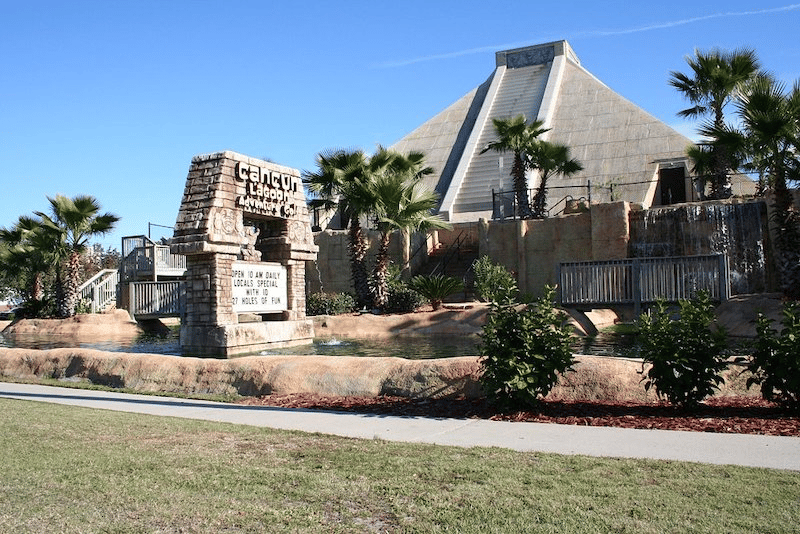 At Cancun Lagoon Miniature Golf, the only indoor/outdoor putt-putt course on the Grand Strand, you can hit par and stay cool at the same time. With a Mayan ruin structure that visitors may enter through a cave entrance on the backside of the building, Cancun Lagoon has two 18-hole courses that take guests on a trip through the jungle environment before weaving indoors and outdoors for a welcome air-conditioned break from the summer heat.
The courses are set in a lush jungle environment, and the scorecard features clues to the search for lost gold along with a major river and waterfall that run through it. An indoor gift shop and restaurant also serve food and drink.
6. Mount Atlanticus Minotaur Golf
Prepare to take on an ancient Greek adventure at Mount Atlanticus Minotaur Golf. Here, you'll putt your way through a labyrinth in search of the lost ball of King Minos. The towering 36-hole course overshadows the surrounding structures in Downtown Five Points.
In fact, while circumnavigating the elevated grounds and island landscaping, visitors may see the ocean from the tiki towers on Mount Atlanticus. Waterfalls and palm trees add to the appeal of the golf courses, making for excellent photo opportunities for everyone in the family.
7. Treasure Island Golf Course
At this pirate-themed putt-putt course, you'll search for buried treasure as you walk around little ponds and scale a stucco mountain. For years, this pirate-Themed Putt-Putt Course has been one of the most popular spots in town, and frequent renovations keep it at its best.
The scorecard not only tells you how to play the holes but also where to look for the hidden treasure. Scale the mountainside and waterfalls, then delve into gloomy caverns and steep drop-offs in order to discover the treasure and achieve a hole in one. There is also a souvenir shop and culinary treats at the clubhouse, including gourmet fudge. On busy nights, there may be a line.
8. MayDay Golf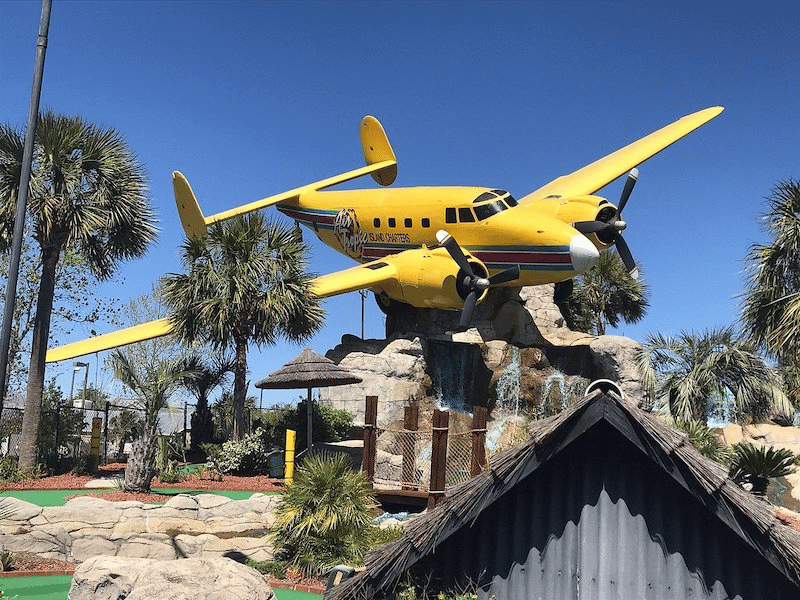 Put yourself and your putter in the midst of a plane crash in the Amazon at MayDay Golf, a welcome change from the typical pirate- and dinosaur-themed mini golf courses.
The Travel Channel's "Mini-Golf Madness" placed MayDay Golf on the list for "Best Survival Course" in the United States. At this one-of-a-kind 36-hole golf course, you've been crash-landed in the jungle and must putt your way out, sort of like a "Survivor" mini-golf series. It all looks so real that you may forget you're not actually in the jungle.
9. Jurassic Golf
Jurassic Golf is one of the top-rated miniature golf courses on the Grand Strand, and it's easy to see why. Around the green, sculptures of prehistoric animals may be found, as well as waterfalls, volcanoes, and caves. Between your putter and the holes are a variety of barriers, such as hilltops and rock formations. A chart in the clubhouse aids dinosaur fans in identifying the different species on display.
The golf course has thirty-six holes and features two courses – the Ice Age and Predator layouts – where visitors can walk among dinosaurs and other prehistoric animals that make for great photo opportunities for your family vacation.
10. Jungle Safari Mini Golf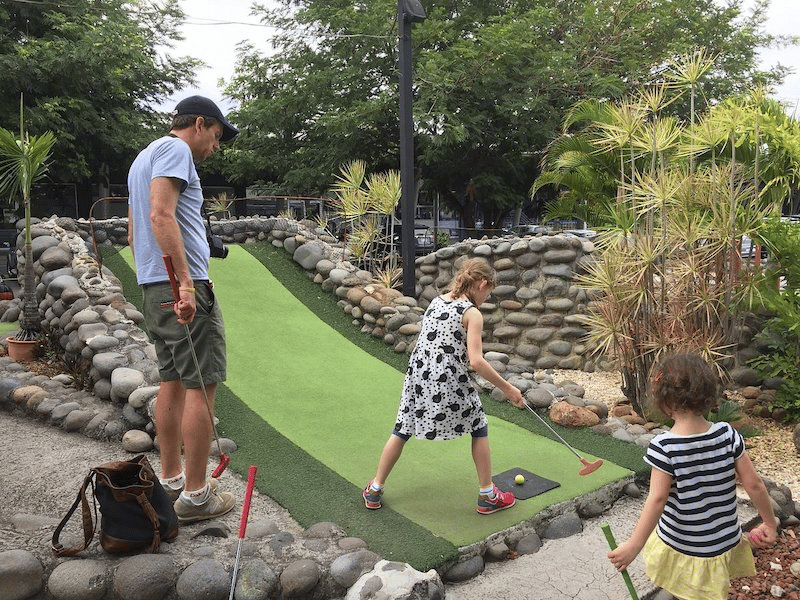 Prepare for a fun-filled family golf trip at Jungle Safari Mini Golf in Myrtle Beach. Jungle Safari is conveniently located on the north end of town, near the renowned stretch known as Restaurant Row, where families may play a round before or after dinner.
There are no difficulties in finding Jungle Safari because the figures of colossal elephants, giraffes, zebras, and other animals stand out amid the row of shops and restaurants. The Cane Patch Par-3 is adjacent to Jungle Safari, allowing more accomplished golfers to play while younger golfers take aim at the tiny course.
5 Mini Golf Tips You Should Know
Below, we discuss five tips for playing mini golf that will hopefully give you the edge over your friends and family.
1. Use Your Wrist
You may be tempted to swing your arms wildly in an attempt to hit the ball as hard as possible, but this is not the way to generate a consistent and powerful shot. Instead, focus on using just your wrists to deliver the club head to the ball. This will help ensure that you make contact with the sweet spot of the club every time, resulting in a straighter, more powerful shot.
2. Follow Through
In order to get maximum distance out of your shot, you need to make sure that you follow through after impact. This means that you should continue swinging your arms in a smooth arc until they are pointing in the direction that you want the ball to go.
3. Line Up Your Shot
This may seem like a no-brainer, but it is amazing how many people fail to take into account the slope of the green when lining up their shot. Always make sure that your feet are parallel to the slope of the green, as this will help ensure that your ball ends up close to the hole.
4. Don't Be Afraid To Take A Practice Swing
If you are unsure of how hard to hit the ball or what angle to approach from, take a practice swing before committing to your shot. This will help you get a feel for the shot and give you a better chance of making contact with the ball.
5. Relax And Have Fun!
Remember, mini golf is supposed to be fun! Don't get too wrapped up in trying to get a hole in one on every hole; appreciate the challenge of the course and enjoy spending time with your friends and family. If you can do this, we guarantee that you will have a great time.
Mini Golf Myrtle Beach – Conclusion
Myrtle Beach is home to some of the best miniature golf courses in the United States. From pirate-themed to dinosaur-themed, there is a course for everyone in the family to enjoy. With so many options, it may be hard to choose which one to play first. However, with a little research, you are sure to find the perfect course for your family vacation.
Need An RV Rental Expert?
If you need assistance finding the best RV rentals, feel free to contact Cozy Turtle RV Rentals. We are located at the heart of Myrtle Beach and can hook you up with several interior and beachside camping spots throughout the Myrtle area.
We have provided vacation getaways to families from all across the country and can't wait to host you too!
We also transport to several local campgrounds in the Myrtle Beach area, including North Myrtle Beach, Conway, Longs, Murrells Inlet, and Georgetown. New to the RV experience? Don't worry; we will set up a one-on-one session to teach you how to use the RV unit you leased so that you can fully understand how it works.