Are you looking for an exciting destination while you're on vacation? Look no further than the Market Commons Myrtle Beach. This outdoor shopping center is full of unique shops, restaurants, and attractions—all located along a picturesque walking path. Whether you're looking for a delicious meal or some fun activities, you're sure to find it here. Let's explore what Myrtle Beach's Market Common has to offer.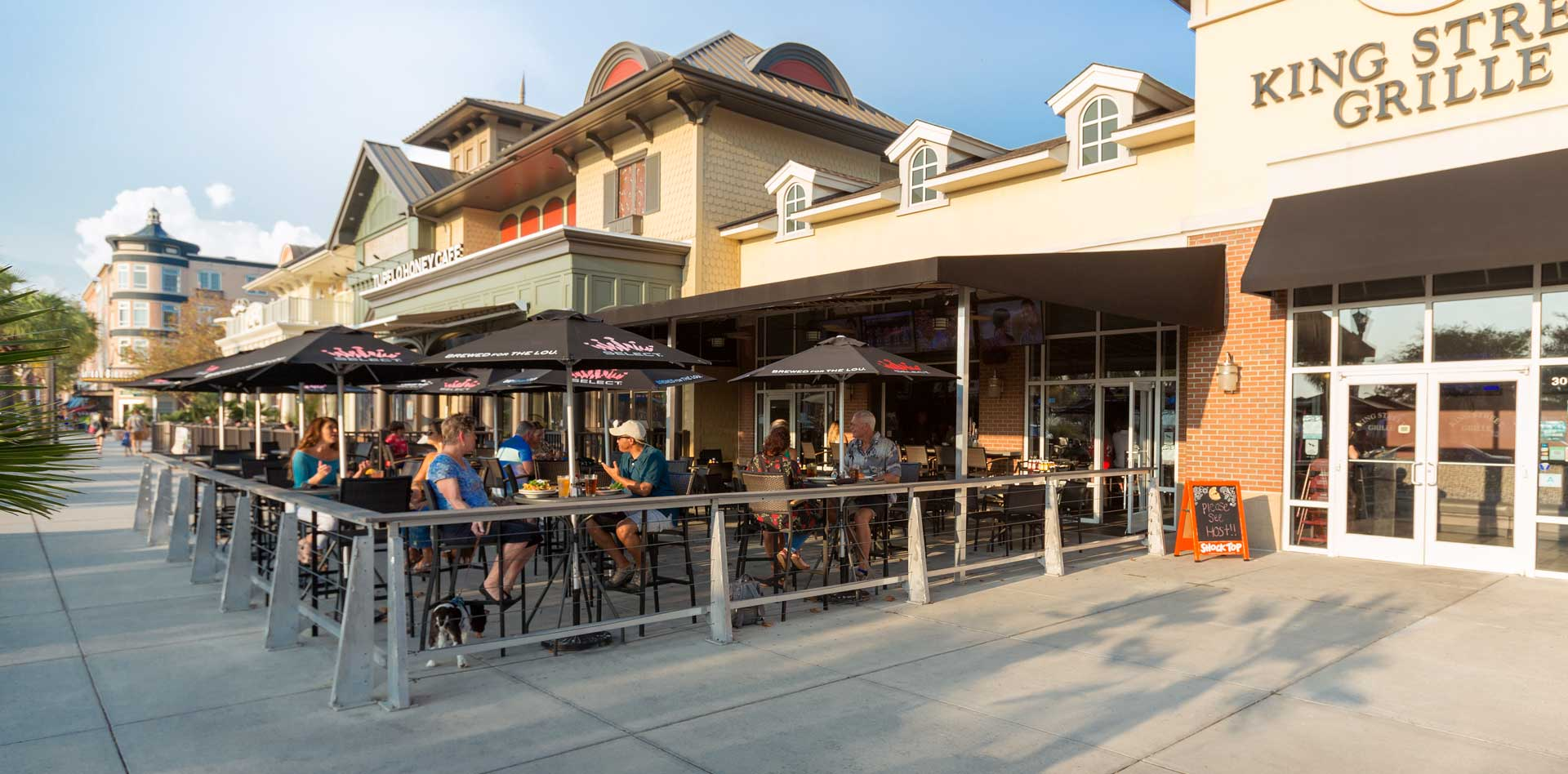 History of Market Common
Get ready to be wowed by the ultimate food, shopping, and entertainment hotspot – The Market Common in Myrtle Beach!
Thanks to the visionary leadership of retired Air Force colonel Buddy Styers, this phenomenal destination opened in April 2008. Built on the former grounds of the Myrtle Beach Air Force Base which closed in 1993, this remarkable transformation is a testament to one of the country's most successful military base redevelopment projects, which has been beautifully updated.
Step back in time as you stroll through the historic Market Common District, where remnants of a 1956 Air Force base linger in the celebrated names of all the streets named after heroic WWII Army Air Corps figures.
Uncover their fascinating stories by exploring the array of historical markers scattered throughout the district, dedicated to heroes and military buildings that once stood here.
Immerse yourself further in the compelling past of Myrtle Beach's men and women through military history tours, either on foot or aboard a charming trolley, available year-round, courtesy of a dedicated third-party provider.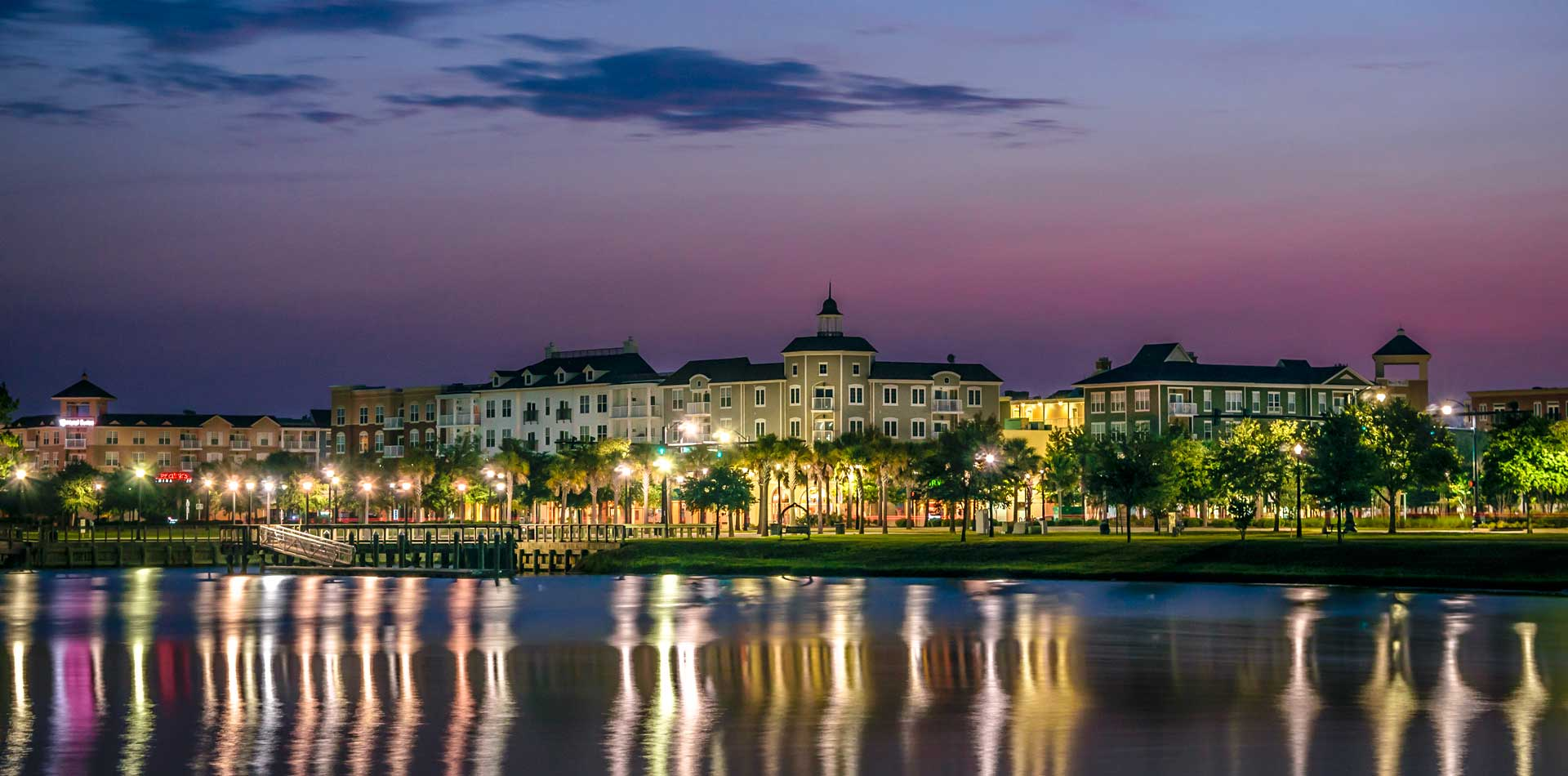 Parks & Playgrounds
Discover the vibrant oasis of The Market Common, nestled in the heart of Myrtle Beach and the Intracoastal Waterway. Just a stone's throw from the sun-kissed shoreline, this bustling hub is surrounded by lush parks, making it the epitome of coastal living.
Explore the enchanting Valor Memorial Garden, where movies and concerts come to life under the stars, or venture across the beautiful Farrow Parkway to experience Grand Park's elegant bridges and serene Grand Lake.
Unleash your inner athlete at Crabtree Gym, boasting indoor basketball and racquetball courts, a myriad of classes, and even an outdoor inline hockey rink. Join the throngs of sports enthusiasts who make the pilgrimage to the expansive Grand Park Athletic Complex every year.
At the heart of what was once an army base, the General Robert H. Reed Recreation Center has transformed into a vibrant community hub where you can find meeting rooms, a ballroom, and an array of intriguing classes!
Just a stone's throw away, the Elizabeth Mattocks Chapin Public Library, formerly the officers' club, now doubles as a resource center for Horry Georgetown Technical College students. But the crowning glory lies at Warbird Park – a place where history soars!
Witness authentic aircraft displays, a Wall of Service paying homage to veterans and civilian heroes of Myrtle Beach, and other inspirational memorials dedicated to the brave souls who walked those very grounds.
Seeking an active adventure? Grand Lake offers a mile-long walking trails with fitness equipment, while Thunderbolt Park has scenic three-mile trails for biking and pedestrian use.
Or, up the ante by tackling A-10 Mountain Bike Trail—a 1.4 loop of twisty single track sure to deliver thrills! If you're bringing your pup along this journey, be sure to check out one Myrtle Beach's two dog parks at Barc Parc South on Mallard Lake Drive near Pampas Drive.
Discover the crown jewel of Grand Park – Savannah's Playground, an enchanting play haven built with ADA-approved equipment, offering kids of all abilities a space to connect and have fun. Plus a picnic area!
Two other playgrounds are nestled near Grand Lake's main bridge and along the picturesque esplanade of Howard Avenue, featuring idyllic gazebos, refreshing fountains, and serene seating in a beautifully landscaped setting – all just a few steps away.
You'll be sure to enjoy the tree lined avenues and walkable trails in the Grand Strand. Market Common community is truly a nice environment and the perfect blend of modern day convenience and history.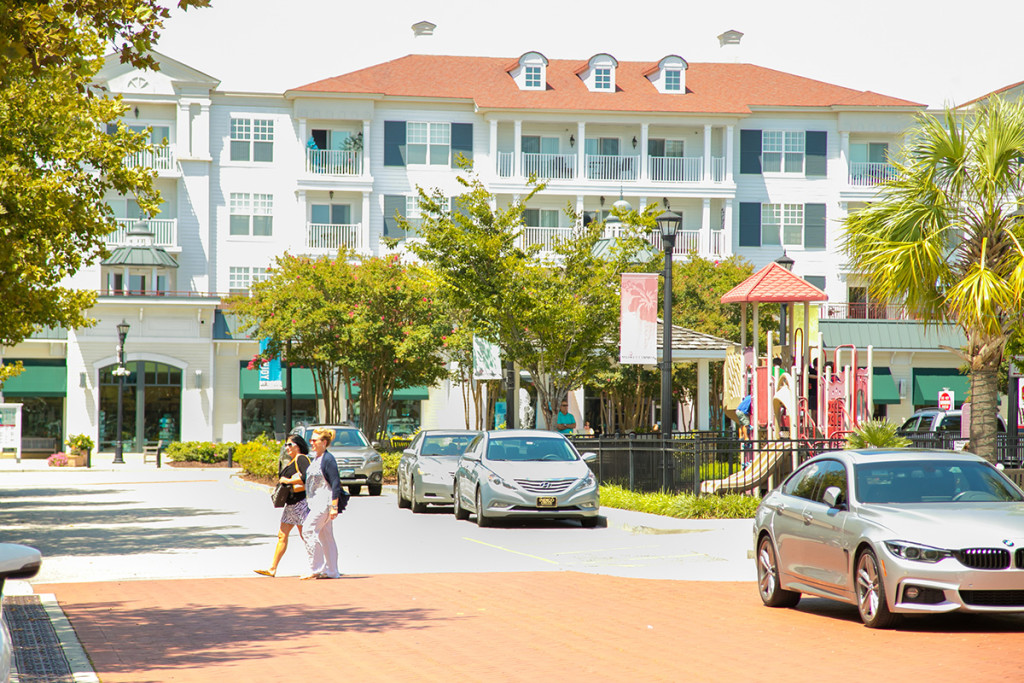 Experience Exceptional Shopping at Market Common
Nestled in the heart of the picturesque Myrtle Beach, the Market Common is an impressive shopping destination with so many shops, you won't know where to go first. Stepping into this vibrant haven, you will find yourself spoilt for choice as you browse through a variety of high-quality products and services.
The fusion of elegant architecture, luscious green spaces, and buzzing atmosphere make this shopping experience truly invigorating. Whether you are in search of the latest fashion trends, captivating home décor, or seeking respite in a warm and welcoming café, the Market Common in Myrtle Beach is sure to satisfy your shopping desires and provide you with unforgettable memories.
So go ahead, indulge in a day of retail therapy at this spectacular locale and make the most of your Myrtle Beach vacation.
Anthropologie
Style Me Boutique
White House Black Market
Bijuju
Bath & Body Works
Pottery Barn
Orvis
Sunglass Hut
Centro Shoes
Manifest Design
Seacoast Artists Gallery
Elegant Pet Store & Resort
Francesca's
Random Boutique
Two Brothers Wood Works
Southern Living Store
Chico's
Soma
J.Jill
Barnes and Noble

Eleven Popular Restaurants at Market Common
Imagine this: the sun is setting over Myrtle Beach, enveloping you in a warm, golden glow as the gentle sea breeze kisses your face. In the midst of this magical atmosphere, you find yourself wandering through the vibrant Market Common, a bustling hub of fashion, entertainment, and culinary delights.
Each step you take brings you closer to discovering a scrumptious feast at one of the many diverse restaurants lining the market's streets. As your senses are tantalized by the mouth watering aromas that waft through the air, you realize that each dining experience here is designed to delight your palate and take you on a culinary journey.
Whether you're in the mood for a rustic Italian antipasto, a mouthwatering surf'n'turf combination, or a zesty southwestern burrito, Myrtle Beach's Market Common is the place to enjoy cuisine of any kind. In the company of great friends and warm laughter, dining in this picturesque beachside location effortlessly captures the essence of life's sweetest moments.
Tupelo Honey Cafe
CO Sushi
Nacho Hippo
Gordon Biersch Brewery
Uncommon Chocolatier
Travinia Italian Kitchen
Seawitch Cafe
Zardin Healthy Eatery
Ultimate California Pizza
Crepe Creation Cafe
King Street Grille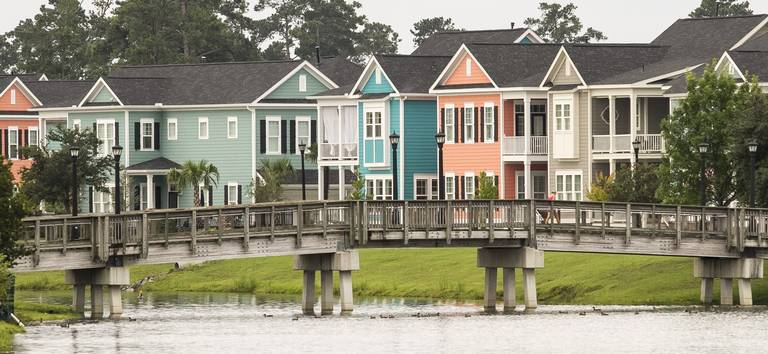 Market Common Entertainment
Are you longing for an adventure to spice up your life? Look no further than Myrtle Beach's Market Common, a thrilling destination that offers everything your heart desires when it comes to entertainment. Imagine strolling along the vibrant streets, basking in the electric atmosphere, and discovering a plethora of exciting activities right at your fingertips.
Here, you can indulge in endless shopping, sample exquisite cuisines, immerse yourself in fascinating cultural events, or challenge your friends to friendly competition at various gaming spots.
With its irresistible combination of leisure and excitement, Market Common in Myrtle Beach promises to transform any ordinary day into an unforgettable experience. So go ahead and dive into the adventure, the possibilities are truly limitless, each destination only a short walk from the next!
Nailed It!
Escape Vault
EdVenture Children's Museum – Myrtle Beach

Fun for the whole family!

810 Billiards & Bowling
Grand 14 Cinema

The most comfortable theater in Myrtle Beach, SC! Who doesn't love a good movie theater?

Pedego
Yoga In Common

Known as the best yoga studio for locals and visitors alike!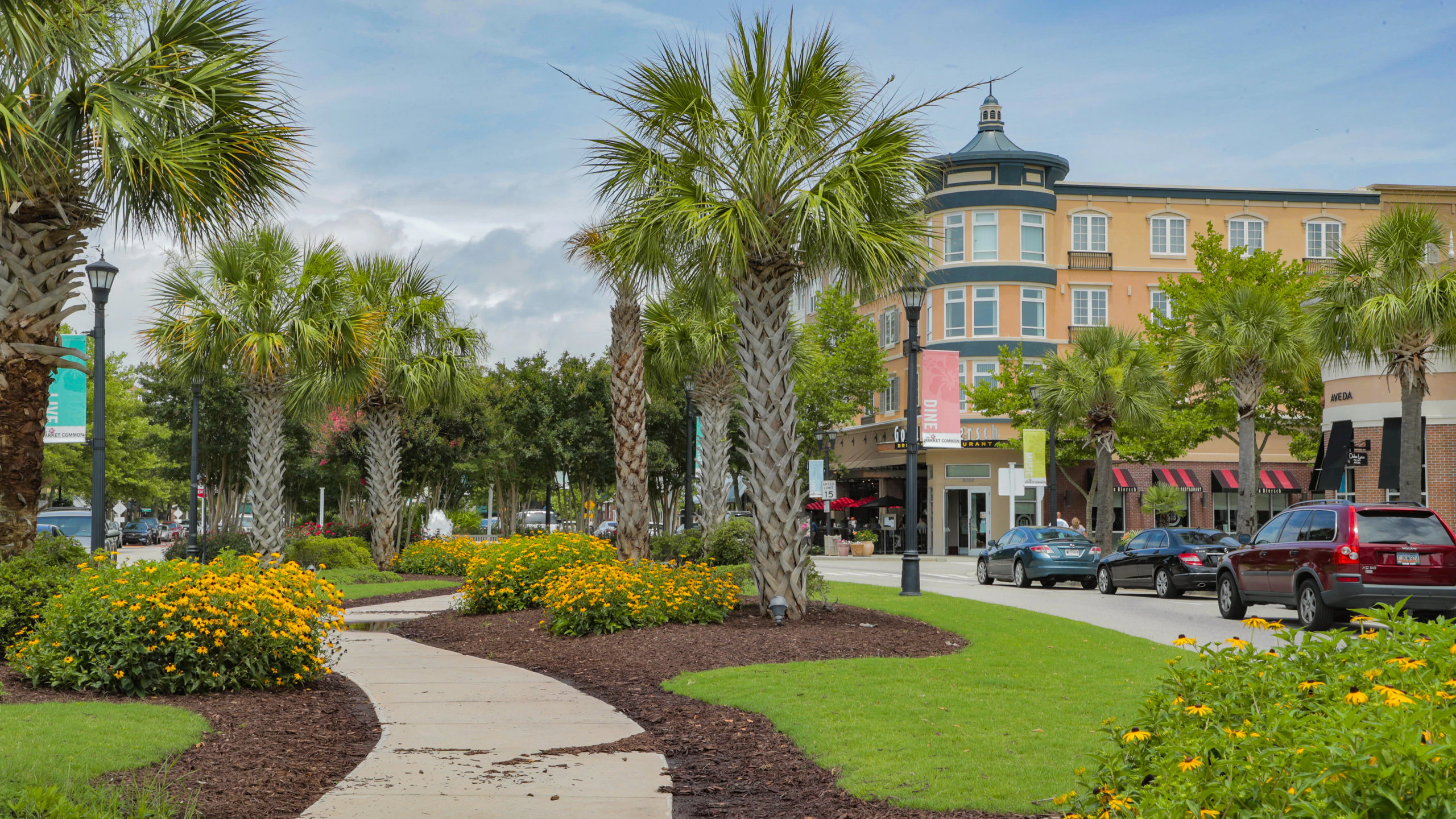 Services In Market Common
Whether you're looking for a haircut or a massage, at Market Common you'll have easy access to all the services you could ever need. They even have a vet office if something happens to your furry friend while you're on vacation.
Trust Thy Barber
Berkshire Hathaway Home Services | Coastal Tides Real Estate (NMB)
Meadowlawn Animal Services
LS3P
Happy Teeth Dentistry
Dolce Lusso Salon & Spa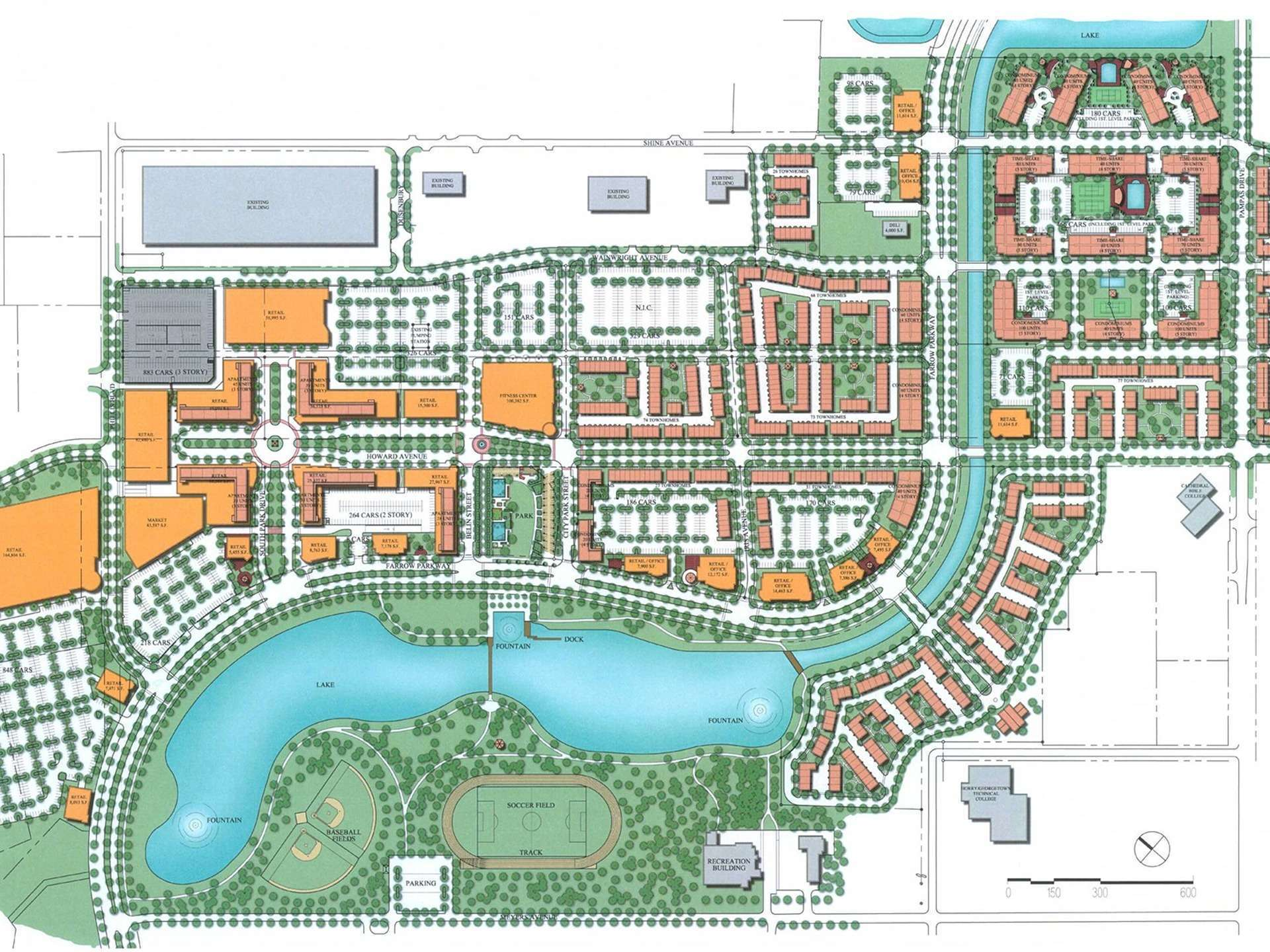 Special Events In Market Commons Myrtle Beach
Market Commons Myrtle Beach is known for its events. You can find a different event going on somewhere in the Market Common community almost every night. From trivia night to live music, there is something for everyone to do. Not only is Market Common a great location for shopping, but it has absolutely the best lot of entertainment for the whole family.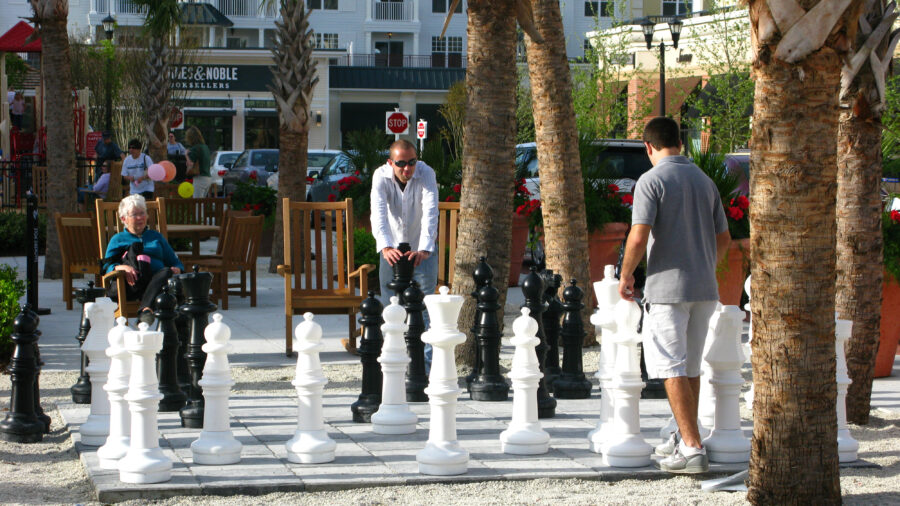 Other Market Commons Information
Imagine experiencing the coastal lifestyle at Market Common living in Myrtle Beach, SC where you are surrounded by picturesque neighborhoods, leisurely walking and biking trails, and a thriving town center boasting exquisite dining, shopping, and entertainment options.
The palm tree-lined streets create an ambiance of relaxation while the beautifully designed homes fuse modern-day amenities with a touch of Southern charm. With parks, recreational facilities, and the breathtaking beach minutes away, the opportunities for outdoor adventures are endless.
The community events, farmers' markets, and a constant buzz of excitement make Market Common living not just a choice, but a truly unique experience that continues to captivate both residents and visitors alike.
With homes for sale, you'll be tempted to take the incredible opportunity to head to the listing office and speak with a listing agent to find stunning home offers that will make you never want to leave the Market Common area.
If you're set on living the ultimate lifestyle experience, in a beautifully designed village setting, check out some of the Market Common homes. With common features like vaulted ceilings and a spacious living room, you'll find that this single story living will make you tempted to never leave. But remember, vacation doesn't last forever, even if you live at the beach!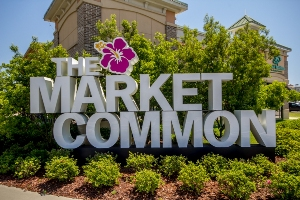 Conclusion
Whether you live in Myrtle Beach, South Carolina or just visiting for vacation, make sure to add a trip to Market Common Myrtle Beach on your itinerary!
With its endless selection of shops, restaurants and attractions located along beautiful walking trails, it definitely won't disappoint. So come explore all that this outdoor shopping center has to offer—you won't regret it!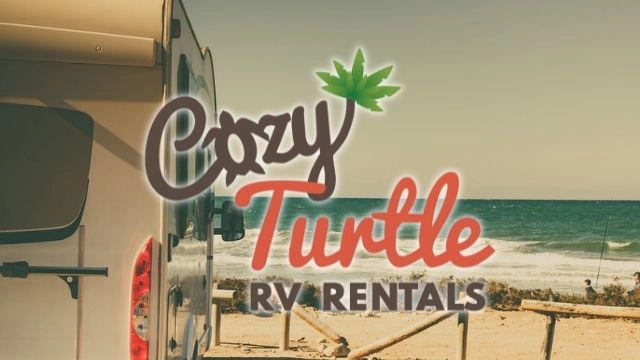 Cozy Turtle RV Rentals
Get ready for a vacation experience like no other at Cozy Turtle RV rentals in Myrtle Beach! Imagine waking up every morning to the sounds of waves crashing and seagulls calling out. The best part? You won't even have to leave the comfort of your own cozy RV to enjoy it all.
With clean and comfortable accommodations that come equipped with everything you need for a stress-free getaway, Cozy Turtle RV rentals are the perfect way to make memories that will last a lifetime.
Whether you're planning a romantic retreat or a family adventure, Myrtle Beach has something for everyone. So don't wait any longer! Book your stay at Cozy Turtle RV rentals and start enjoying all that this amazing destination has to offer.