Myrtle Beach, SC, is known for its pristine beaches, thriving nightlife, and endless entertainment options. But did you know that one of the most exhilarating experiences in the area is Go Karts Myrtle Beach?
That's right, there are several go-karting tracks located in Myrtle Beach, SC that are sure to get your heart racing! In this blog post, we'll explore why go-karting in Myrtle Beach is so much fun and what you need to know before you book your next race.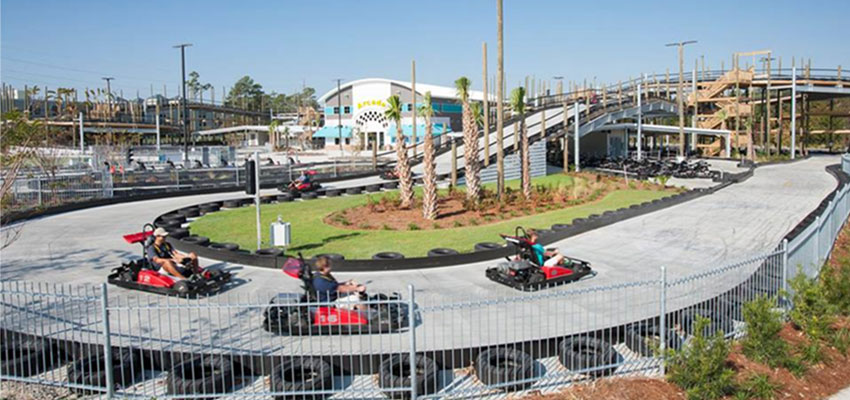 Experience The Need for Speed
One of the main reasons why go-karting is so popular is because it's an adrenaline-pumping activity. Once you hit the track, you're in control of your own racing machine and can feel the rush of wind whipping through your hair as you speed past other drivers.
Go-karts typically can reach speeds up to 40 miles per hour and can maneuver through twists and turns with ease. It's an experience that's hard to replicate anywhere else.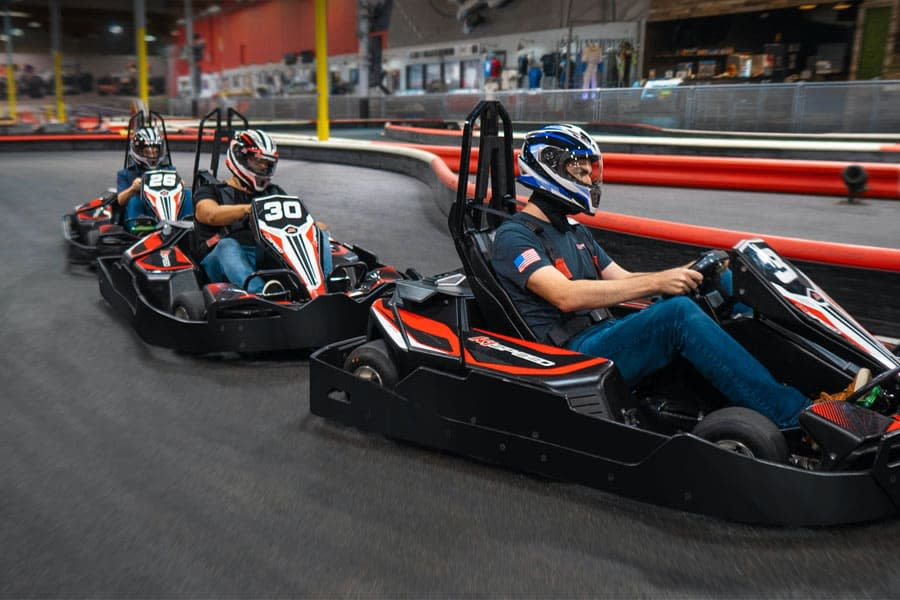 Family Fun
Go-karting in Myrtle Beach is also an excellent family activity as most tracks allow children as young as five to drive themselves. For bigger groups, it can quickly become a fun day trip experience, with everyone racing against each other.
There are often various track options to choose from, including beginner tracks for kids or novice drivers to more advanced tracks for competitive racing enthusiasts. You don't even need a drivers license!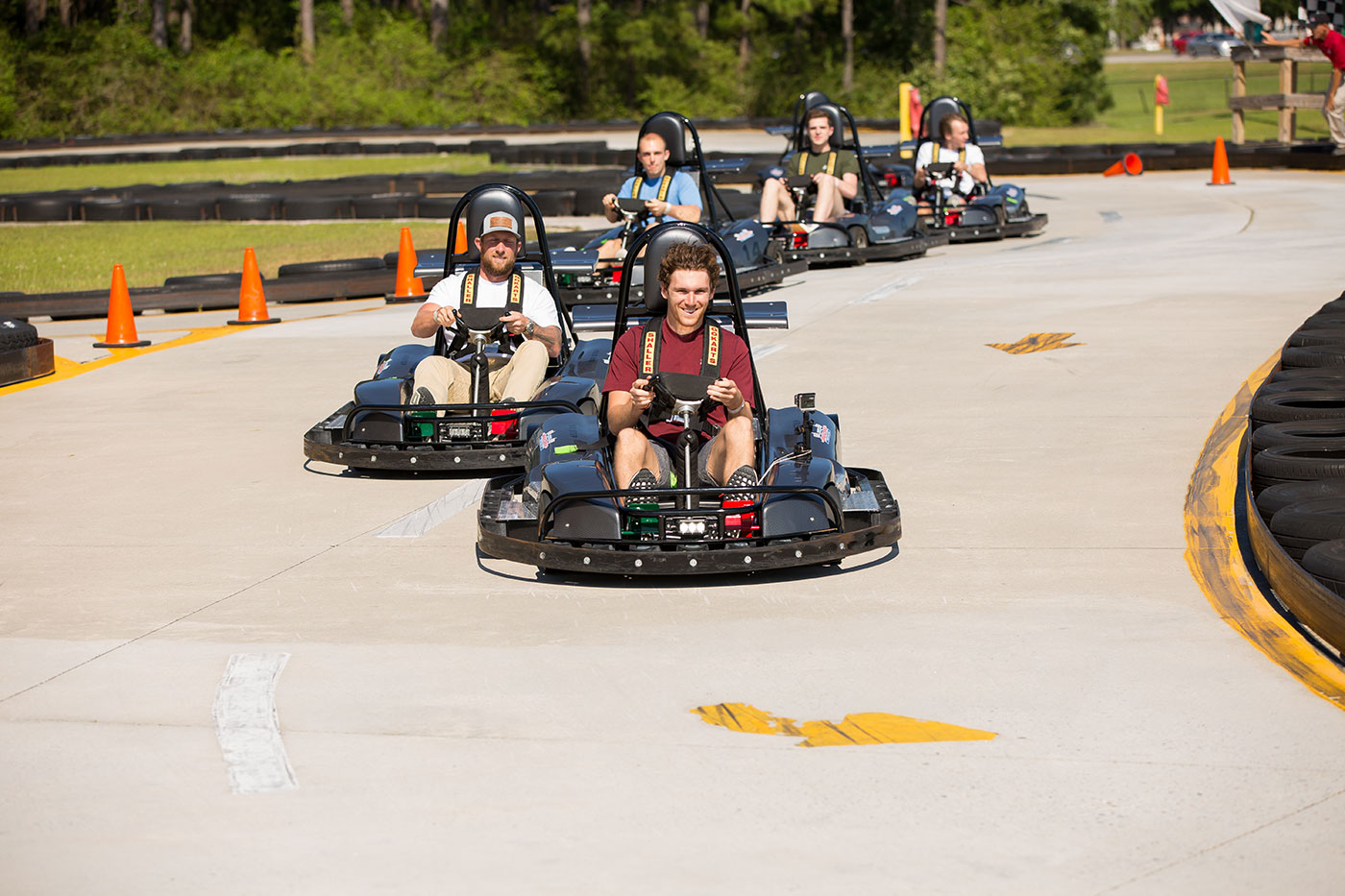 Indoor and Outdoor Tracks
South Carolina's unpredictable weather doesn't have to put a damper on your racing fun. Some tracks are located indoors, which means the experience is available no matter what the weather conditions are.
The indoors tracks are typically multi-level setups that offer a unique racing experience. Meanwhile, outdoor tracks like Broadway Grand Prix and Family Kingdom have long straightaways and sharp banking curves.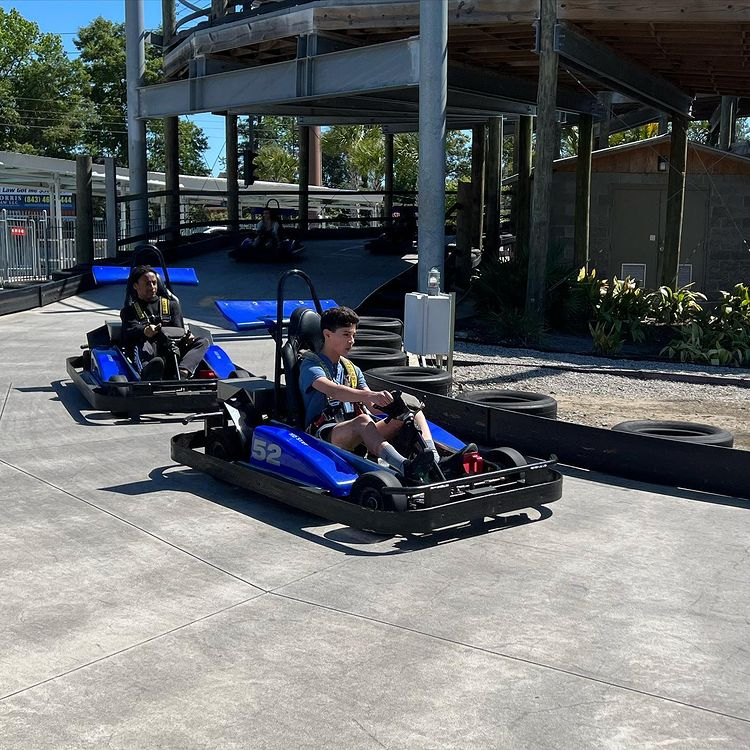 Friendly Competition
Competition is always welcome in go-kart racing. It's an adrenaline-pumping sport that requires intense concentration, quick reflexes, and precise timing. If you're looking for a pro kart, double pro kart, double kart, a speed kart, or even just regular fun on a single kart, you'll find that here.
Whether you're an experienced driver or a complete beginner, tackling each challenging corner of the track is one of the most satisfying feelings in the world. Go-karting in Myrtle Beach is an ideal way to push your limits, get that winning edge and enjoy the thrill of competition.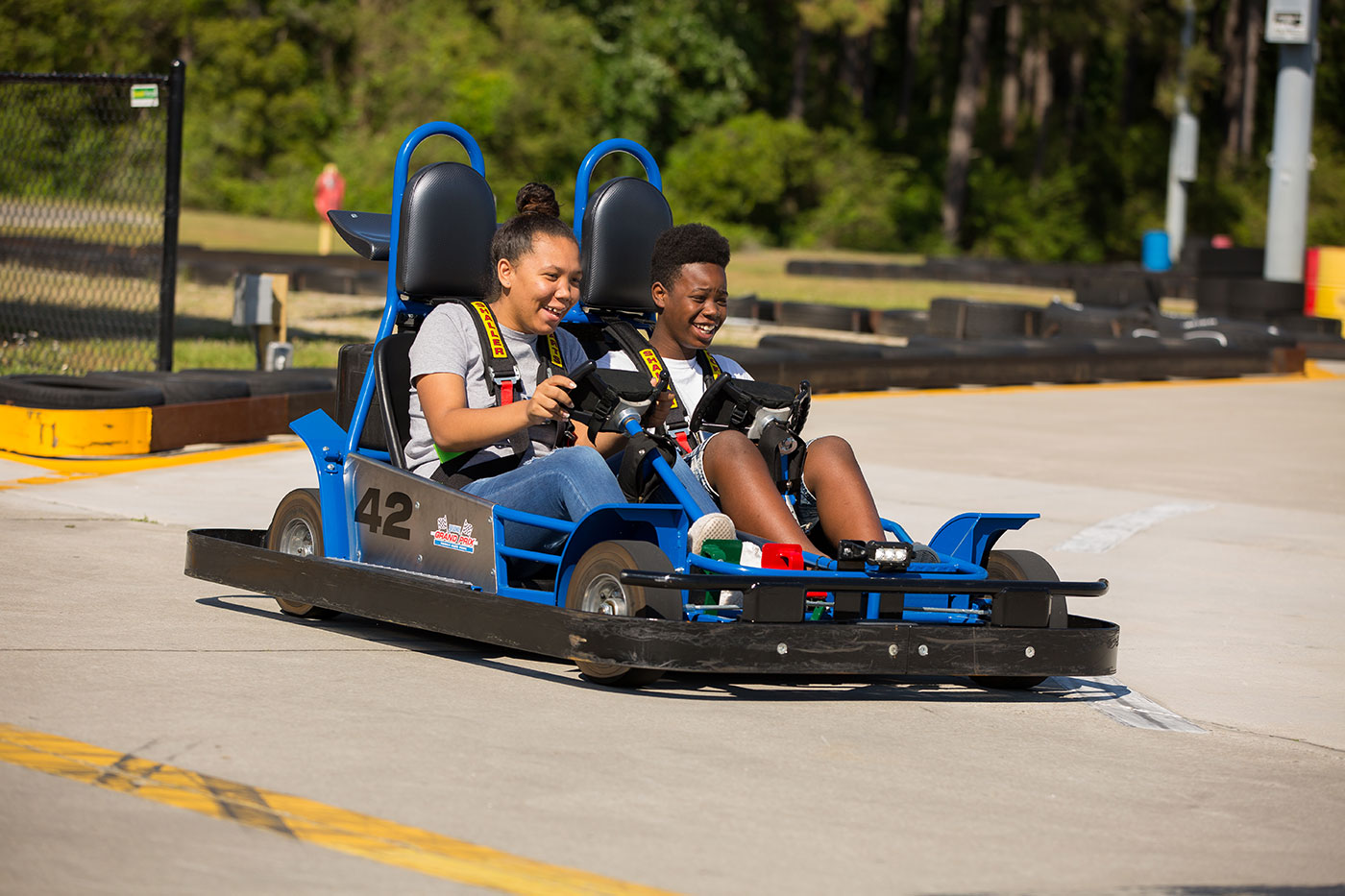 Excellent Value for Money
Go-karting in Myrtle Beach offers excellent value for money, with prices typically between $10 to $20 per ride. This means you can spend an entire afternoon go-karting without breaking the bank. You'll find elevated go kart tracks, zero emission karts, and maybe even a turbo boost feature, any kart track in Myrtle Beach is fun for the entire family.
You can even purchase group tickets, which come at a discounted price, making this an even more affordable and competitive activity.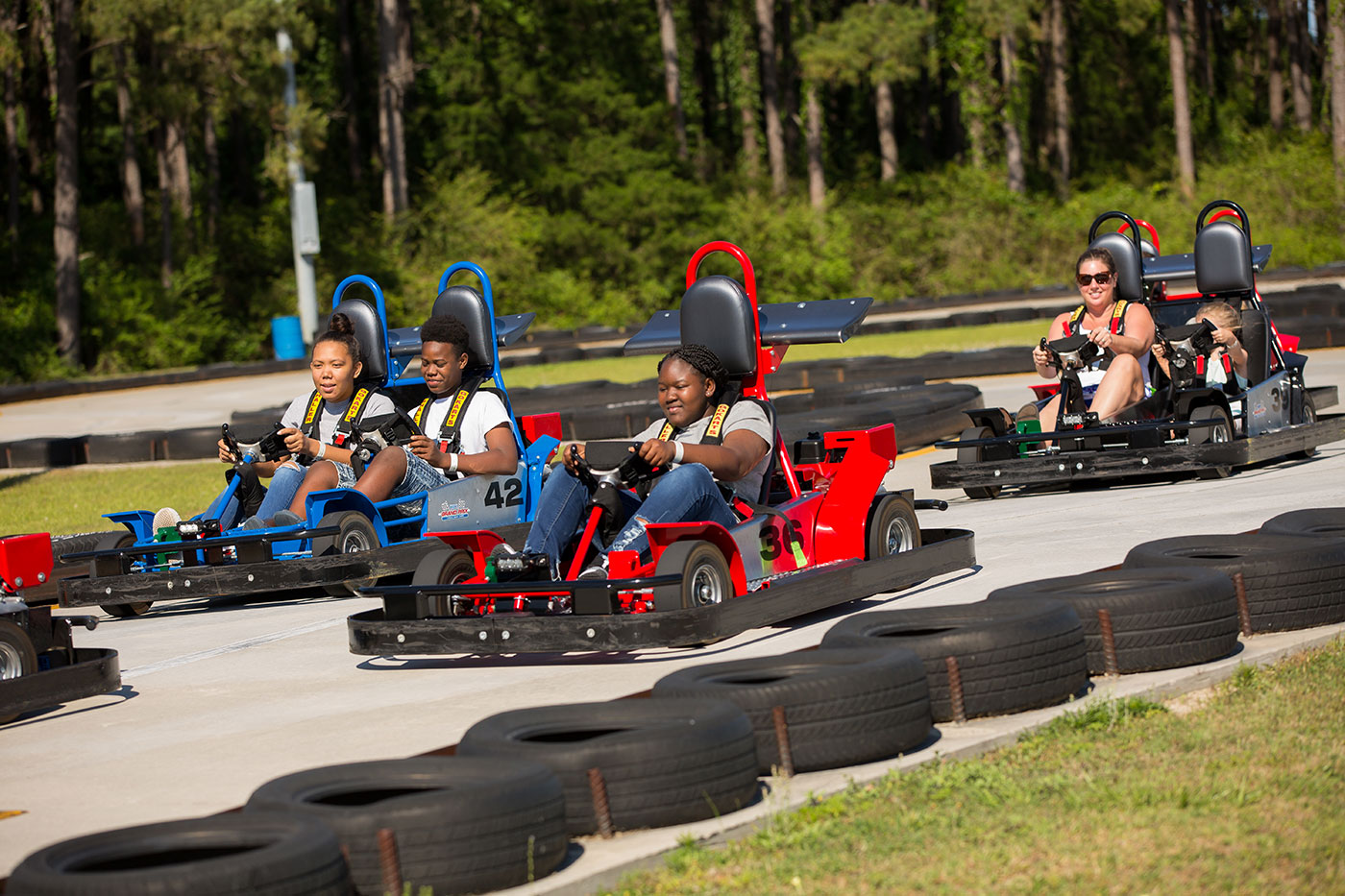 Fun Warehouse
The Fun Warehouse in Myrtle Beach is the ultimate destination for those seeking a thrilling and exciting experience. With an array of activities to choose from, visitors can spend the day roller-skating on the rink, competing in laser tag battles, or even taking a spin in the go-karts.
For those looking to take a break from the adrenaline rush, the Fun Warehouse also offers a wide selection of arcade games and a delicious snack bar to indulge in. Plus they even have a virtual reality arena!
Whether you're a local looking for something new or an out-of-towner looking to add some excitement to your vacation, the Fun Warehouse is the perfect place to visit. Get ready for a day filled with laughter, entertainment, and unforgettable memories at the heart of Myrtle Beach.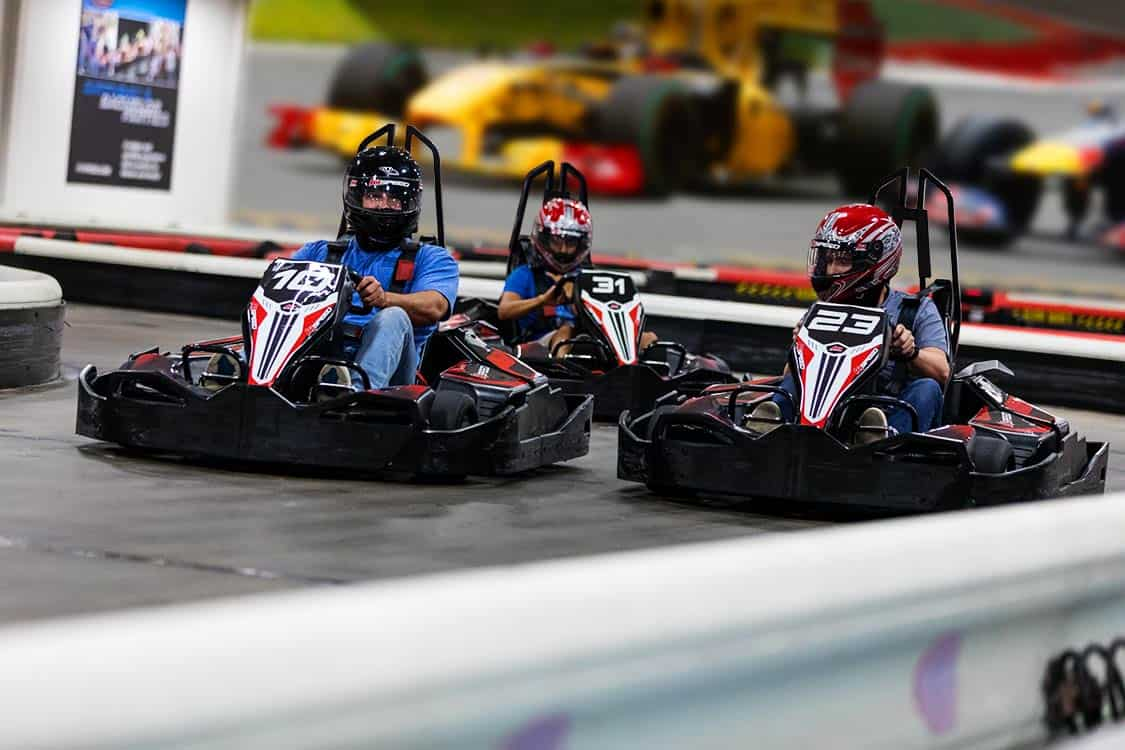 The Track
Looking for a one-stop-shop for family fun in Myrtle Beach? Look no further than The Track Family Fun Park Myrtle Beach location! This exciting park has something for everyone, from go-karts and mini-golf to bumper boats and laser tag. The adrenaline junkies in your family will love The Track's Wild Woody and Mighty Myrtle, a three-story elevated high bank oval track that offers breathtaking views of the beach.
If you're looking for an exciting experience, consider getting a double family kart two seater. If you're looking for kiddie karts check out the rookie track. The rookie karts are meant for that young junior racer who is looking to make their debut on the kids track. This is a great place for birthday parties.
Meanwhile, those who prefer a more relaxed pace can enjoy the park's two pristine mini-golf courses or take a ride on the park's Shark Party spinning coaster, a thrilling swing that sends riders soaring through the air. Plus you can check out the kids rides like Baja Buggies and bumper cars. This is fun for the whole family.
With so many options to choose from, it's no wonder why The Track Family Fun Park is a favorite among locals and tourists alike. Plus you'll want to check out The Track's signature arcade!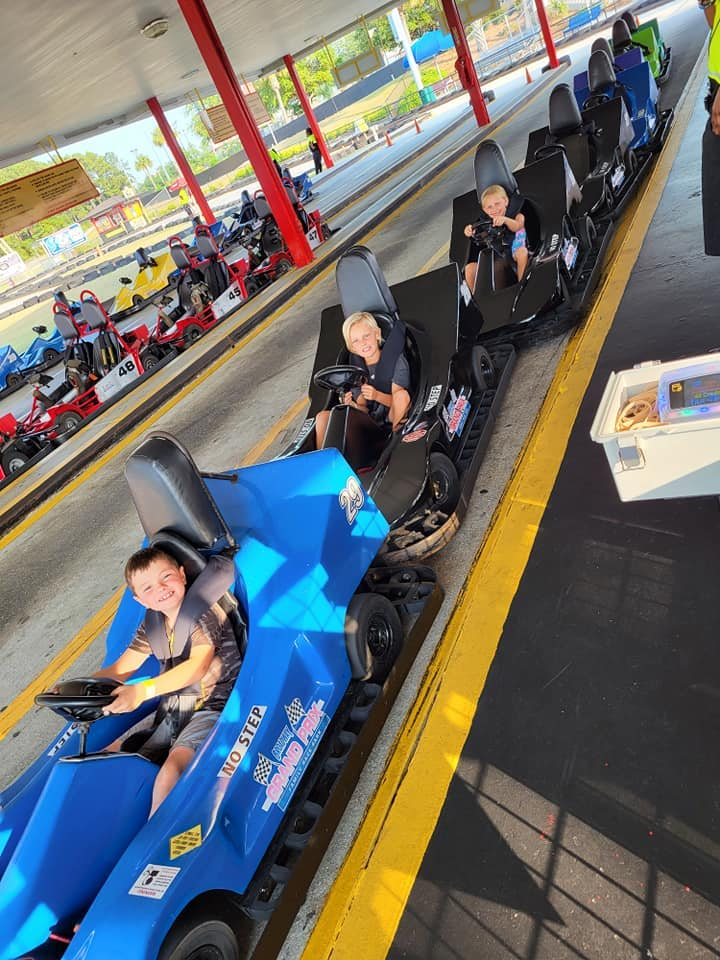 Broadway Grand Prix
The world of entertainment is a magical place where we can escape reality and step into a world filled with wonder and excitement. One such place that transports us into a world filled with adrenaline-pumping action is Broadway Grand Prix.
The Broadway Grand Prix offers a dream come true for thrill-seekers and adventure junkies who crave fast-paced rides and exciting attractions. From go-karts that zoom to speeds of up to 20 miles per hour to carnival games that test your skills, Broadway Grand Prix has something for everyone. You don't want to miss your chance to the ride one of the best go kart racing tracks in Myrtle Beach, SC, the Grand Prix Pro Track.
Whether you're a child or an adult, this park promises to leave you breathless and wanting more. So, grab your family and friends, and get ready to experience the thrill of a lifetime at Broadway Grand Prix.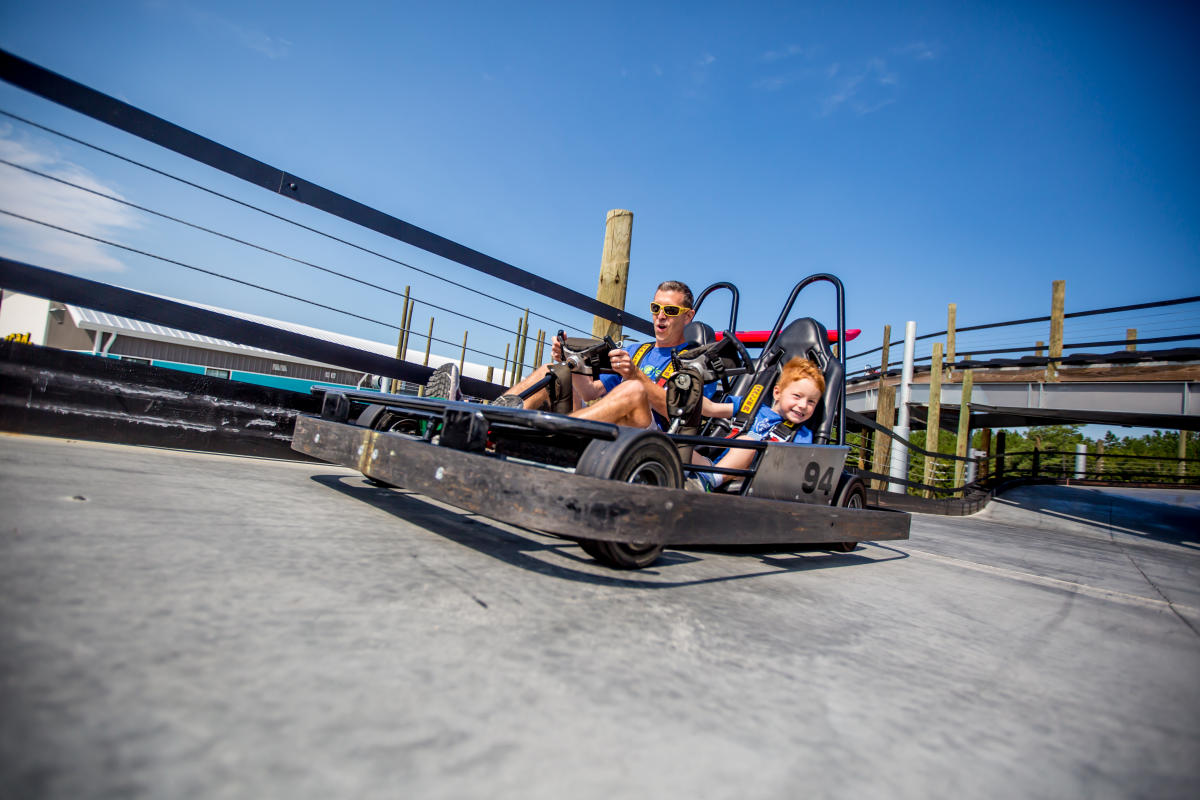 Wild Water & Wheels
If you're craving an adrenaline rush during your Myrtle Beach vacation, look no further than Wild Water & Wheels. This amusement park offers a variety of water attractions, from the thrilling Free Fall Cliff Dive to the more laid-back Relaxation River. Check out the Blaster Boats if you're looking for a few hours of fun riding go karts in the water park!
Don't forget to check out the dry rides, like Little Bumper Boats and the Scrambler, which add a different type of excitement to your day. With options for all ages and thrill levels, Wild Water & Wheels is a must-visit for any family or group looking for a fun-filled day in the sun.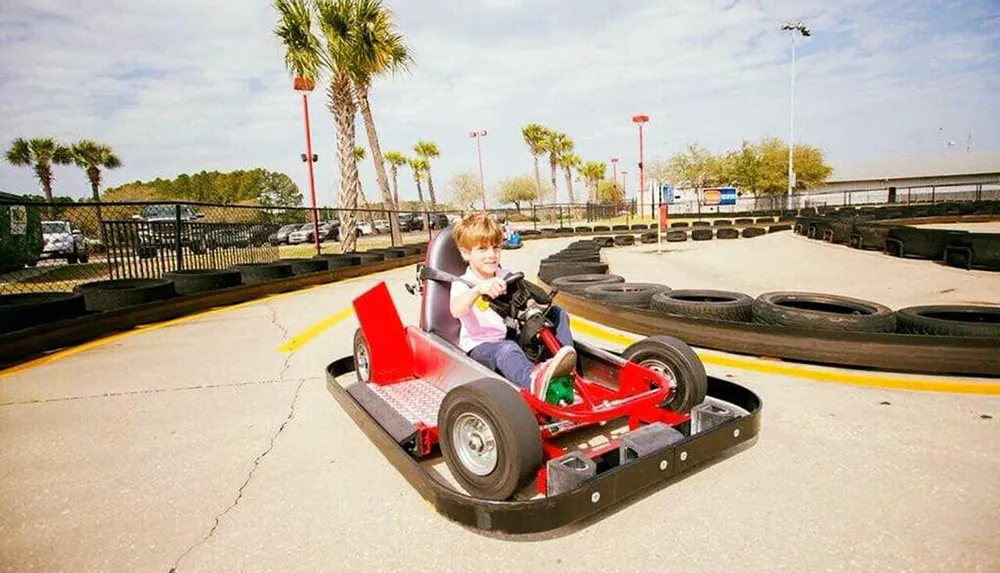 K1 Speed
Imagine the rush of adrenaline coursing through your veins as you blaze down the track, maneuvering through hairpin turns and straightaways like a seasoned pro.
This is the thrill that awaits you at K1 Speed in Myrtle Beach, a high-speed indoor go-kart racing facility that offers an unforgettable experience for all skill levels. With electric go karts that can reach speeds of up to 45 miles per hour, you'll feel like a true speed demon as you zoom around the track.
Whether you're a seasoned racer or a first-timer, the friendly staff at K1 Speed will make sure you have a blast while being safe. K1 Speed in Myrtle Beach isn't just an average go-kart racing track- it's a one-of-a-kind adventure that is sure to leave you feeling pumped up and ready for more.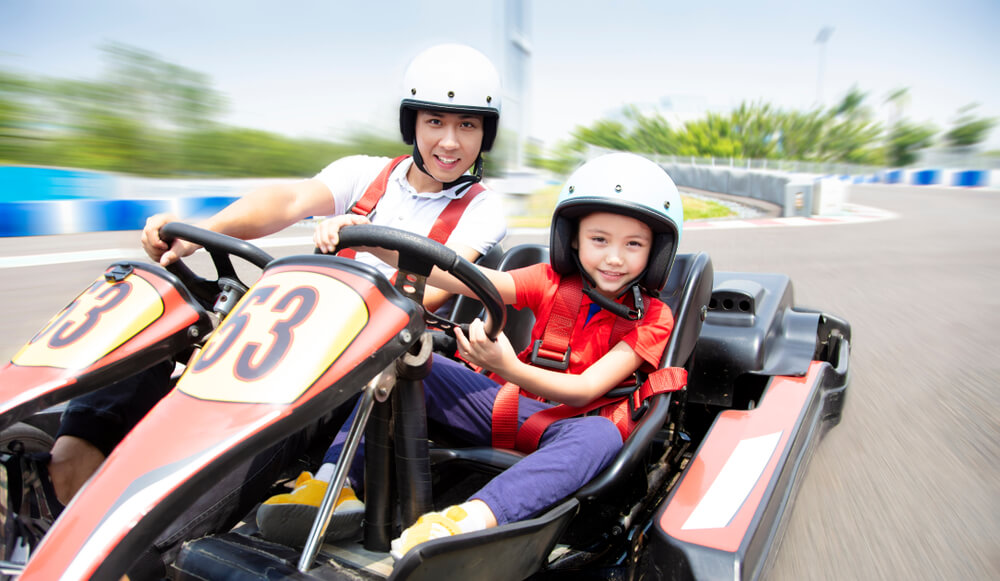 Conclusion
If you're looking for a fun and exciting activity to add to your next Myrtle Beach vacation, look no further than go karts Myrtle Beach!
There's nothing quite like zipping around a track at top speeds, feeling the wind in your hair and adrenaline pumping through your veins. Whether you're traveling with family or friends, go karting is a great way to challenge each other and create lasting memories.
Plus, Myrtle Beach is home to some of the best go kart tracks in the country, so you can be sure that you'll have an unforgettable experience. So why not take a break from the beach and give go karting a try? You won't regret it!
All in all, go-karting in Myrtle Beach is an unbeatable experience. It's an ideal activity for friends and family to enjoy together, and it's not too pricey. Whether you're a beginner or a pro driver, there's always a family track that will cater to your needs, so you can challenge and push yourself to be the speed racer you want to be.
With so many tracks to choose from in the area, you can race to your heart's content. Myrtle Beach offers the perfect combination of competition and excitement to make your next vacation unforgettable.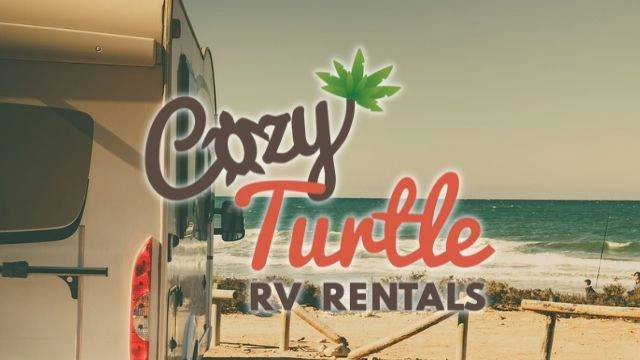 Cozy Turtle RV Rentals
If you're headed on a Myrtle Beach vacation and you're wanting to ride speed kart on some of the best kart tracks, make sure you check any of these go kart racing tracks conveniently located in Myrtle Beach, SC.
While you're planning a Myrtle Beach vacation, you'll need a place to stay. Check out Cozy Turtle RV rentals for your next vacation to Myrtle Beach, SC. Enjoy the comfort of home, while you're at the beach! And be sure to check out a fast track, while you're here!