Showers are a must-have for camping, but let's be honest: lugging that heavy shower head around can be a pain. Plus, you need to find somewhere to plug it in. That's where camping showers come in!
They're compact, lightweight, and easy to use – perfect for enjoying a relaxing shower after a long day outdoors.
There are tons of different types available, so how do you know which one is right for you? Check out our guide to the best camping showers below!
6 Things To Look Out For When Choosing Camping Showers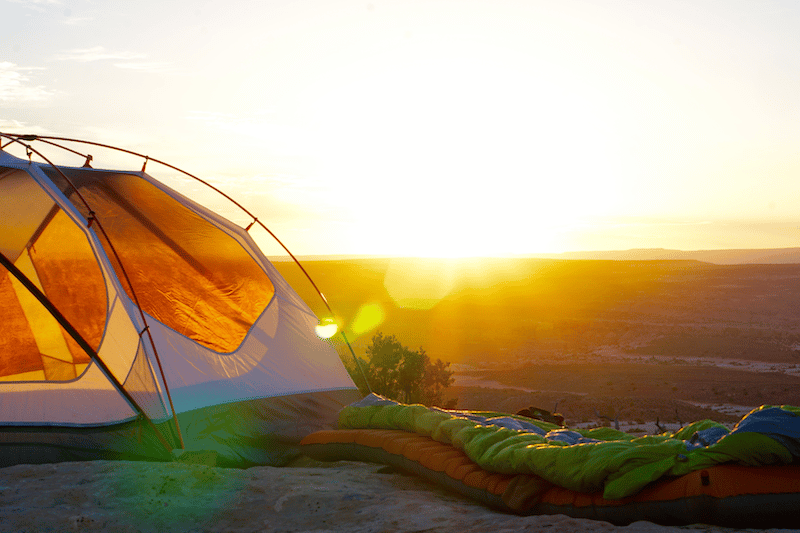 Below, we go into detail on six things you should look out for when choosing camping showers.
Portability
One of the most important things to consider when choosing a camping shower is portability. You'll want something that's compact and easy to carry, especially if you're planning on hiking or backpacking. Look for something with a small footprint and minimal weight.
Water Capacity
Another thing to keep in mind is water capacity. If you're only planning on using your shower for a quick rinse, then a small tank will suffice.
But if you want to enjoy a longer shower, then you'll need something with a larger water capacity. Keep in mind that the larger the tank, the heavier it will be.
Ease Of Use
When it comes to setting up and using your camping shower, you'll want something that's easy to use. Look for a model with clear instructions and minimal assembly required. Also, make sure there are no complicated parts or pieces that could break or get lost.
Pump
Most camping showers require you to pump them to build up water pressure. This can be a bit of a pain, so try to find a model with an easy-to-use shower pump. Some pumps are manual, while others are battery-powered. Some camping showers might also feature a foot pump.
Temperature Control
Sometimes, cold showers are great, but depending on the climate you'll be camping in, you may need temperature control. If it's warm out, then you probably won't need much in the way of temperature control. But if you're camping in a colder climate, then you'll want to make sure your shower has some way of regulating water temperature.
Shower Head
When it comes to shower heads, there are two main types: handheld and fixed. Handheld shower heads are great for flexibility and maneuverability, while fixed shower heads offer more stability. It really comes down to personal preference, so choose the type that best suits your needs.
7 Best Camping Showers For Your Next Outdoor Adventure
Now that you know what to look for in a camping shower check out our top picks below!
1. Yakima RoadShower (4-10 Gallons)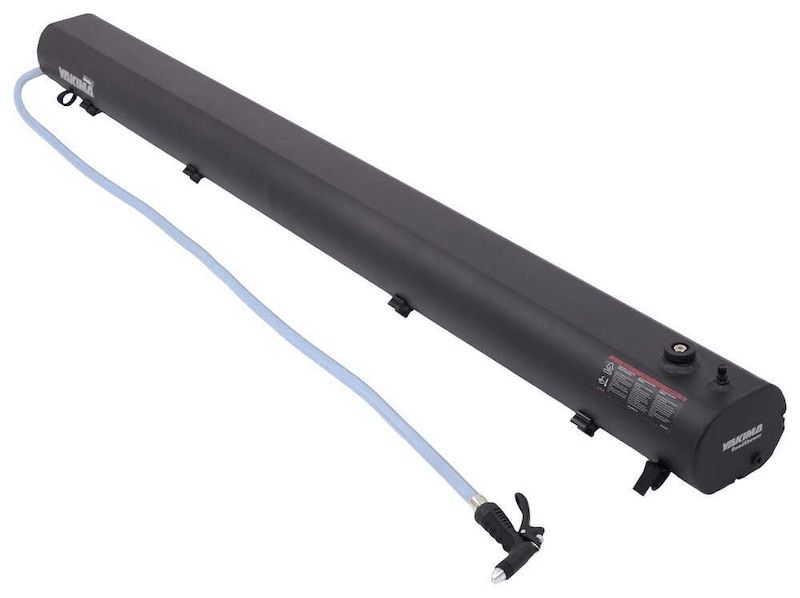 The Yakima RoadShower is the ultimate car/RV camping accessory, standing out above the competition. Its magnificent powder-coated aluminum tube attaches to your roof rack and heats your water as it sits on top of your vehicle.
There's no installation necessary once it's on your car; simply disconnect the hose from the side of the tank and spray freely.
It's easier to fill up with a hose, but if you don't have one, open it on top and fill it by hand, then pressurize it with an air pump. If you don't have a pump, leave the cap open, and you'll be able to use it, although the trickle you'll get is better for washing dishes and splashing your face than cleaning your sandy camp gear.
2. Nemo Helio Pressure Shower ( Capacity: 2.9 Gallons)
Weighing in at a mere 1.25 pounds, the Helio Pressure Shower by NEMO Equipment is an excellent choice for backpackers and minimalist campers. This shower uses a foot pump to pressurize water from any fresh water source, allowing you to enjoy a nice hot shower even miles from the nearest spigot.
The Helio comes with a variety of nozzle attachments, so you can adjust the spray pattern to suit your needs. The included hanging kit makes it easy to set up and take down, and the entire system packs away into a small carrying case when not in use.
If you're looking for a lightweight and compact setup that's easy to use and feels like an actual shower, the NEMO Helio Pressure Shower is a great option.
3. Sea To Summit Pocket Shower (Capacity: 2.6 gallons)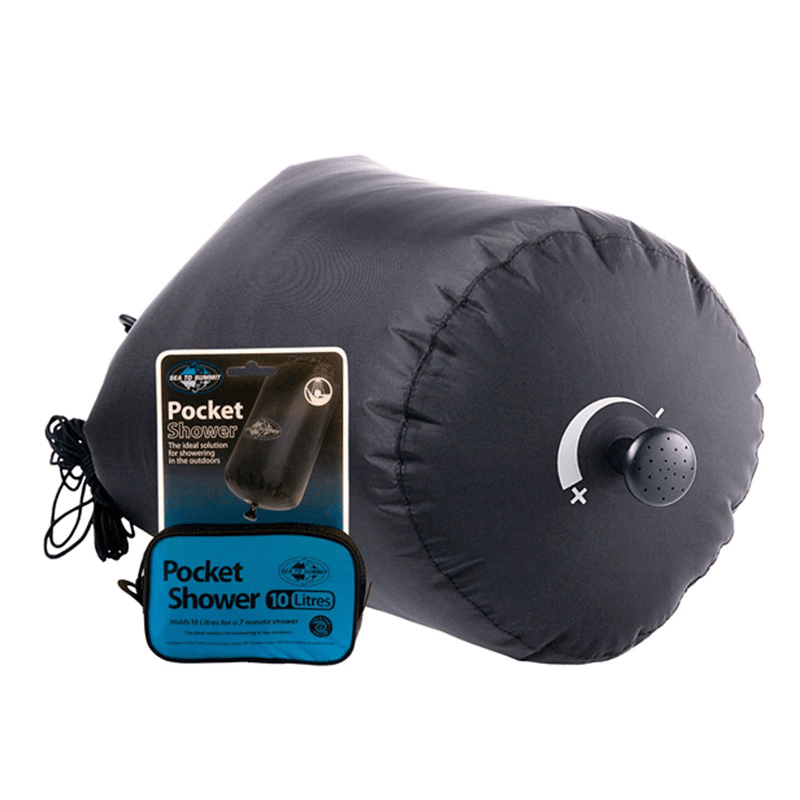 The Sea to Summit Pocket Shower is an excellent choice for campers who want an all-in-one shower solution. This compact unit packs everything you need for a hot shower into a tiny package, including a water reservoir, pump, hose, and shower head.
To use the Pocket Shower, simply fill the reservoir with clean water and attach it to the included pump. Pump up the reservoir until it's pressurized, then hang it from a tree or other sturdy object using the included hooks.  The hose attaches to the bottom of the reservoir, and the showerhead screws onto the end of the hose.
Water flow is controlled by a valve on the showerhead, so you can regulate the water pressure to suit your needs. When you're finished showering, just disconnect the hose and store everything in the included carrying case.
Whether you're car camping or backpacking, the Sea to Summit Pocket Shower is an excellent option for anyone who wants an easy-to-use, all-in-one shower solution.
4. Advanced Elements Gravity Shower (Capacity: 5 Gallons)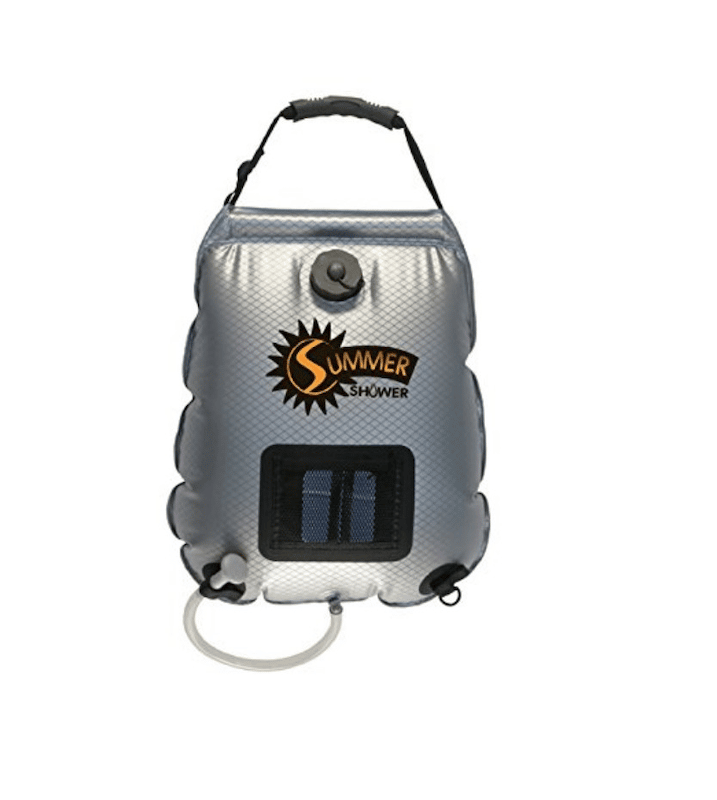 Many gravity-powered outdoor showers are available on the market. They all provide a different suite of features. Some, however, may not have a constant water flow or pressure.
The Advanced Elements Summer Shower is one of the exceptions, with constant water pressure even as the bag empties near. What's more, it can store up to five gallons of water.
This shower also comes with a solar heating panel that will heat the water as it sits in direct sunlight, making it ideal for use in warm weather. It's made of durable PVC and nylon, which can withstand punctures and abrasions. The bottom is also reinforced to prevent wear and tear.
There are two mesh pockets on the side of the bag, perfect for storing soap, shampoo, and other shower essentials. A gravity-fed outdoor shower like this is an excellent option for campers who want to save space and weight.
5. Camplux Pro Series (Capacity: 1.5 Gallons)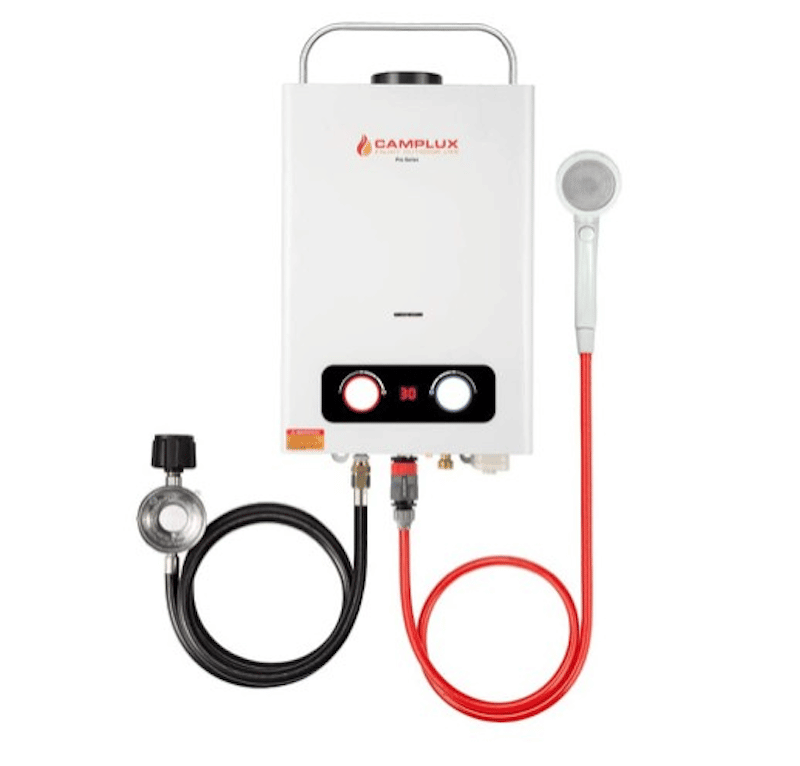 For anybody who's always wanted an outdoor shower, the Camplux Pro Series 1.5 gallons is a great choice. This semi-portable device requires a semi-permanent outdoor installation with a secure mount, a substantial propane tank, a garden hose water inlet line, and two D batteries.
Although installation takes time, when it's finished, this compact device immediately transforms cold hose water into a variety of warm to hot shower temperatures as well as varying pressures, all of which are finely adjusted with just two buttons.
It has a big shower head that rivals those in our bathrooms, three modes that make it just as simple to wash the kids or the dog, and a simple on/off switch accessible at your fingertips.
This isn't an off-grid camping shower since it needs a large propane tank and a steady supply of fresh water via the hose. It's better suited to permanent or semi-permanent installation outside by your pool or perhaps rigged up in a campground with hookups if you have access to electricity.
It's not entirely leak-proof, and it works best with particular add-ons that aren't included in the box – like on/off valves for the cold water input and hot water output lines.
6. RISEPRO Solar (Capacity: 5.2 Gallons)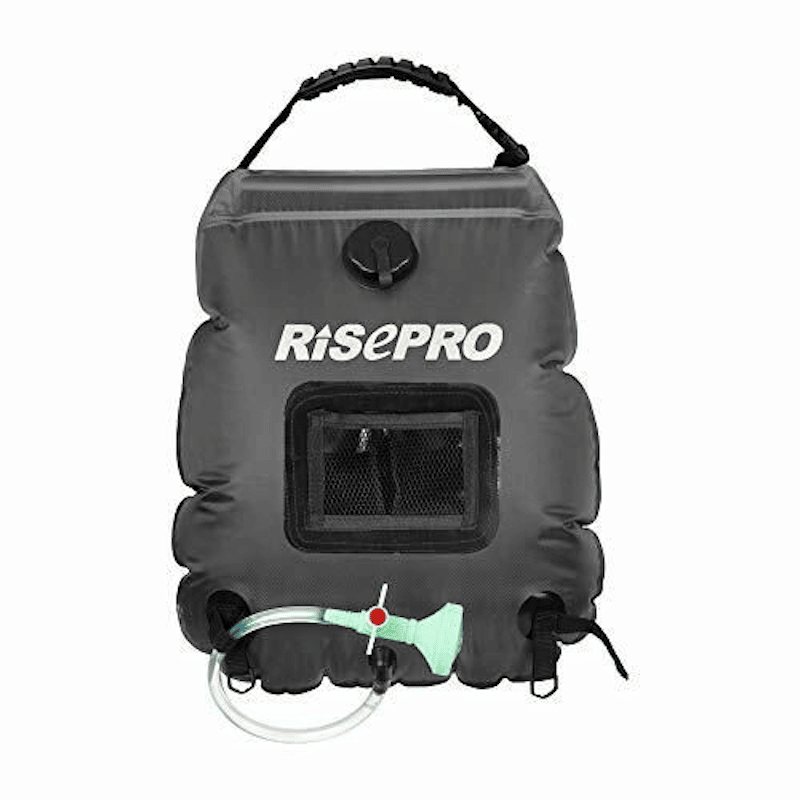 With the RISEPRO Solar Portable Shower, you can enjoy a warm shower outside without breaking the bank. It's a lightweight, gravity-dependent, and sun-dependent model.
It's an excellent companion for any trip in the woods, and it's one of the best portable showers out there.
The RISEPRO Solar Shower holds five gallons of water. That's about a 4-5 minute nonstop stream. If you're on a tight budget, it could be an appealing choice.
7. Ivation Handheld Portable Camping Shower
The Ivation Portable Outdoor Camping Shower is a great choice for anyone who wants a handheld shower. It's small and lightweight, making it perfect for camping.
This camp shower comes with a pump that can be powered by either an AC adapter or a car cigarette lighter. It's a rechargeable gadget with a built-in pump, so you don't have to rely on gravity to get the job done.
You don't have to worry about your water supply while on a trip. You also don't have to pack as much. As long as you can refill your bucket, your post-hike rinse or wash after beach fun will be a relaxing experience.
Conclusion
Picking the best camping shower for your needs depends on a few factors. Capacity, weight, and portability are essential for backpackers. Those RV camping or staying in campgrounds with hookups may be more interested in features like solar heating panels and constant water pressure. No matter what your needs are, there's a camping shower out there that's perfect for you.
Need An RV For Camping? Contact Us!
If you need an RV for your next outdoor adventure, please don't hesitate to contact us. We would be more than happy to help you find the perfect RV for your needs. Thank you for reading! Safe travels!