If you are looking for a beautiful and secluded beach to visit in South Carolina, look no further than Burkes Beach. This beach is fast becoming a popular tourist destination because of its stunning scenery and amenities.
This hidden gem is located next to Chaplin Community Park, just a short drive from Charleston. Burkes Beach offers stunning ocean views, white sand beaches, and plenty of trees to provide shade.
In this article, we will discuss everything you need to know about Burkes Beach and why it is such a great place to visit. We will also give you tips on things to do in the area,
General Information About Burkes Beach
Burkes Beach is an excellent place to escape the crowds of people while enjoying the sun and the waves. Burkes Beach offers the rare larger wave for those interested in short boarding, unlike those Hilton Head beaches, which are known for their modest waves.
Here are some facts about Burkes Beach:
Public Beach Open Year-round
Burkes Beach is a public beach open year-round with free beach access. With access off William Hilton Parkway at 60 Burkes Beach Road, it is the perfect place to spend a day at the beach.
Rich History
Burkes Beach has a rich history dating to earlier generations of Hilton Head. The beachfront property was owned by brothers Henry and James Ford and Henry's wife, Nancy Burke Ford. Originally stretching from the ocean to Highway 278 and Chaplin Park, the beach area was sold as several portions to different owners, eventually creating Burkes Beach.
Dog-Friendly Beach
Burkes Beach is a dog-friendly beach, so feel free to bring your pup along. The beach area does not have strict policies for dogs and other pets, as far as restricted times or areas, so it makes for a great day of sun and fun with your four-legged friend.
Close To Chaplin Community
Burkes Beach is a walking distance from Chaplin Community Park, with its picnic pavilion and playgrounds. There are also several trails nearby for family bike rides or hikes in the area.
Direction To Burkes Beach
Burkes Beach is located off William Hilton Parkway at 60 Burkes Beach Road. If you are driving from Highway 278, head south onto Burkes Beach Road and follow the road until you reach the beach. Also, coming from Chaplin Community Park, it's a short 5-minute walk to the beach.
Amenities At Burkes Beach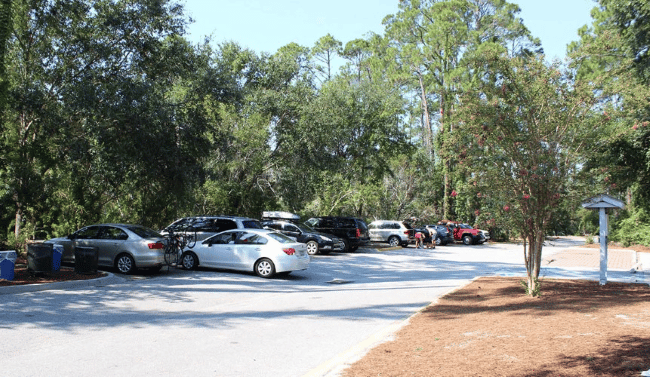 Burkes Beach offers amenities and services to enhance your beach visit. From food to equipment rental, you can find it all here:
Rentals
You can rent umbrellas, chairs, kayaks, and other beach supplies from the rental shop at Burkes Beach. You don't need to come along with your gear as they have everything you need to enjoy a day in the sun. Your family and loved ones can also take advantage of the rental shop's services, ranging from bodyboards and surfboards to beach bikes and watercraft.
Food/Drink Options
There are several food and drink options available at Burkes Beach. You can enjoy an ice-cold beer or a refreshing cocktail while waiting for your meal. There are also plenty of snack choices, including sandwiches and burgers. There are also bars where you can grab a cold beer or tropical cocktail.
Lifeguards
Burkes Beach also offers lifeguards to ensure your beach day is safe. The lifeguards patrol the beach during the peak season and are always willing to help if needed.
Outdoor Showers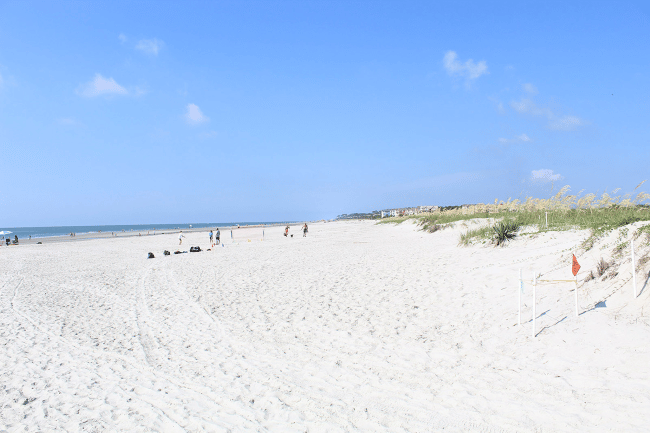 Have you been swimming and need to cool off? Burkes Beach has outdoor showers available for visitors to use. This facility makes it easy to rinse off the sand and salt water after a long day at the beach.
Beach Matting
Beach matting is installed at Burkes Beach to prevent damage caused by vehicle traffic. This measure helps keep the beach clean and minimizes erosion.
Hiking Trails
There are hiking trails around Burkes Beach for those who would like to explore the area. These trails are perfect for nature lovers and provide a pleasant break from the heat of the sun.
Parking Spaces
If you are not staying at the beach and just want to spend the day, you will find plenty of free parking space. Parking is free at the Community Park, and metered at the beach access point.
Playgrounds
If you are looking to keep the kids occupied, Burkes Beach has a playground with swings and slides. The playgrounds provide a safe area for kids to play while parents can enjoy their beach day without worrying about their children's safety.
Basketball And Tennis Courts
If you are into sports, Burkes Beach has Tennis and basketball courts for visitors to use. The courts are open from sunrise to sunset, giving you plenty of time to play a game or two while enjoying the ocean breeze.
Dog Park
If you have brought your dog along, Burkes Beach also has a dedicated Dog Park. The "Best friends Dog Park is located in Chaplin community is fenced off to keep your pup safe while they explore the beach.
These are just a few of the features and amenities that make Burkes Beach an ideal destination for tourists.
Things To Do At Burkes Beach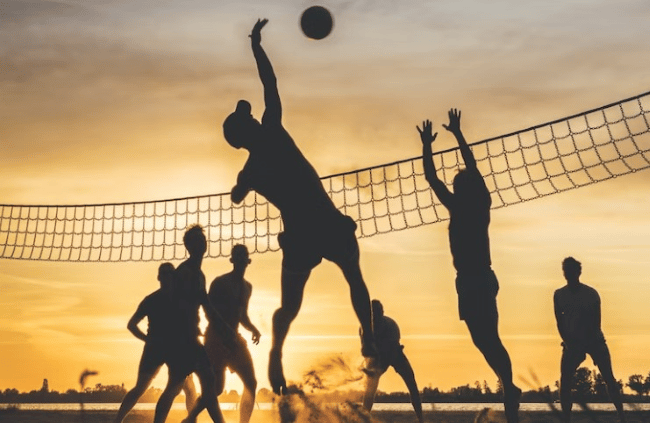 There are plenty of things you can do when visiting Burkes Beach. Here are some of the activities that you can try out:
Swimming
The crystal clear waters at Burkes Beach are great for swimming. The beach is equipped with a large swimming area, so there is plenty of space to enjoy your time in the water.
Snorkeling
The waters at Burkes Beach also offer excellent snorkeling opportunities. You can explore the underwater world and spot some of the interesting marine life in the area, such as fish and coral reefs.
Fishing
If you are into fishing, Burkes Beach is a great place to cast your line. Anglers will find plenty of spots for both deep-sea fishing and shoreline casting.
Boating
You can also rent boats from Burkes Beach and explore the coastline. Boaters will find plenty of spots to enjoy stunning views of the ocean and beach.
Sunbathing
If you are looking for a peaceful day in the sun, Burkes Beach is perfect for sunbathing. With its white dunes and gentle waves, it is the ideal spot to relax and soak up some Vitamin D.
Sporting Activities
Burkes Beach is also the perfect spot for some fun and sporty activities. You can play beach volleyball and football or take a leisurely stroll along the shoreline.
Hiking
With several hiking trails available, Burkes Beach is a great place to explore the natural beauty of the area. You can go on nature walks and admire the stunning scenery while enjoying the fresh air.
Visit Chaplin Community Park
Chaplin Community Park is nearby Burkes Beach, and it is a great spot for a picnic or a day out with the family. There are plenty of things to do in the parks, from playing on the playgrounds to exploring the nature trail.
Explore Chaplin Community
Chaplin community is a nice town offering plenty of things to do and see. You can explore the shops, restaurants, bars, and more while taking in some stunning ocean views.
Reviews From Visitors
Visitors who have visited Burkes Beach had nothing but positive experiences. Here are some of their reviews:
"Best kept secret of Hilton's head! It is busy after midday, free from trash, and has enough beach space for everyone. The wash station was good. Parking is easy at the park. There was plenty of video surveillance to protect people even at night. Sometimes planes would fly over, but IMO totally worth it,".
"A very nice area away from crowds. More peaceful since less crowded than some of the other beaches in Hilton Head. Definitely worth checking out because you see some cool stuff on the walk from the parking lot down from beach houses and next to restrooms. I really enjoyed it here." 
"This is a nice beach with soft sand on Hilton Head Island. There are a lot of sand dollars to be found here. We found them everywhere. The ones you will find are still alive. Please keep them in the water or return them to the water after you get your pics. Be sure to bring a towel and a smile," 
Planning To Visit Burkes Beach Soon?
Undoubtedly, Burkes Beach is a great place to visit with its stunning views and plenty of things to do. If you are planning to visit Burkes Beach soon, be sure to check out the hotel deals and book your accommodation hassle-free. If you don't want to stay in a hotel, you can book an RV from us!
Cozy Turtle RV Rentals
Cozy Turtle RV Rentals is dedicated to making your stay at Burkes Beach hassle-free. We have a wide selection of RVs and campers that are fully equipped with all the amenities you need for a comfortable stay.
Kindly contact us today if you're looking for a convenient and affordable way to explore Burkes Beach. We look forward to helping you make your stay an unforgettable one!