Located on the Intracoastal Waterway in North Myrtle Beach, South Carolina, Barefoot Landing is an outdoor shopping and entertainment center that offers something for everyone. With an interesting history, Barefoot Landing is on top of the filled land over Louis Lake. With its scenic waterfront setting, this popular destination is a great place to spend the day—whether you're looking for adventure or just want to relax. Let's explore what Barefoot Landing has to offer.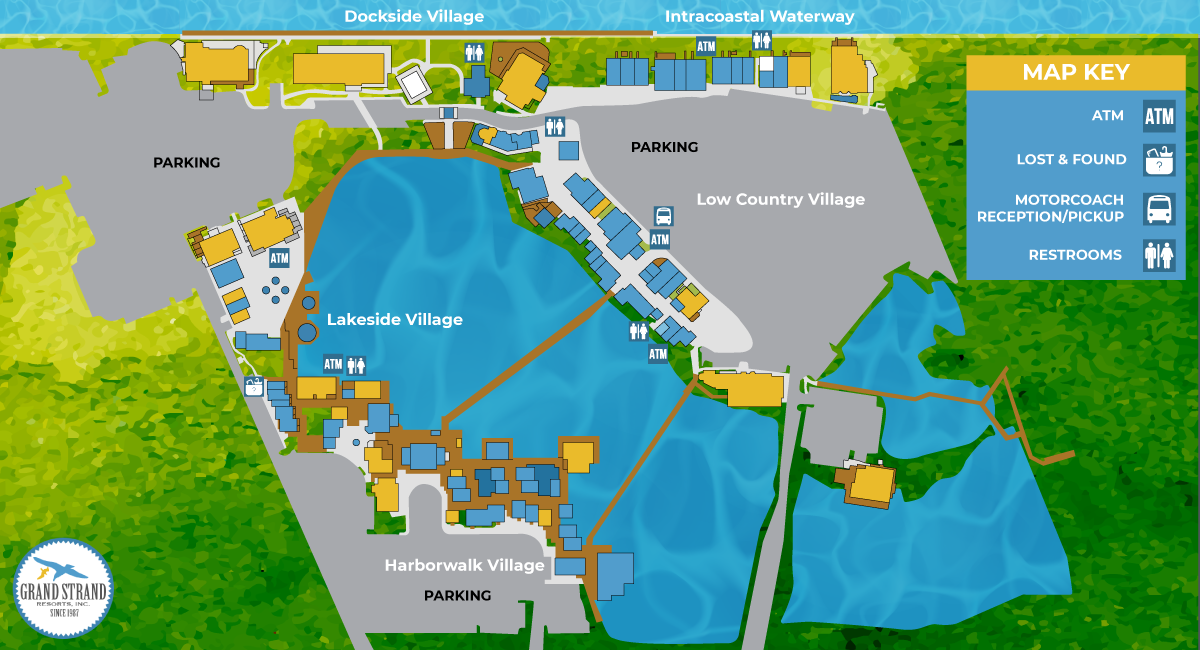 Shopping, Dining & Entertainment
Barefoot Landing is home to over one hundred stores and restaurants, ranging from specialty boutiques to big-name retail chains. Whether you're looking for the latest fashions, a unique souvenir or just some delicious seafood, there's something here for everyone. And when it comes time to take a break from shopping and dining, check out the nearby House of Blues or Alabama Theatre for live music and comedy shows.
Barefoot Landing is broken up into three distinctive spots; dockside village, low country village, and harborwalk village. If you're planning on coming by boat, Barefoot Landing offers free day docking. Check out all the sites and enjoy all things shopping and fun while you're visiting Myrtle Beach, SC.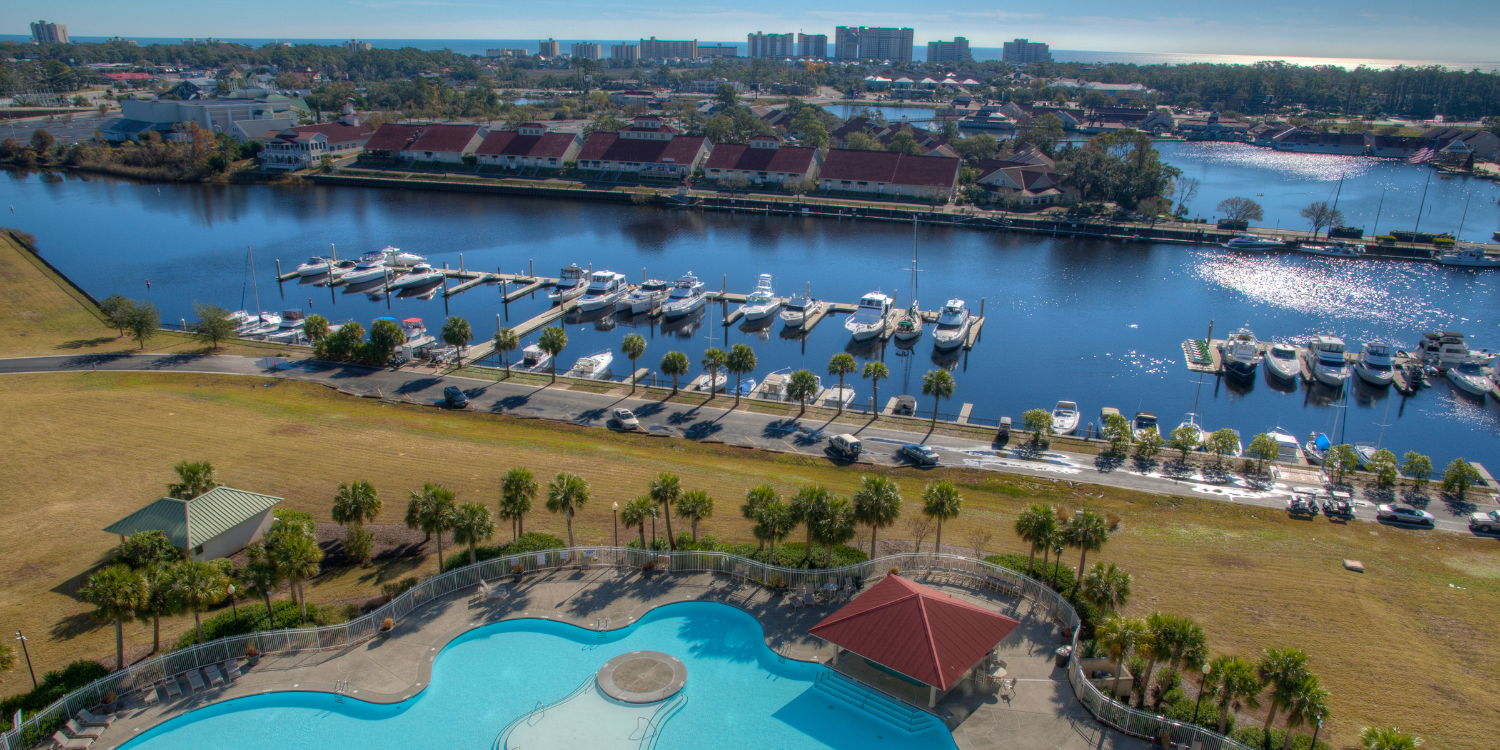 Unique Shops
Shopping at Barefoot Landing in Myrtle Beach is a wonderful experience. Every shop is carefully curated to ensure quality and variety, so you can be sure there is something for everyone. Whether you are looking for souvenirs or just browsing, the shops at this shopping center have something for everyone to enjoy; it's one of the most popular shopping location in North Myrtle Beach, SC. These nice shops provide a great variety of both local and international goods, as well as locally made products, making it an enjoyable visit regardless of what you're after. Packaged all in one convenient location, with plenty of parking and easy access to shops in every direction – it's not just any shopping center – Barefoot Landing is a truly unique, wonderful place to shop that offers items from all around the world!
List Of Shops At Barefoot Landing
A Silver Shack
Beach House
Beef Jerky Store
Black Market Minerals
Blue Moon Trading Co.
Breezin' Up
Build-A-Bear
Cariloha
Carolina Hat Co.
Carolina Vineyards Winery
Chico's
Christmas Mouse
Coastal Wine Boutique
Crabby Jack's General Store
Del Sol
Designer Sunglasses
Earthbound Trading Company
Faux Paws
Francesca's Collections
Gear Shop at House Of Blues
Hollywood Heroes & Villains
Illusions
It'Sugar
Kentucky Mist Distillery
Liam John/Johnnie-O
M.R. Ducks
Monkee's
Mulligan Golf Gift Store
MyCup
Pepper Palace
Pick A Pearl
PURPLEologist
Quiet Storm
Ron Jon Surf Shop
Sand and Sun
Savannah Bee Company
Sea Bags
Shining Sol Candle Company
Spice & Tea Exchange
Splash Fresh Bath & Body Shop
Sports Zone
Sunglass Hut
Tara Grinna Swimwear
Tassa Cabana
The Mole Hole
The Olive Shoppe
Tiki Jim's
Toy Kingdom
TrickMaster Magic Shop
Wax & Beyond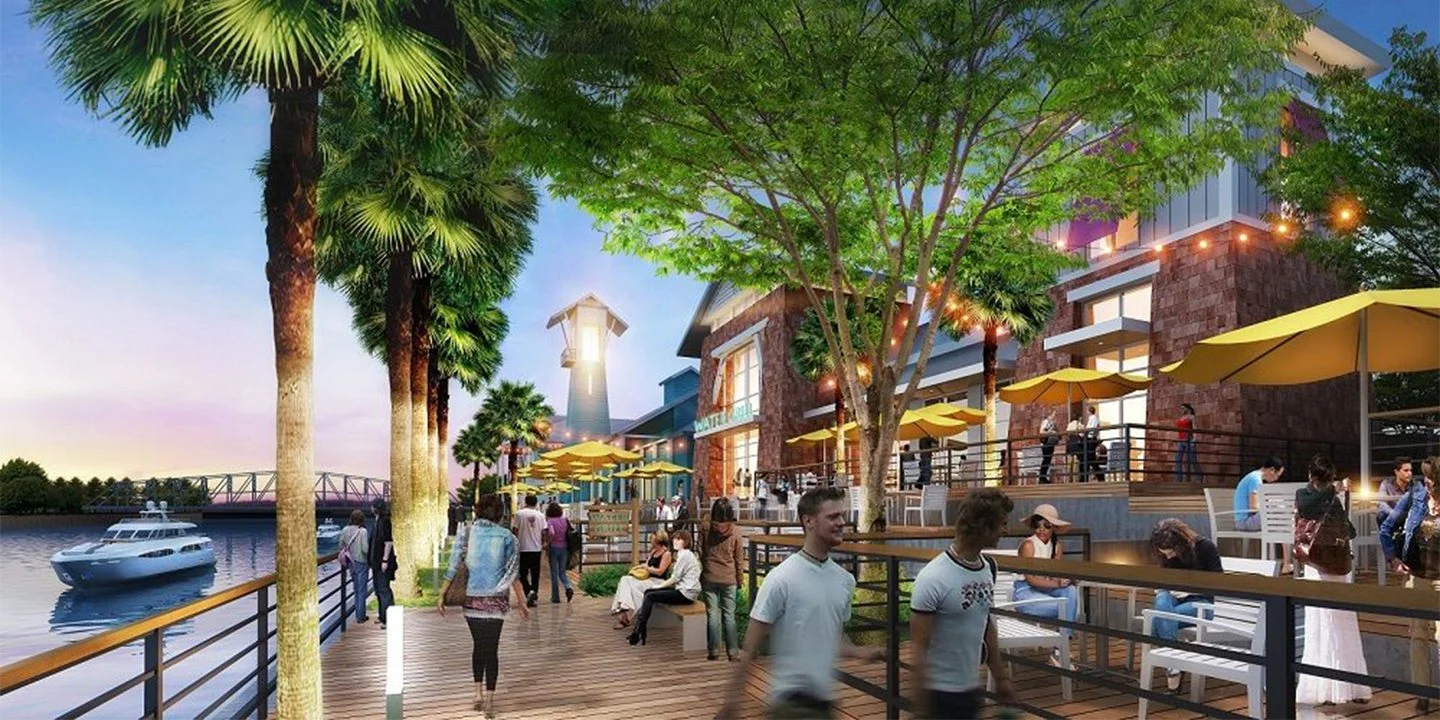 Eateries: Southern Hospitality Served Daily
If you're looking for great restaurants at Barefoot Landing in Myrtle Beach, you'll find a great variety of choices. From great seafood to classic burgers and steaks, the restaurants at the landing offer something for everyone. And you can expect great customer service too – with a warm southern welcome that will make your visit even more enjoyable. Whether it's dinner out with friends or family night out, the restaurants at Barefoot Landing are the perfect place to have a great time, plus who doesn't love a good place to eat?
Great Restaurants At Barefoot Landing
Blueberry's Grill
Bully's Pub & Grill
Cafe de Paris
Crooked Hammock Brewery
Crooked Hammock Brewery Tours
Dick's Last Resort
Flying Fish Public & Market Grill
Greg Norman Australian Grille
House of Blues Myrtle Beach
LandShark Bar & Grill
Lucy Buffett's Lulu's
River City Cafe
Taco Mundo Kitchen y Cantina
Ultimate California Pizza
Umberto's
Wild Wing Cafe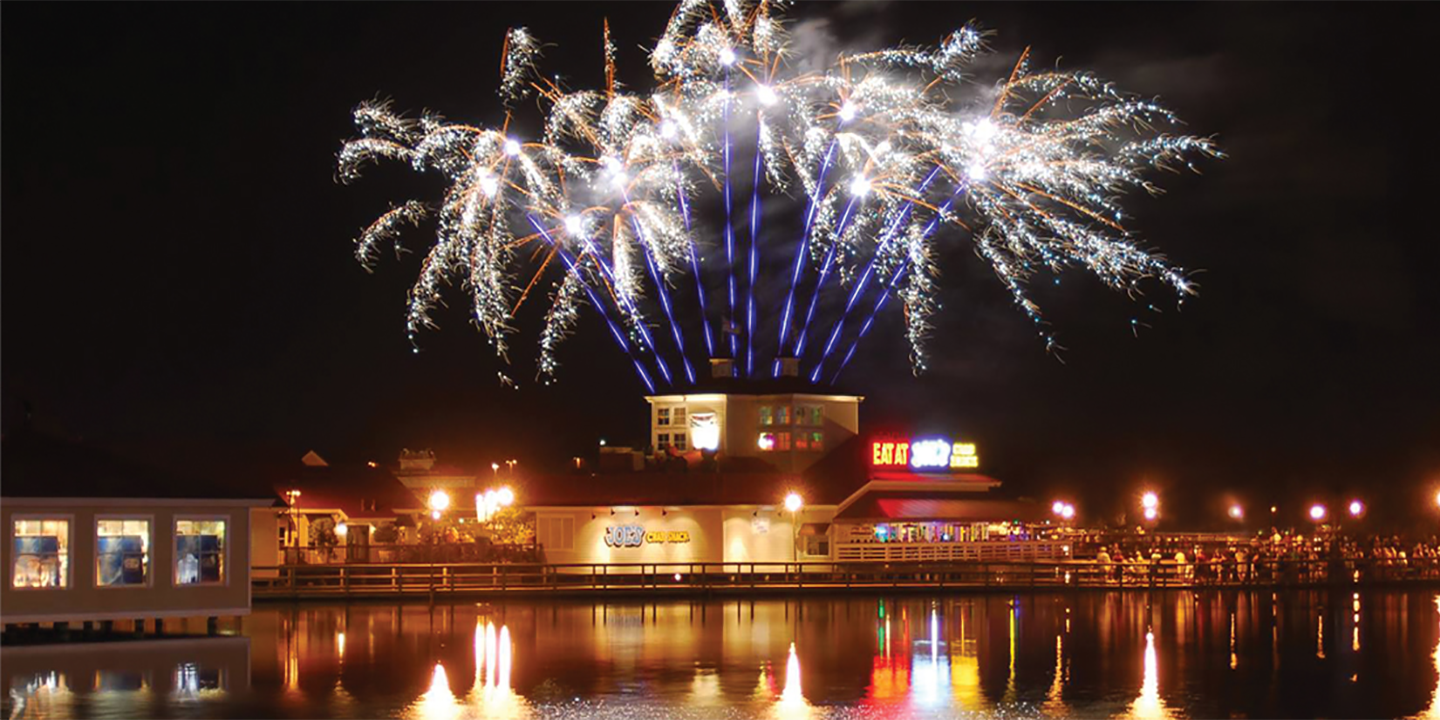 Attractions Located At Barefoot Landing
Barefoot Landing in Myrtle Beach offers excitement and fun in the sun for all visitors. Not only are there natural outdoor attractions such as a wildlife preserve, river park and gardens, but also plenty of entertainment destinations on this property. Visitors can spend the day shopping in over one hundred stores or explore interactive exhibits of live music and comedy shows. People flock here to enjoy thrilling rides at the alpine-style village's arcade center or to board surfing-simulator machines located across from the lake. Make sure to take full advantage of all that Barefoot Landing has to offer – excitement filled days of nature, shopping, and entertainment await!
Attractions Located At Barefoot Landing You May Want To Check Out
Alabama Theatre
Alligator Adventure
Barefoot Amusements
Barefoot Landing Management Office
Carousel
Crooked Hammock Brewery Tours
House Of Blues Myrtle Beach
Lulu's Beach Arcade & Mountain of Youth Ropes Course
Visitor Center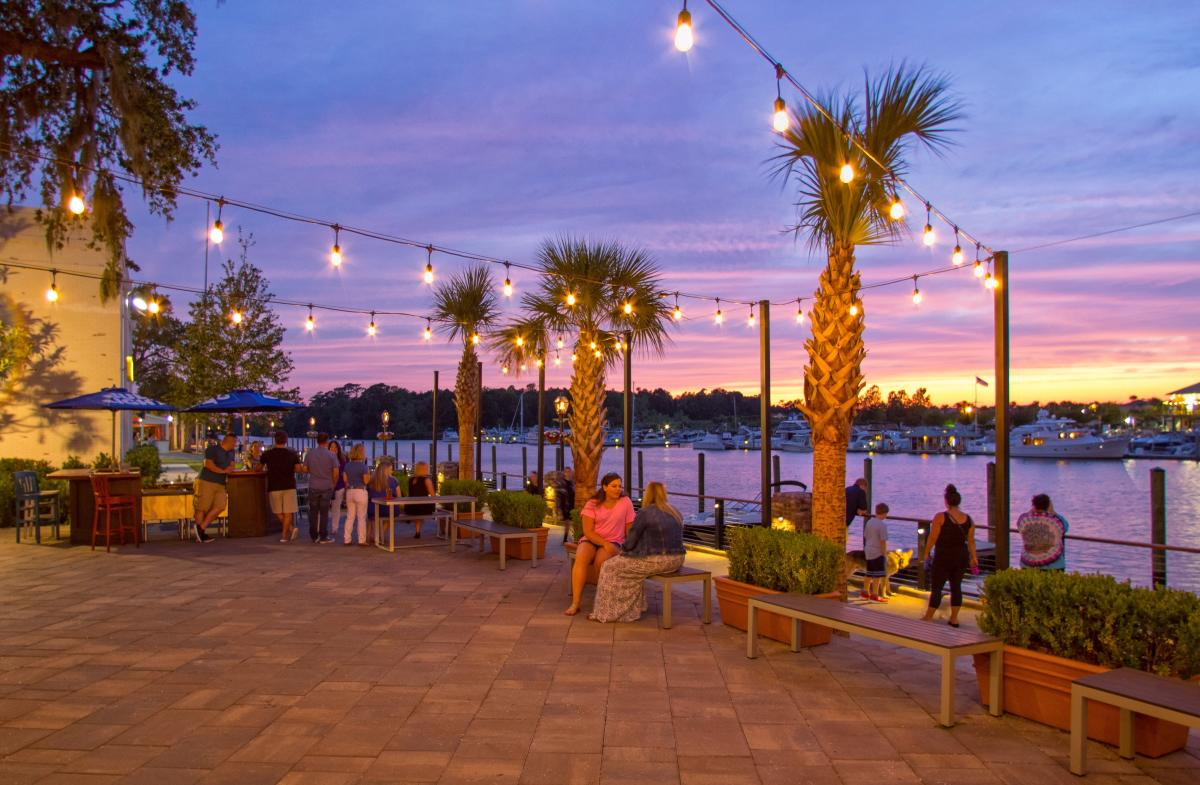 Outdoor Activities
If you're looking for a more active experience, then head over to Barefoot Landing Marina. Here you can rent kayaks and stand-up paddle boards or even sign up for a guided tour of the Intracoastal Waterway! And if you don't feel like getting wet, there are plenty of walking trails along the shoreline that provide beautiful views of the Atlantic Ocean and surrounding marshlands.
To make your visit even more memorable, be sure to check out The Great EscAPE—a 12-acre water park featuring eight slides, lazy rivers and pools perfect for cooling off on hot summer days. Plus with all of these activities just steps away from your favorite shops and restaurants, it's easy to make a full day out of your visit!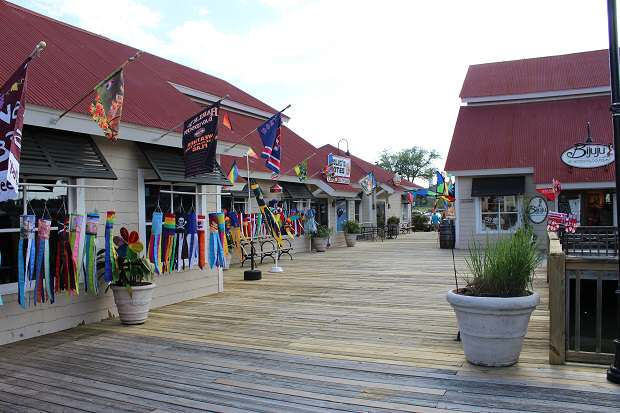 Barefoot Landing Myrtle Beach Is Pet Friendly!
At Barefoot Landing, they understand that pets are family too! All year round you're welcome to walk your furry friend on a leash or with them in their very own pet stroller. With plenty of eateries and stores where both you and your companion can tag along for the experience – what more could one ask for? On top of this all-inclusive pooch paradise, the events throughout the year collaborate directly with The Humane Society Of North Myrtle Beach – so make sure to check out the Calendar Of Events page before planning a trip!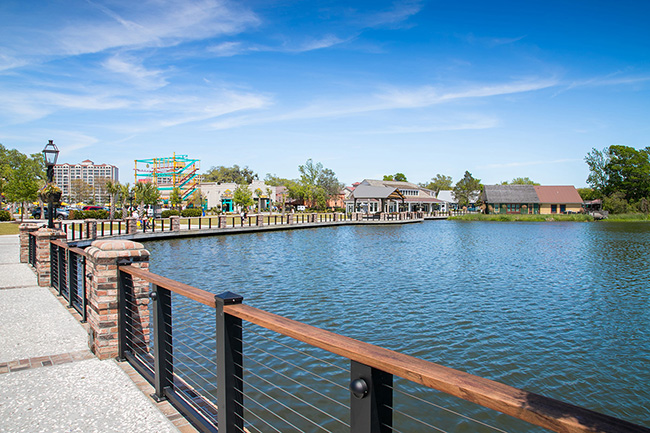 Barefoot Landing Reviews
Joann Constantine

We love going here just to walk around and browse the stores. Some stores are a big pricey, but what do you expect in a tourist area. They have fireworks every Monday night at 10pm and they were the best we've seen in a long time.

Chris Shortridge

We have gone twice and loved both times. It's a North myrtle beach look at Broadway at the beach, just smaller with less attractions. Nothing to out of the way to see here. But definitely worth the trip to see it. It has come to be a must stop and see for when we visit the Myrtle Beach area.

Molly Smith

Barefoot is one of my favorite memories from when we would come to Myrtle Beach when I was younger. There are so many different shops to walk around, ice cream parlors, a handful of restaurants to choose from, a crystal shop that has been around for so long called black market minerals that is easily one of my favorite places there, and a wonderful variety of outdoor patio spaces to enjoy. There's so much seating around too which is great when it is hot outside. I love Barefoot! Check out Lulu's too – great drinks!

Cathy Spofford

Nice shopping area. Plenty of stores and restaurants. You can even rent swan boats and take a ride on a boat that does fast turns. Also has Paula Deen store and restaurant.

Dave Cowles

Great outdoor shopping experience! We discovered it 2 years ago when on vacation in Myrtle Beach and we returned at the end of June 2021 and was so happy to see a majority of the shops and restaurants survived the lockdown. Regardless of what you are looking for or the size of your budget Barefoot Landing will have it! If you need a break from the beach or a nice excursion, this is the place! And if you are lucky, you might see some local wildlife in the form of an alligator!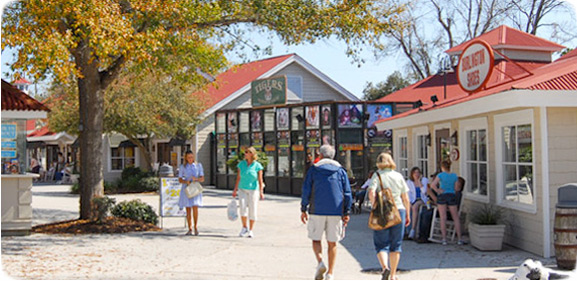 Conclusion
At Barefoot Landing in North Myrtle Beach, South Carolina there is something fun and exciting around every corner! From shopping and dining options at the outdoor complex to outdoor activities on the Intracoastal Waterway such as kayaking or stand-up paddle boarding—there truly is something here for everyone. So grab your family or friends and come explore this one-of-a-kind destination today! You won't regret it!
When You Visit Myrtle Beach SC, Stay With Cozy Turtle RV
While staying at Barefoot Resort might be tempting, we've got something better than any hotel. Skip getting multiple rooms and rent one RV for the whole family. Experience the vacation of your dreams with Cozy Turtle – our luxurious and affordable RV rentals will make you feel like a local in no time, with space for the whole family! But that's not all – Barefoot Landing has everything from tantalizing dishes to concerts at night, so seize this moment and start planning an amazing trip to Myrtle Beach, SC today. Get ready for unforgettable memories created with those closest to you; it's time for adventure!