If you are looking for a beautiful and serene beach to spend your vacation with your kids and family, look no further than Surfside Beach, SC. This lovely beach town is located in the heart of South Carolina's Grand Strand and has something to offer everyone. From world-class golfing to exciting water sports, Surfside Beach, SC, has it all.
In this article, we will provide you with all the information you need to know about Surfside Beach, SC, so you can enjoy your trip. We will also show the amazing amenities and fun things to do when visiting Surfside Beach, plus some reviews from people who have visited this beach before.
General Information About Surfside Beach, SC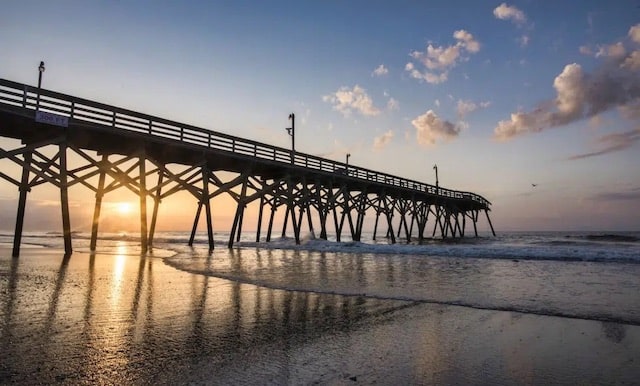 Located In Horry County
Surfside Beach, SC, is a small, vibrant beach town located along the shores of the Atlantic Ocean. It has become increasingly popular with tourists thanks to its beautiful beaches and wide range of activities.
Rich History
The town itself is rich in history dating back to the 1720s when it was first mentioned in the journals of William Bartram, an explorer. The town has maintained its traditional charm and is still home to some of the oldest buildings in South Carolina, including a lighthouse that was built in 1827.
Also, the Surfside beach area was formerly called "Ark Plantation" in the 1800s and was popular for its massive productions, which included rice, corn, peas, sweet potatoes, cattle, sheep, and pigs.
Over 4,000 People
Surfside Beach has just over 4,000 residents. It is a quiet, family-oriented beach town and a great place for couples and families to enjoy their vacation in a fun and relaxing community.
Incorporated In 1964
Surfside Beach was officially incorporated in 1964; since then, the town has grown rapidly. Now it is a popular destination for tourists looking to enjoy its beautiful beaches, exciting attractions, and diverse culture.
Close To The Myrtle Beach Area
Surfside Beach is close to the larger, more popular Myrtle Beach area. Visitors can easily access attractions in that part of town while enjoying all the amenities and beauty that Surfside Beach offers.
Popularly Called Family Beach
Surfside Beach, SC, is also referred to as "the family beach" because of its so much fun and family-friendly activities. Families can enjoy the town's wide range of attractions, including amusement parks, water sports, beaches, and many more.
Pet-Friendly Beach
Surfside Beach is also pet-friendly, so if you are traveling with your furry friends, the town has plenty of places for them to explore. All beaches in Surfside Beach allow pets, and many pet-friendly hotels are available for visitors who want to bring their pets along for the trip.
However, visitors should always observe the pet policies like:
Keeping your pet on a leash and cleaning up after them.
No pets on the public beach during the restricted period of 10 a.m. to 5 p.m.
Amenities At Surfside Beach, SC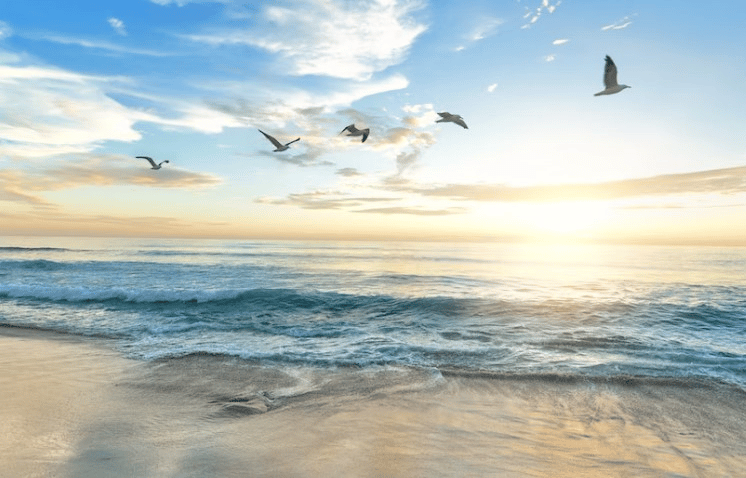 Surfside Beach has plenty of amenities to offer tourists who visit the town. It is home to several excellent restaurants, bars, and shops that are perfect for taking a break from the beach or just enjoying a night out with friends. Here are some amenities to enjoy in Surfside Beach, SC:
Beach Access
Visitors may access Surfside beach from any of the Town's 36 access points. Also, there is wheelchair access available at the 3rd Avenue North entrance, Surfside Pier, 13th Avenue South, and Melody Lane accesses. The special Beach wheelchairs are available through the Surfside Beach Public Safety Department.
Restroom Facilities
The restroom facilities at Surfside Beach are available from 9 a.m. to 5 p.m. All restrooms feature ADA-compliant, family-friendly toilets and showers.
Parking Space
Parking is available in the Town's public parking lots. All parking is free, and visitors can park their vehicles in designated areas. There are several parking areas along the oceanfront.
Meeting Rooms
There are several meeting rooms available on Surfside Beach for visitors to use. All rooms are air-conditioned and come with phones, fax machines, projector screens, overhead projectors, and much more. However, these come with additional rental fees.
Playgrounds
The Town of Surfside Beach provides a playground area for children to enjoy. All playgrounds are open from sunrise to sunset and feature swings, slides, monkey bars, and other fun activities.
These are just some of the amenities that Surfside Beach has to offer. There are plenty more attractions and activities available for visitors to enjoy while they are in town.
Looking for other destinations to camp this holiday season? Check out myrtle beach state camp!
Things To Do At Surfside Beach, SC
Surfside Beach offers plenty of activities for visitors looking to enjoy their time in the town. Here are some of the best things to do in Surfside Beach, SC:
Golfing
There are over twenty golf courses in the Myrtle Beach area, many of which are close to Surfside Beach. All courses offer stunning views and challenging holes that make any golfer's day enjoyable.
Fishing
Surfside Beach is home to some of the best fishing spots in South Carolina. All types of fish can be found in the area, including bass, redfish, and more. All visitors need to do is rent a boat or bring their own vessel to explore the great waterways nearby.
Surfing And Swimming
If you love the water, Surfside Beach is the perfect place to be. All beaches in the area offer excellent surfing and swimming opportunities. There are also plenty of lifeguards available at all times to assist visitors with any questions or concerns they may have while in the water.
Shopping
Surfside Beach offers plenty of shopping centers that are perfect for those looking to find souvenirs or shop around. It features over 20 stores, including clothing boutiques and gift shops.
Explore The Town
Surfside Beach is home to plenty of attractions that are great for visitors of all ages. All visitors can explore the many parks, museums, and historic sites located throughout the town. All these places offer something unique and exciting for everyone to enjoy.
Festivals
Surfside Beach also hosts several annual festivals like the Memorial Day Golf Parade, Surfside Beach Family Festival, Surfside Beach BBQ Festival, and so on. All visitors are welcome to attend and enjoy live music, great food, and plenty of activities. All proceeds from the event go toward supporting local charities.
Visit The Market
There are several weekly markets in Surfside Beach, such as the Saturday Morning Market, Hudson's Surfside Flea Market, etc. All visitors are welcome to visit and explore all of the great products and handmade items on display.
The Surfside Beach Pier
The famous Surfside Beach Pier is a must-visit for all visitors. All fishermen can rent out fishing rods and bait to catch their fish or take in the stunning views of the oceanfront.
Museum And Theatre
The Nostalgia City Museum is home to several interesting exhibits, including the history of the town and its people. All visitors can learn more about the area's culture and heritage while visiting the museum. The Surfside Playhouse also offers plenty of entertainment with live shows every week.
Surfside Beach Oceanfront hotel
The Surfside beach hotel located at South Ocean Blvd is a good place to stay if you are looking for oceanfront accommodation. Every room comes with modern amenities, and most rooms come with a view of the Atlantic Ocean, and you can enjoy beach access as well.
Relax By The Beach
You can sit on the sand and take in the beauty of the ocean or rent a beach chair and umbrella for a relaxing day at the beach.
These are just some of the great things to do in Surfside Beach, SC. Visitors will surely have a memorable experience while visiting this charming seaside town.
Looking for other destinations to camp this holiday season? Check out Foster Creek RV Park!
Reviews From People Who Visited Surfside Beach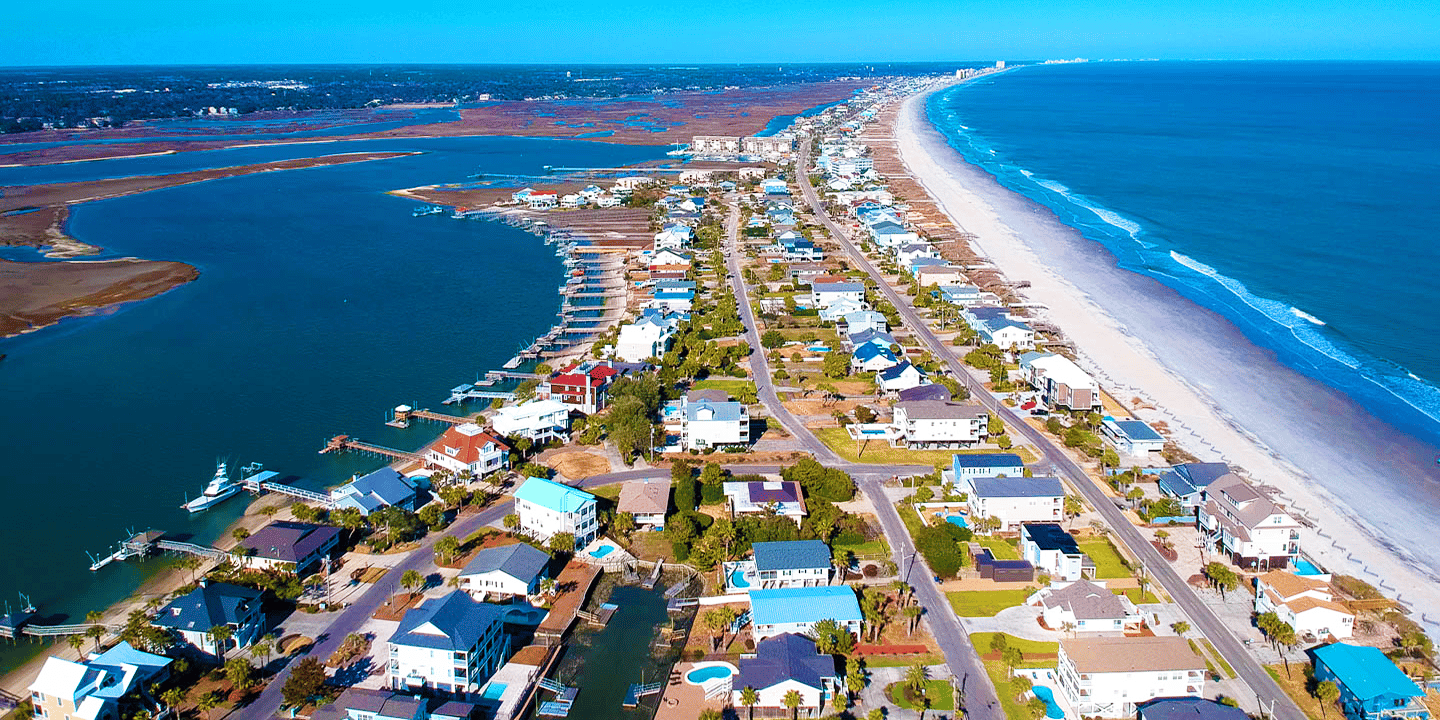 Surfside beach has been praised for its beautiful beaches, great amenities, and friendly people. Here are some reviews from tourists who have visited the town:
"We enjoyed Surfside for Spring break due to its beautiful scenery and, most of all, privacy. The weather was chilly morning and night but expected. It was so beautiful and clean. We took many pictures and saw the sunrise and sunset… can't wait to go back," Christy Love shares.
"Surfside beach is very quiet. You can take the children to the beach to have some fun and can drive your car to the edge of the beach. Although always be careful not to get stuck, when you do, there will always be a 4×4 to help you get out. We had a great time, but the waves were incredibly rough. I recommend this place," Sergio Oliver says.
"This was our first adventure taking our dog to the beach. It was amazing, and she loved it—the nice clean beach. The guy at the security point was very friendly and helpful. We'll definitely be back," DeeJM says.
The reviews show that Surfside Beach is the perfect spot for a fun-filled beach vacation. Visitors will surely have an unforgettable experience while visiting this charming town.
Visiting Surfside Beach, SC?
When booking accommodation in Surfside Beach, SC, it is best to use a reliable booking service. This is where we come in!
We offer a wide range of RVs and trailers to choose from, all of which are equipped with modern amenities. This will help you have a comfortable stay while visiting Surfside Beach without worrying about accommodation hassles. Furthermore, our team is always available to assist when needed.
So if you're planning a visit to Surfside Beach, SC, don't hesitate to contact Cozy Turtle RV Rental. You can rest assured knowing that you will get a comfortable and affordable RV in Surfside Beach, SC.