Are you excited for your upcoming camping trip? Whether you're a first-time camper or a seasoned pro, we've got some tips to help make your trip go smoothly. From what to pack to where to pitch your tent, read on for our top camping tips!
Make Sure To Plan For Bad Weather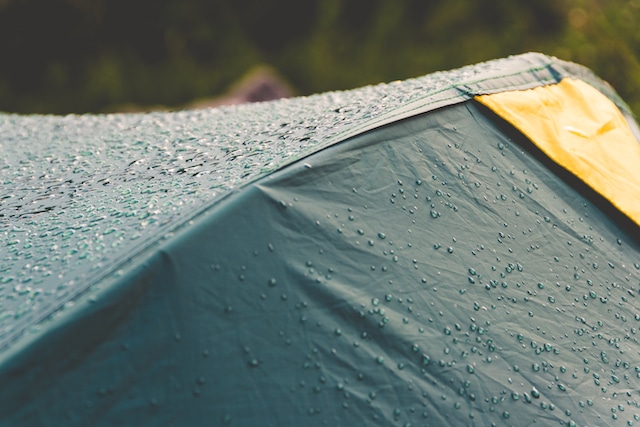 No matter what time of year you're camping, it's always a good idea to be prepared for bad weather. Ways to plan for bad weather include:
Checking the weather forecast
Testing your camping gear before you set out
Packing extra supplies in case you get stranded
Making sure your tent is waterproof
Wearing appropriate clothing
Plan Your Activities In Advance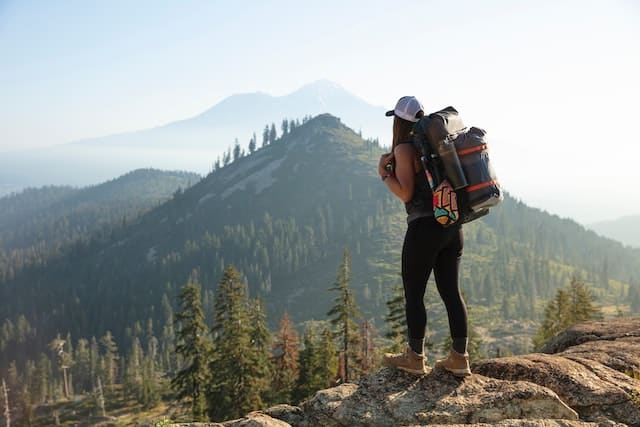 One of the best ways to make sure you have a great time camping is to plan your activities in advance. This way, you'll know what you need to pack and you won't be scrambling to find things to do when you're already on vacation. Some things you may want to consider doing are:
Hiking
Fishing
Kayaking
Campfire cooking
Stargazing
Exploring nature trails
Visit a nearby town or city
Be Prepared For Your Food Needs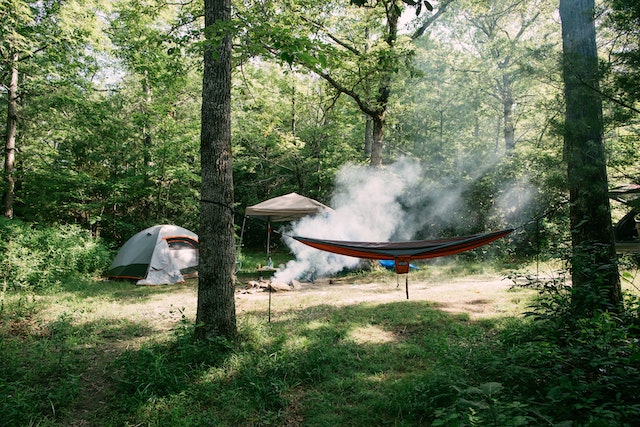 Part of the fun of camping is cooking over a campfire. But even if you're not planning on doing any cooking, it's important to be prepared with enough food to last your entire trip. When packing food for family camping trips, consider:
How many people you're feeding
Any dietary restrictions or allergies
How long you'll be camping
What kind of activities you'll be doing
Will you have access to a cooler?
Once you've considered all of these factors, you can start planning out your meals. If cooking is not your thing, consider packing easy-to-make foods like sandwiches, trail mix, and granola bars.
Don't Pitch Up Under A Tree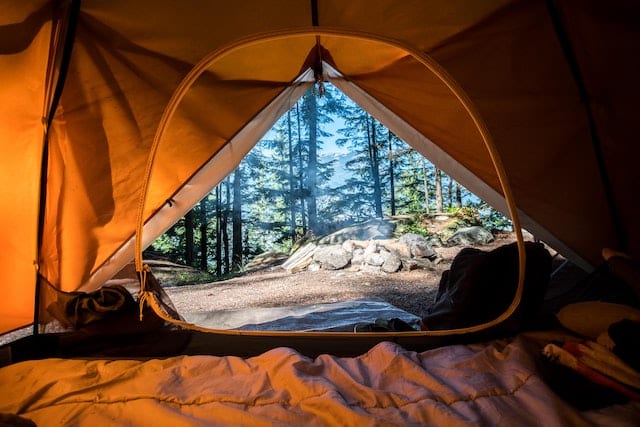 Pitching your tent under a tree may seem like a good idea at first. After all, trees provide shade and protection from the wind.
However, pitching your tent under a tree can be risky. If a strong storm blows through, there's a chance that branches could fall and damage your tent or even hurt you. It's best to pitch your tent in an open area away from trees, just to be safe.
Choose The Right Tent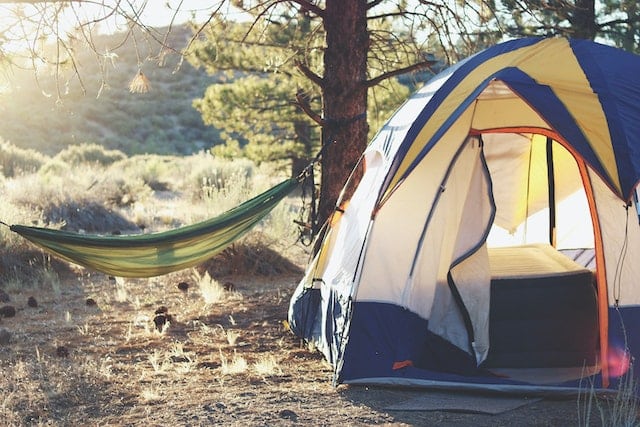 When it comes to choosing a tent, there are many factors to consider. Some things you'll want to keep in mind are:
How many people will be using the tent?
What is the weather forecast?
Do you need a waterproof or water-resistant tent?
What is your budget?
If you already have a tent, be sure to inspect the rain fly for leaks and seal any gaps.
Make A Campfire Safety Plan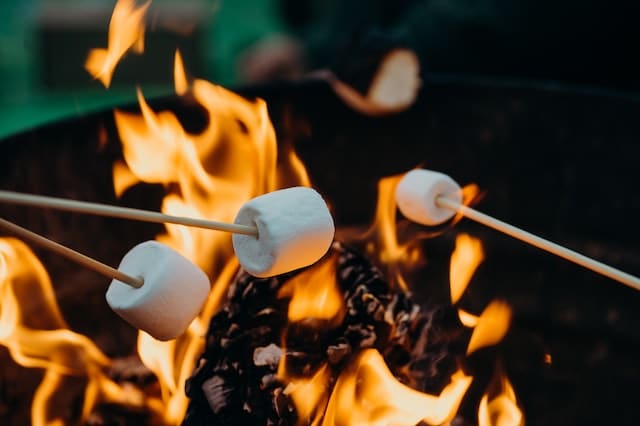 If you're planning on having a campfire during your trip, it's important to have a safety plan in place. Before you build your fire, make sure to:
Find a safe location away from trees, bushes, and dry leaves
Clear an area around the fire pit
Build a ring of stones around the fire pit
Never leave your fire unattended
Extinguish your fire before you go to bed
Pack The Right Camping Gear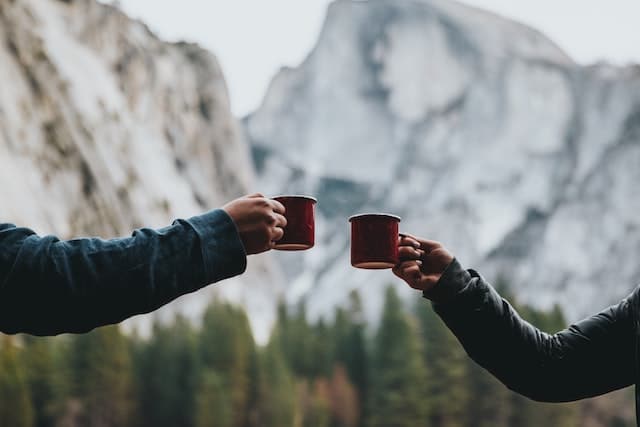 One of the most important parts of having a successful camping trip is packing the right gear. Depending on where you're tent camping and what activities you're planning, you'll need to pack different items. Some essential items to pack are:
Tent
Tent pegs
Sleeping bags
Pillow
Camping stove
Fuel
Lantern
Flashlight
Matches
First-aid kit
Practice Setting Up At Home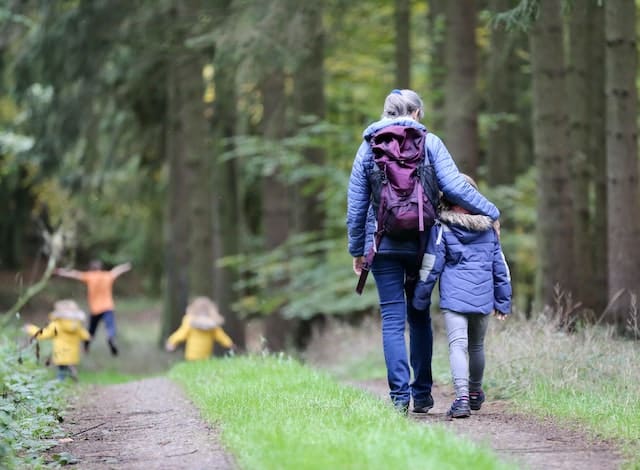 If you're new to camping, one of the best things you can do is practice setting up your tent at home. This way, when you get to your campsite, you'll know exactly what to do and you won't have to waste time figuring it out.
Check For Campsite Availability In Advance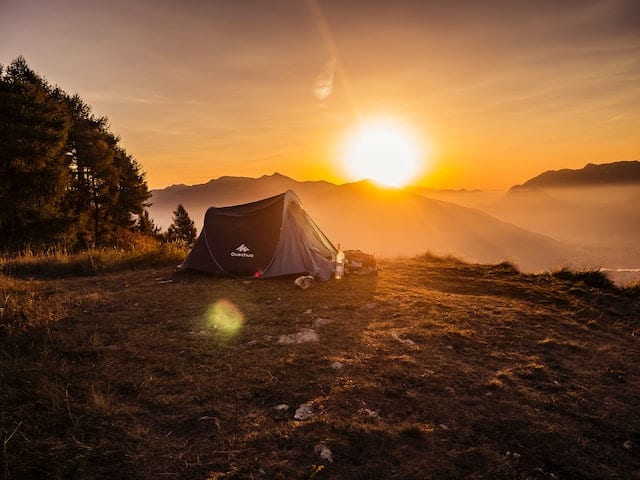 If you're planning on camping during peak season, it's important to check for campsite availability in advance.
Many popular campgrounds fill up quickly, so you'll want to make sure you have a spot reserved before you arrive.
To find out if a campsite is available, you can:
Check the campground's website
Call the campground
Stop by the campground office
Pack A Camping Checklist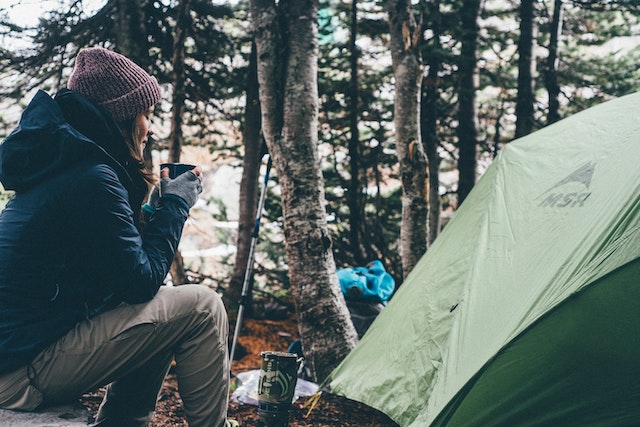 One of the best ways to ensure you have everything you need for your trip is to create a camping checklist. This way, you can simply check off each item as you pack it and you won't have to worry about forgetting anything. If you need a Camping checklist, check out our ultimate camping checklist guide.
Dealing With Bugs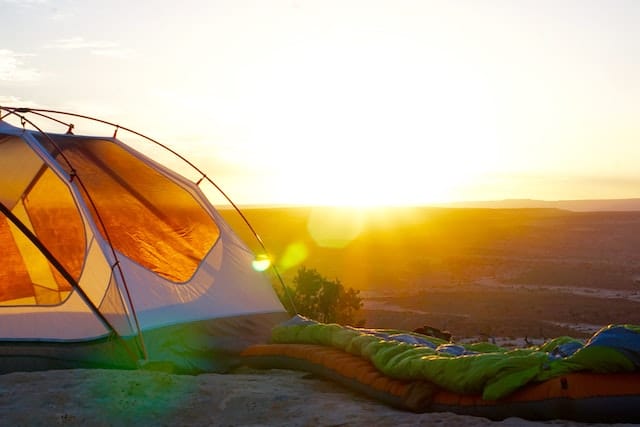 Bugs are inevitable when you're camping. Whether you're dealing with mosquitoes, ants, or flies, there are a few things you can do to minimize the annoyance.
Some things you can do to keep bugs away are:
Use bug spray
Avoid sweet-smelling fragrances
Wear long sleeves and pants
Keep food sealed and in coolers
Eliminate standing water
Water Supply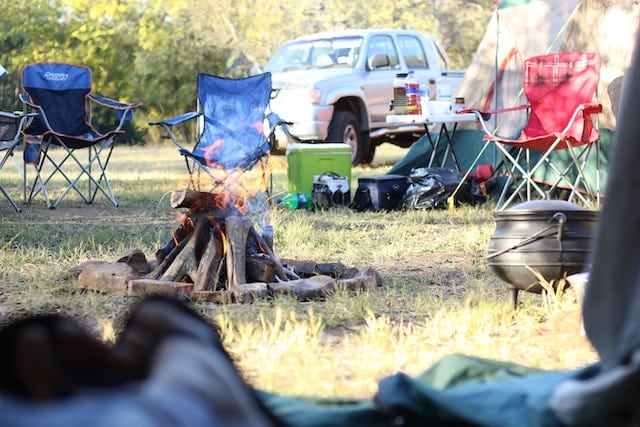 When you're camping, it's important to have a plan for your water supply.
Depending on where you're camping and what kind of amenities are available, you may need to bring your own water or purify the water from a natural source.
If you're bringing your own water, make sure to:
Pack enough water for everyone in your group
Pack more than you think you'll need, just in case
Rotate your water supply so that you're using the oldest water first
Natural sources of water like lakes, rivers, and streams can be used for drinking, but it's important to purify the water before use. There are many different ways to purify water, including boiling, filtering, and using iodine tablets.
Cooking Food While Camping
One of the best parts of camping is sitting around the campfire and enjoying a delicious meal. If you're new to camping, cooking food can seem daunting, but it doesn't have to be.
There are several different ways to cook food while camping, including:
Campfire cooking
Grilling
Camp stove cooking
If you're not sure how to cook a particular dish while camping, there are plenty of resources available online or in your local library. Don't be afraid to experiment and try new things!
Also make sure never to cook inside your tent! This is a fire hazard and can be very dangerous.
Cleaning Up While Camping
Keeping your campsite clean is important for both environmental and safety reasons. Some things you can do to keep your campsite clean are:
Pack out what you pack in – this means that if you bring cans or bottles, make sure to take them with you when you leave
Don't leave food out – this will attract animals and bugs
Clean up any messes right away
Don't bury your trash – animals will dig it up and make a mess
When in doubt, follow the Leave No Trace principles. These principles are designed to help campers minimize their impact on the environment.
Protection Against Wildlife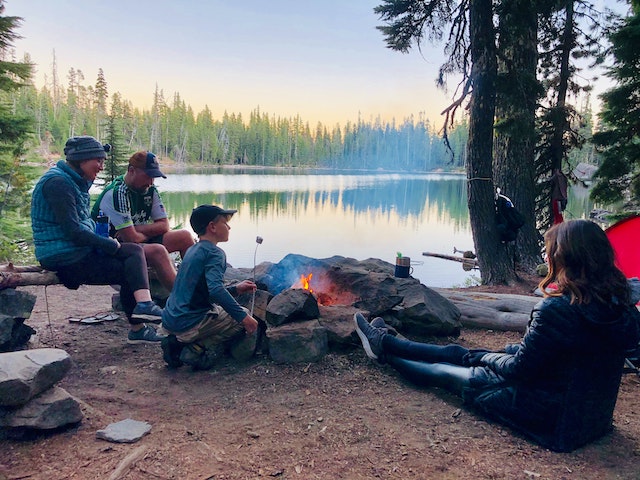 When you're camping, you're likely to encounter some type of wildlife. While most animals are harmless, there are a few that can pose a threat. To protect yourself from wildlife, it's important to:
Make noise – this will scare away animals that might be lurking nearby
Be aware of your surroundings – keep an eye out for signs of animals such as tracks or scat
Avoid leaving food out – this will attract animals to your campsite
Keep your distance if you see an animal – don't approach them, no matter how cute they are!
For bear Encounters:
If you're backcountry camping, there's a great chance you'll see a bear. If you do, make sure you never run from a bear, just slowly back away and leave the location. If you encounter a black bear, make yourself seem enormous by shouting and clapping your hands while continuing to retreat.
What To Wear While Camping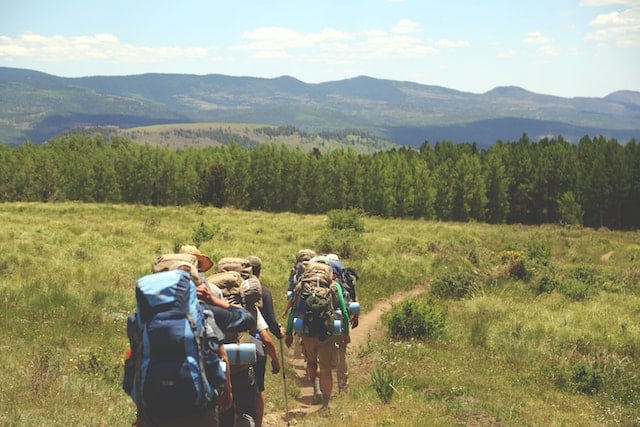 What you wear while camping will depend on the weather and the activities you have planned. In general, it's a good idea to layer your clothing so that you can easily adjust to changes in temperature.
Some other things to keep in mind when packing clothes for your trip are:
Bring clothes that can get dirty – you're going to be doing a lot of outdoor activities, so don't bring your best clothes
Sturdy shoes are a must – hiking boots or closed-toe shoes are ideal
Make sure you have enough socks! Nothing is worse than wet, cold feet
Camping With Pets
If you're planning on bringing your furry friend camping with you, there are a few things to keep in mind. First, make sure that the campsite you're planning to visit is pet-friendly.
Some other things to consider when camping with pets are:
Packing enough food and water for them
Making sure they have current ID tags in case they get lost
Keeping them on a leash at all times
Cleaning up after them – don't leave their mess for someone else to deal with
Car Camping? Bring These Items!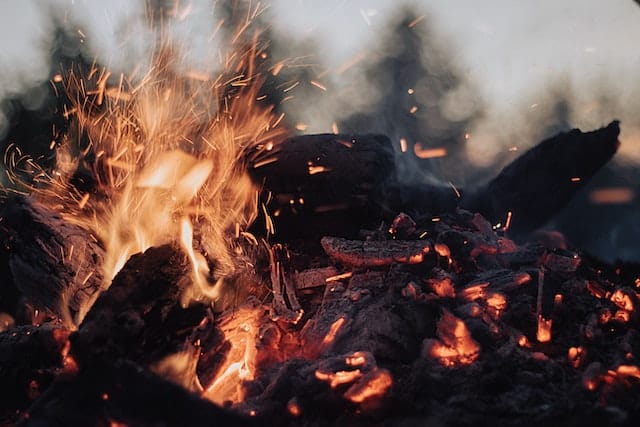 If you're car camping, you have the luxury of being able to bring more items with you than if you were backpacking. This means that you can bring items that will make your trip more comfortable, such as:
An air mattress or sleeping pad – sleeping on the ground is hard, so an air mattress will make things much more comfortable
A camp kitchen – this will make it easier to cook meals while camping
Camp chairs – these are great for sitting around the campfire or just relaxing at your campsite
A cooler – this is essential for keeping food and drinks cold
Quick Camping Tips And Hacks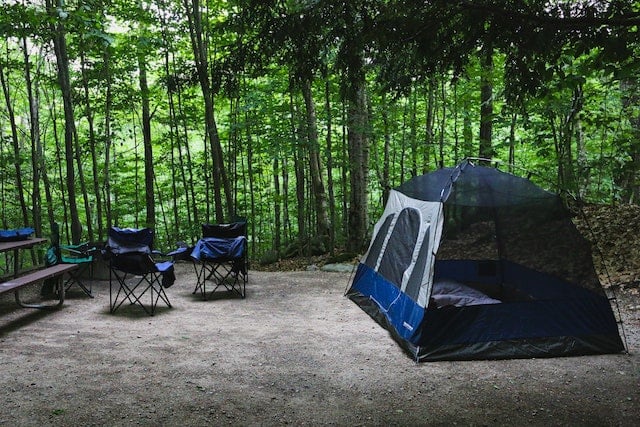 Here are some quick tips and hacks to make your camping trip more enjoyable:
Pack wipes and hand sanitizer: Camping can get messy and you don't always have a sink and soap readily available. Hand wipes and sanitizer are always good to have on hand.
Pack a flashlight or headlamp: A flashlight can be useful for finding your way around at night, or for reading in your tent. A headlamp is even better because it frees up your hands.
Take a reusable water bottle: You'll be doing a lot of walking, so it's important to stay hydrated. Reusable water bottles are better for the environment and will save you money in the long run.
Take a comfy pillow: A lot of people forget how important a good night's sleep is. If you want to be well-rested for your hikes, make sure to pack a comfortable pillow.
Wear sunscreen: Don't forget the sunscreen! Even if it's cloudy, you can still get sunburned.
Arrive during daylight hours: It's a terrible feeling to pitch your tent in the dark, and it's especially unpleasant if you're a novice. Arrive during daylight hours, and keep in mind that the sun sets considerably earlier during the winter months.
Double Check Where you're pitching your tent: You don't want to accidentally set up camp in an area that's been designated as off-limits, or in a place where you're likely to be bothered by noise from other campers. Make sure to double check before you start pitching your tent.
Store your clothes in waterproof containers or plastic bags: Make sure your clothing is kept in a waterproof container or bag. This method guarantees that you have dry clothing available at all times.
Slip-on shoes: For outings and sightseeing throughout the campsite, pack a pair of shoes you can slip on and off quickly. It will save you a lot of time and effort on your journey.
Keep your clothes in your sleeping bag: Getting out of your sleeping bag may be difficult if it's chilly outside. Having your clothes for the day ahead in your sleeping bag overnight will ensure that they are warm in the morning.
Get A Down-filled sleeping bag: A down-filled sleeping bag provides the steady insulating properties required, as well as softness, warmth, and durability.
 Fill a hot water bottle to keep you warm at night: A hot water bottle is a great way to keep yourself warm at night. Simply fill it with boiling water and place it in your sleeping bag before you go to bed.
Conclusion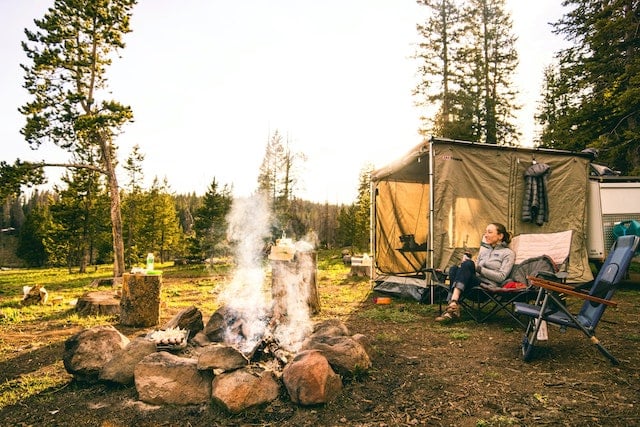 Summer camping is a great way to get outside and enjoy the beauty of nature. By following these tips, you can make sure that your camping trip is fun, safe, and enjoyable for everyone involved.